This past week has been quite interesting, filled with both high and low moments. I read an exclusive interview published by The Guardian of London where the Boko Haram spokesman, Abu Qaqa confirmed that the group's leaders met with the Al Qaida in Saudi Arabia last August and cemented the group's financial and logistics base. He confirmed that Boko Haram has been receiving funding from Al Qaida. This got me wondering. Why would they grant a London newspaper an interview when a larger proportion of Nigerians don't have access to this interview, and are still in shadow about the reasons for their 'activities'?
On Wednesday, most local newspaper headlines were loud with news of the arrest of this same spokesman and on Thursday, it was a different story with this same spokesman and the SSS denying the arrest. High and low moments indeed.
So let's take a look at some of the stories that made headlines this week again and discuss on them. And while doing that, don't forget to say a prayer for Nigeria.
National

A Lagos High Court on Monday, January 30th sentenced Major Al Mustapha, the former Chief Security Officer to late dictator Sanni Abacha, and Alhaji Lateef Shofolahan, a protocol officer in the M.K.O Abiola campaign organisation to death by hanging for the 1994 murder of Hajia Kudirat Abiola, the wife of late business mogul and winner of the June 12 election, Bashorun M.K.O Abiola.
*********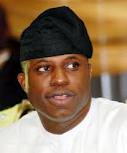 An Abuja Jigh Court on Tuesday, January 31st cleared former Speaker of the House of Represenatatives, Dimeji Bankole and his deputy, Bayero Nafada of allegations of fraud and criminal breach. In his judgement, Justice Suleiman Belgore ruled that both men had no case to answer with regard to the N40bn bank loan alleged to have been misappropriated by them.
*********

The National Union of Petroleum and National Gas Workers on Tuesday, January 31st commenced an indefinite nationwide strike. According to the Lagos state Chairman of the union, the reason for embarking on the strike was to draw the government's attention to a dispute between its branch in Shell Nigeria and the management of the oil firm.
*********

The Consular Chief, US Consulate General in Lagos, Mr Carl Cockburn said at a press conference in Lagos on Tuesday January 31st that no fewer than 100,000 Nigerians applied for the United States visas in 2011 and more than 50 percent of the number were granted visas.
*********
The Academic Staff Union of Universities (ASUU), on Wednesday February 1st suspended its two month nationwide strike. The National Executive Council of the union directed all university lecturers to resume back to work on Thursday February 2nd.
*********
The Minister of Youth Development, Alhaji Bolaji Abdullai on Wednesday February 1st said that the Ministry had directed that from next year 2013, the National Youth Service Corps (NYSC) should post corps members to rural areas only with no provision for redeployment.
*********
Islamic sect, Boko Haram struck, Friday February 3rd, at Ajaokuta in Kogi state killing four persons as the sect attacked a police station and a bank in the town.
Local
Five people were shot dead on Wednesday, February 1st following a clash between two rival cult groups, the Eiye Confraternity and the Buccaneers, at the Moshood Abiola Polytechnic (MAPOLY), Abeokuta, Ogun State.
*********
Robbers on Wednesday February 1st, carted away US$600,000 (N95, 969, 998.17 million) from a Bureau De Change operator inside Murtala Muhammed International Airport Lagos. The robbers stormed the car park and shot sporadically into the air, wounding a woman, before dispossessing their victim of the said amount at about 8.30pm.
*********
A bus conductor on Thursday, February 2nd fell to his death after he was pulled down from a moving bus by a LASTMA official. Eyewitnesses say another vehicle ran over the conductor as he fell from his bus, killing him instantly. The incident happened around 11 am at Motorways, Ikeja on Lagos-Ibadan Expressway.
How do you feel about the happenings in the country this week? What other stuff happened that you would like to share?
Have a great weekend!