It's quite disheartening to know that our leaders cannot come up with suitable policies that would make the National Youth Service Corps scheme safer and more beneficial to the thousands of graduates that turn up for the programme every year. They spend time making debates on the scheme regularly but hardly come up with reforms that would enhance its credibility, making more and more Nigerians averse to the scheme.
Three weeks ago, the Minister of Youth Development, Alhaji Bolaji Abdullai said that the Ministry had directed that from next year 2013, corps members would be posted to rural areas only with no provision for redeployment.
Just when prospective corps members are still digesting that information with obvious difficulty, the Senate on Wednesday February 22nd, 2012 rejected a bill seeking to amend the Act establishing the National Youth Service Corps. The bill sought to prohibit the posting of corps members to states where there are conflicts; sought an increase to corps members allowances and provided for the evacuation of corps members in conflict areas, making it the sole responsibility of the state governments.
The bill was however opposed on the grounds that the amendments sought could be effected by administrative means and subsequently rejected. But we all know how hard it is for the necessary changes to be made by administrative means if a legislation has not been passed to that effect in our dear country.
As prospective corps members and their families grapple with this news, we pray for wisdom for our leaders to make the right decisions that would affect our lives positively.
Here is a recap of some of the events that made headlines this week:
The Lagos State Government through one of its agencies – the Lagos State Environmental Protection Agency (LASEPA), over the weekend shut down some churches in Lagos over what the government termed 'Noise Pollution'. The churches affected include – The Lord's Chosen Charismatic Ministry, Surulere; Bible Church, Festac; The Chapter of Christ Church, Ikeja; Seek and Save Ministry, Abule Egba; Assemblies of God, Ikeja; The Golden Gate Church, Ifako Ijaiye. The government says they are determined to reduce noise pollution in Lagos State, so more churches will be shut down.
***
No fewer than 30 people were killed on Monday February 20th, 2012 in Maiduguri when suspected members of the Islamic sect, Boko Haram, opened fire and set off bombs at Baga Fish market in the metropolis. Eight of the sect members were, however, killed in a gun duel with the Joint Task Force. According to AFP report, traders at the market reported that gunmen believed to be members of the Islamic sect stormed the market and opened fire indiscriminately killing many of them, including women and children.
***
The Kwara State Police Command arrested a 30-year-old mother, Yemisi Fagbemi, for allegedly parading herself as a Police Inspector. The state Police Public Relations Officer, Mr. Dabo Ezekiel, said on Tuesday 21st February, 2012 that the suspect was arrested in a police uniform by another policewoman. She had allegedly swindled an electronic dealer of one 37-inch Plasma TV, laptop and refrigerator among others with promise to pay in installments.
***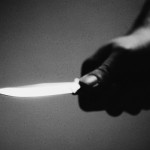 Police discovered the body of a 79-year-old Christian woman killed in northeast Nigeria, with a note in Arabic left on her chest reading: "We will get you soon", a witness said. The dead woman was identified as Shetu Haruna Malgwi, a Christian living in Maiduguri. Assailants apparently attacked Malgwi on Wednesday, February 22nd 2012. Her killers slit the woman's throat, then wrote a note with red pen they left on her chest.
***
A bomb suspected to have been planted by members of the terrorist Islamic sect, Boko Haram, was discovered at the St. Mary's Catholic Church, located on Church Road, Minna in Niger state, by members who attended the Ash Wednesday mass on February 22nd, 2012. On Christmas day last year, Boko Haram bombs killed 44 parishioners at the St. Theresa's Catholic Church, Madalla, also in Niger state.
***
Zakari Biu, a Commissioner of Police in charge of investigations of terrorism activities at Wuse, Zone 7 Command of the Nigeria Police, Abuja was sacked on Wednesday February 22nd, 2012 over the escape of Kabiru Sokoto, a member of Boko Haram sect suspected of being behind the Christmas Day bombing of St. Theresa's Catholic Church, Madala, Niger State. The attack led to the death of about 44 people and injuries to scores of others.
***
Gunmen suspected to be members of the terrorist Islamic sect, Boko Haram, on Thursday February 23rd, 2012 killed four policemen and injured another two near the house of the Acting Inspector-General of Police, Mohammed Abubakar. In Minna, Niger State, some gunmen suspected to be members of the sect similarly killed two policemen.
***
A primary school in Maiduguri was set on fire on Thursday February 23rd, 2012. This comes in the same week in which another non-denominational school was attacked in the Kolumgna suburb of the North-Eastern state of Nigeria. According to reports, it bears the hallmark of an attack by the Islamist Boko Haram group, which has recently threatened to attack non-Islamic schools. The gunmen then prevented residents living nearby in the suburb of Budum from putting out the blaze.
***
The Supreme Court on Friday, February 24th sacked Governor Usman Saidu Nasamu Dakingari of Kebbi state from office. His removal was sequel to an appeal that was lodged before the apex court by the Congress for Progressive Change, CPC, and its candidate in the April 26, 2011,Governorship election in the state, Malam Abubakar Abubakar. In their unanimous judgment, a five-man panel of Justices of the Supreme Court ordered the Independent National ElectoralCommission, INEC, to conduct fresh election in the state within 90 days.
So how do you feel about what happened in the country this week? What other stuff happened that you would like to share?
Have a great weekend!