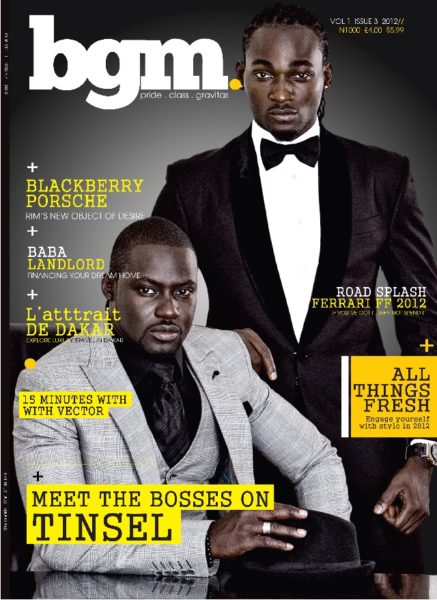 Bi-monthly magazine – Black Gold Mind (BGM) has got all Nigerian and Ghanaian ladies jumping for joy!
The "Bosses on Tinsel" Chris Attoh & Gbenro Ajibade are on the cover of the 3rd Issue of the magazine. They talk to BGM's Olusoji Oyawoye on life, M-Net's hit series – Tinsel and more.
BGM also gets one-on-one with Nigerian rapper – Vector Da Viper in their "15 Mins with" slot. Be sure to get a copy and see the UNILAG Philosophy graduate turned rapper speak on music, his HEADIES nomination, the love he gets from his female fans and loads more.
Also in this issue is an exclusive tell all music feature on Gospel singer – Onos.
Packed with lots of articles like "Blackberry Porsche: Rim's New Object of Desire", "Baba Landlord: Financing your dream home", "Managing Your Interior", "L'atttrait De Dakar: Explore Luxury Travel in Dakar" and more. This 3rd Issue of Black Gold Mind is a must have for everyone in the month of March. Ask your vendor for a copy.