On Friday 24th February 2012, Samsung Electronics West Africa – a subsidiary of Samsung Electronics Company rolled out into the Nigerian market the latest additions to the Galaxy smartphone series which are the Samsung Galaxy Y Pro and Samsung Galaxy Y Duos .
The Samsung Galaxy Y Pro and Galaxy Y Duos both feature the dual SIM technology that maximizes communication flexibility allowing two mobile phone lines and simultaneous data connections on the same mobile device. The technology also allows true work, life balance for users who need to balance their busy professional and social lives.
To provide true smartphone capabilities and ensure social consumers enjoy better performance and work on the go, the devices come with the Samsung Social Hub solution that allows set up of multiple email accounts, Samsung apps stores (free mobile apps), Samsung Chat On instant messaging solution. To ensure true security of device and information, both devices come with the pCloud service, that allows consumers track and manage their lost or stolen device over the internet.
Both devices run on the Android Operating System (OS) which includes full range of services from Google mobile such as Gmail, Google Map, Google Search, Android Market (with over 250,000 apps), YouTube , Google Latitude and Places (location based service). Other fantastic communication solutions include Yahoo, Twitter, Skype and Facebook. It also comes with a user friendly interface in Touchwiz UX.
Idorenyen Enang (Managing Director, Samsung Nigeria) said "With the tremendous success of the Dual SIM feature phones, we are now very pleased to be introducing the first Samsung Dual SIM smartphones powered by Android. We have been actively exploring this market and are well aware of the need for Dual SIM smartphones. With the Galaxy Y Pro and the Galaxy Y Duos, Samsung will be offering more choices for all consumers"
Photos from the launch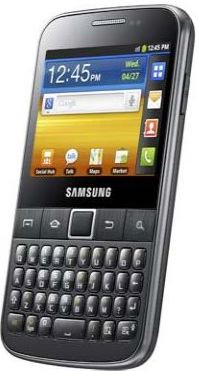 About Samsung Galaxy Y Pro
The Samsung Galaxy Y Pro is tailored for emerging professionals striving to keep work and social life in tandem. Outfitted with essential business applications in a sleek modern design, the Samsung Galaxy Pro is a highly efficient and advanced communication tool for improved productivity and better performance for active users who simply want more out of life.
About Samsung Galaxy Y Duos
The Samsung Galaxy Y Duos is Samsung's first affordable full touch screen smartphone with the dual SIM functionality. It is targeted at young and practical consumers who want to manage their busy day to day life and busy social life. Beyond the dual SIM flexibility, the device is a beautifully designed smartphone with polished metallic finish. Its ergonomic design is complemented by a 3.14" full touch display that provides optimal legibility for a smartphone of its size.
________________________________________________________________________________________________________________
Sponsored Content