Raised in Lagos, Nigeria with German roots, Hazel Aggrey-Orleans is the designer behind the fast- rising Eki Orleans label. This collection consisted chic and contemporary pieces.
Official Collection Description
During the creation stage for this collection, Hazel found inspiration in objects that symbolized music and movement. Through exploring the rich history of Africa, Hazel was quite taken with the calabash musical instrument and its importance in African culture. Referencing the sensual shape of the calabash and its melodic, mellow and earthy rhythms, Hazel created prints that are bold, feminine and in a word stunning.
Each print tells a story and coupled with the delicate draping, curve-enhancing and flowing silhouettes of the collection, Hazel has created a design narrative that invokes the feelings of joy, freedom and sensuality associated with the rhythmic sounds of the calabash. As a result, this collection allows the wearer to celebrate history in a modern, fresh and high fashion way.
***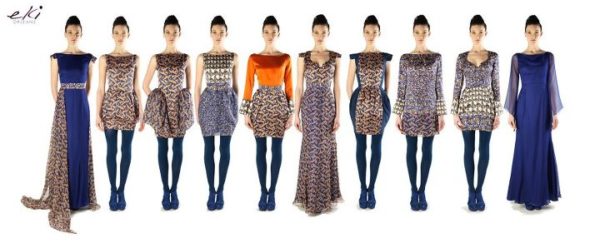 Photo Credit: Kola Oshalusi for Insigna