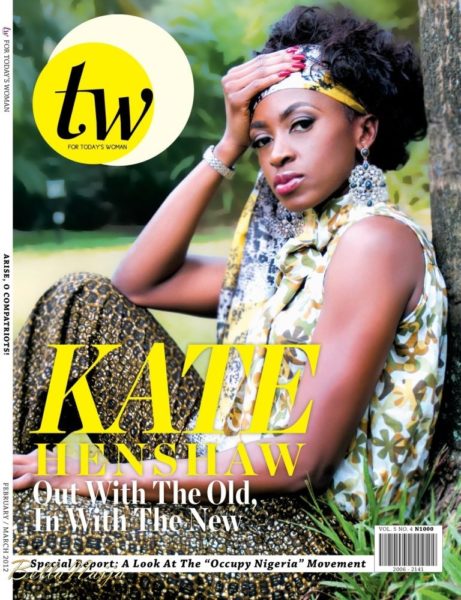 TW Magazine's March edition has been tagged the "Occupy" issue! With its in-depth interviews and features analysing the events surrounding the fuel subsidy removal strikes aka #OccupyNigeria.

Kate Henshaw's pose on the cover embodies the average Nigerian's frustration and anger with the current national trajectory. In the cover story, "Forty, Fearless and Free", she talks about her divorce, why she is not afraid to stand up for her rights and the legacy she plans to leave her child.
Standing with two arms in the air in a pose reminiscent of his father, Seun Kuti is the celebrity of the month. One of the young faces of the Occupy protest, Seun talks about his role model- may not be who you think- why he protests and why D'Banj is not to blame for Goodluck Jonathan.
There are also 12 pages of in-depth interviews featuring "power women" including Joe Okei-Odumakin, Funmi Iyanda and Yemi Adamolekun who played active roles during the protests. Find out why they would prefer to risk their lives to see justice done rather than silent on the sidelines.
The fashion pages are not left out. Vibrant ankara, sturdy jeans, killer heels – check out the pictorial study of the protesting fashionista, all set against scenic, rugged backgrounds. Lovely!