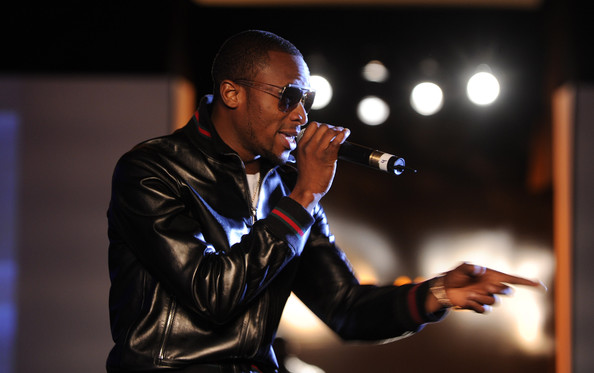 On April 21, 2012, at the Choice FM studio in London, D'Banj finally decided to sit down for his first interview since the Mo'Hits Crew had a major squabble, with Ayeni Adekunle of Nigerian Entertainment Today, "thenetng".
He talks about how they got the deal with Kanye West:
'I pulled up with my entourage at the Emirates first class lounge in Dubai. We were returning from Scott Tommey's birthday. I came down with Bankuli, my P.A. Chuchu, and my business manager Chidi. My entourage was large and I was looking fly. One of the hostesses ran to me with a Kanye West placard. I said I'm not Kanye o – then I told my guys 'Kanye is around so no dulling.' Chuchu and Bankuli spotted Kanye walking in to check in. They went to him and he said we could come over'.
'As they came, I had my iPad with me, and my headphones. First thing Kanye said was 'I like your T-shirt'. I wore a Zara T-shirt and a D&G ring. He liked my appearance and said he'd give me 5 minutes. I told him 'I played with you in Nigeria during NB PLC Star Megajam. I've done a song with Snoop and we're going to shoot the video now. I'd like to play you my songs.' I played Oliver, Scapegoat and Fall in love. He was dancing. He removed the headphones and said 'I don't mean to sound rude, but if anyone has to bring you out in the states, it has to be me, not Snoop. He asked when I was going to be in the US, and I told him I was going there that day. Then he asked who my producer was, and I said Don Jazzy. He said 'come with him.'
So, on getting to New York three months later, contacting Kanye West was extremely difficult after sending several mails to several different e-mail addresses.
Then we met someone that knew someone that knew another someone and we got another email address. We sent several messages again, no response. Then Bankuli sent a final one saying, 'we have been in New York for some time and sent several emails. We have waited long enough and are now on our way to do the Snoop Dogg Video'
And then the reply came. 'Sorry to have overlooked your earlier emails. Mr. Kanye would like to meet with you tomorrow.'
'We didn't believe it. Don Jazzy, who had been reluctant all along, still did not believe it. Even when we got there (Wyclef's studio) the next day, he stood outside. When Kanye came I went to call him 'Oya come now, come play am the music now'. It was difficult to believe it was real and it was happening. Then when Kanye came in, with the GOOD music acts, I was like, 'wow'.
From there, everything was moving at lightning speed and all the contracts were signed and the more business and administrative side of things was being handled.
As this was going on, D'Banj had bigger things in mind and opted for a joint venture agreement structured to guarantee that: he retain full control of his materials in Africa; Don Jazzy be signed on board (on behalf on Mohits USA), and finally, that he brings the Universal/Def Jam imprint to Africa. He goes on to say:
'I've always thought of how I can be a useful vessel to the industry. A friend and colleague always says to me:  'D'banj, you're the Jesus Christ of the industry.' So having ran Mohits for nine years, I already had plans of how we could blow Mohits up.  I had plans of expanding, and most especially, bringing hope to that 11 year-old kid somewhere in Africa who may never have had the opportunity to get signed to major labels'.
'So it was not really just about me.  There's a big market in Africa.  I said to them, 'I've sold millions of records in Africa, we've done millions of hits with CRBT, and I've run the most successful label on the continent. You take care of the US, but let me take you to Africa.'  And I'm happy to tell you that we're doing that D'banj's album will be the first under Universal/Def Jam Africa, and we're already putting all the structures in place'
And apparently, that's were the tumult with Don Jazzy arose. He goes on to talk about how the information contained in the leaked e-mails holds facts and truth and further talks about at what expense he went through to try to smooth all discrepancies between him and his 'brother'.
He continues to talk about how the relationship between Don Jazzy and he started and now that the two have gone their separate ways, using marriage as a metaphor, how he feels:
'Asking me if I'm lonely because Wande or Jazzy has left me is like asking my first sister if she's lonely now – she has two kids now, lives in Canada. Don Jazzy is still my brother – we just had to move on. We'll still work together in future, same with my boys. In fact, just this week, he sent me the remix to Oliver Twist that we're releasing in the UK on May 14. All the interviews I've had here, I kept hyping him. It's already in my system – you know me, I'm a one-way soldier. Jazzy is a very quiet person. Loyalty is key. My loyalty still lies in the friendship I had with him. He was cheated by JJC, and I was present. I swore never to cheat him. But I'd like to think our visions became different.
'It was clear when we met that Jazzy wanted to be the biggest producer, I wanted to be the biggest African entertainer, not the biggest singer. I had my mind on money. In order to say I'm the biggest, I had to be the richest. So for a very long time, he was on the back end. He respected my act, I respected his music judgment. Every meeting that brought us money I went for. I'd say I need to confirm from Don Jazzy because that was the agreement, even though I knew it was my decision. First Glo deal was $500,000. That Landcruiser jeep was because of my demands. It was because of the skill and exposure that I used to bargain. I'm a businessman'
'People say I'm less talented, I was known as a jester in the JJC squad. I'd make everyone happy and play the mouth organ, but I knew what I wanted. I decided to give Don Jazzy power in 2007 when we realized that after four years, they did not recognize us as a record label. We had signed artistes and done all this work. So we restructured, and restrategized. So I told him to chill, so he can be more respected and be the don. I'm older than him by one year, yet I respected him like a don. I remember when he came out at Ali Baba show, I knelt down for him, so people would say he's the baba. All the talking in my ears and all, it was an arrangement. All the Soundcity advert and all, he did not tell me anything. It was all an arrangement.'
So Ayeni goes on to ask:
The perception is that you've become arrogant, unreachable, proud. You're not the D'banj we used to know; not the D'banj I used to know – and most people in the media will say this is true
'Obviously people will say stuff – but this is me. I can't keep up with everyone, no matter how much I try. But I understand where I'm coming from. I cant forget my roots – all the interviews I had yesterday, I was 'bigging up' DJ Abass, he gave me my first show in London. You saw me giving Jazzy props in my interview earlier. That's me. If I was arrogant I wouldn't have been the one even chasing Jazzy around since he told me last July that he wanted to scatter Mo'Hits. Last time I saw him was on February 19 at Irving Plaza. He didn't support the show, and he only came on stage when Sid and Wande were performing. I wanted peace.
And even my mom, who had supported us from beginning, who gave us the house we stayed in (in Michael Otedola estate, Lagos), the Previa bus we used and paid for Tongolo video, spoke to his parents last December; 'this is what your son said o'. I remember my mom saying to me, 'if you guys have been together all these years, and no wahala, then if you need to part, I hope there'll be no wahala.' She was very particular about that. I had enough proof to have come out and speak; this thing has been on for a long time, and we're in April now. But I don't want to cause any wahala. I don't want to spoil anything. I don't want trouble. Right now, I just want to be able to move on and do my business.'
'The signing (away of my shares in Mo'Hits) was already being discussed before April 16. If I kept quiet from January till now, what would it benefit me to leak anything? Remember all the stuff about my password and all? We know where that was from, I really wouldn't want to think it was from him, my brother, but it could be from anywhere, but I don't want to call anyone's name'
But were the emails forged?
'Everything in those emails were facts. And I don't even think the mails favoured me in any way. It's not the exact mails that were sent and signed, but there were elements of truth in the mails that were published.'
Why did you tell Ebony you own Mohits?
'My mom advised me not to speak. And the interviewer took it out of context. I co-owned Mohits. We registered the business in 2004, and we owned it 50:50. So I spoke about that, but the interviewer took it wrong and the fans put pressure on them and they corrected it.
This is just a tip of the iceberg of everything D'Banj had to say. He further went on to talk about issues regarding his former label mates, Dr. Sid, Wande Coal and D'Prince; how much he spent in order to placate and smooth out communicative and goal-oriented discrepancies; his Sahara Reporters interview; his deal with Mercury Records and so much more.
So, it seems the falling out bore fruit when D'Banj wanted to juggle dreams, goals and affiliations that Don Jazzy was reluctant to and was plain just not yet ready for. A Lot of unanswered questions still hang in the balance and a lot of people have already picked sides but, as Ayeni unwittingly said:
" Should one man sacrifice the wishes of the collective on the altar of ambition and material wealth? But then, what should be expected of the man whose dreams and ambition grow beyond those of other – possibly myopic-  members of the collective: should an individual sacrifice his personal desires; derail his destiny, so to speak, in the interest of the collective?
In all of this, faithfulness and loyalty have been brutally murdered. And the jury is still out on who pulled the trigger."
To read the full article, click here
credits: thenetng | liveinnaija