Good Afternoon and How you Doing? (Wendy Williams Style).
We hope great. It's Wednesday and as you know, it's that day of the week when yours truly – BellaNaija.com, exclusively presents to you some of the most affordable bargains and freebies taking place right now.
Small chops and cocktail drinks making outfit – Chop 'N' Fruits is giving you a fantastic opportunity to start a new career with their training in the making of small chops such as chin chin, spring rolls and cocktail drinks, so be sure to check out all the details.Try your luck once again this week and see if you can win a ticket to see Pakurumo star – Wizkid perform live in London or Manchester.
We hope that all your wildest dreams come true and remember to always show love. We hope to see you all next week, have a great day.
Ciao!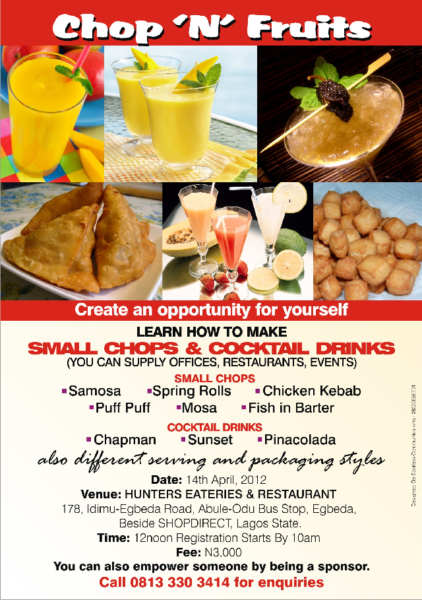 Get a Discount off Chop 'N' Fruits Training
Start a new career this 2012 as small chops and cocktail drinks making outfit – Chop 'N' Fruits is giving you a fantastic opportunity for you to be a pro in the area of their specialization and they are giving all BN readers a discount on the training set to take place on Saturday 2nd June 2012 at Hunters Eatery & Restaurant, 178, Idimu-Egbeda Road, Abule – Odu B/Stop Egbeda, Lagos by 10 AM.
To get this discount, contact them and they will give you all the payment details.
Stay in touch with Chop 'N' Fruits by calling them on 08133303414 or simply send an e-mail to chopsnfruits@gmail.com
_____________________________________________________________________________________________________________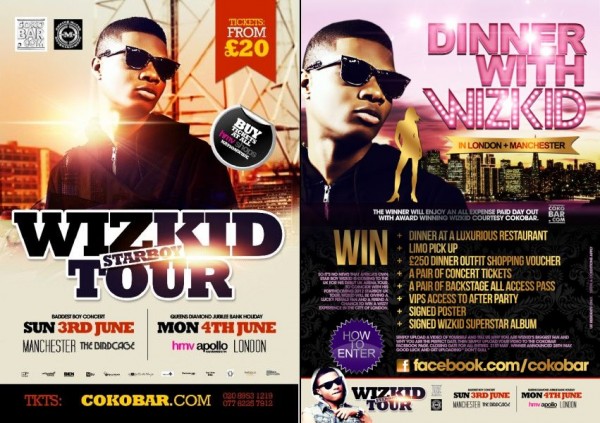 Win a Ticket to Wizkid's Starboy Tour in the UK
UK based event organizers – Cokobar is giving a lucky BN Reader a ticket to Wizkid's Starboy Tour taking place in London and Manchester. To win answer this question;
Question
What is the prize of Wizkid's video competition?
Send your answers via E-mail to kristiina @cokobar.com and make the subject of your mail "BellaNaija". The winner will be mailed on how to collect the ticket.
This competition is open to only UK residents or those who will be in the UK at the time of the show.If you will like to win a date with Wizkid, see the flier above for all the details.
_____________________________________________________________________________________________________________
Sponsored Content
Will you like to have bargain to be featured on BN Bargains? Email us via adsales @bellanaija.com