Good Morning Nigeria, It's Wednesday!
Believe it or not, June is just around the corner and just before you enter the sixth month of the year, BellaNaija is staying true to its word by trying every means possible to keep you all updated with some of hottest bargains and freebies taking place right now.
Pakurumo star- Wizkid will be performing live in the UK pretty soon for his much expected Star Boy concert in London and Manchester. So try your luck and see if you can win the last free ticket to his show.
In the movie Jumping the Broom, Angela Bassett's character told Paula Patton that "Life is a disco. No matter how the music changes, you just keep on dancing". We know the state of the country is nothing to feel proud of and most times it makes you just unhappy and pessimistic about your dreams and aspirations, but my advise for you this beautiful morning is that no matter what you are going through, keep on dancing to the top.
We love you, have a great day!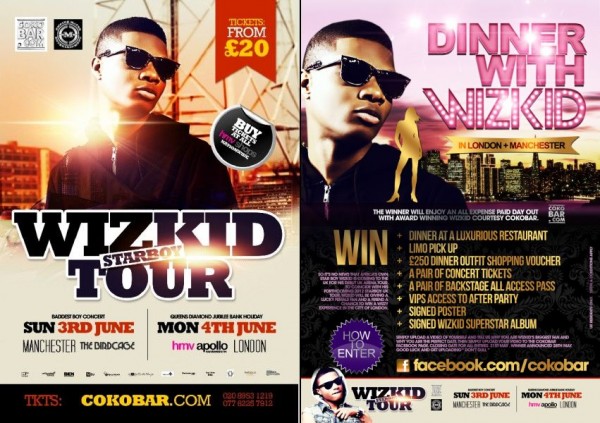 Win a Ticket to Wizkid's Starboy Tour in the UK
UK based event organizers – Cokobar is giving a lucky BN Reader a ticket to Wizkid's Starboy Tour taking place in London and Manchester. To win answer this question;
Question
What is Wizkid's date of birth?
Send your answers via E-mail to kristiina @cokobar.com and make the subject of your mail "BellaNaija". The winner will be mailed on how to collect the ticket. This competition ends on Friday 1st June 2012.
Congratulations to Tolulope Akinhanmi, you are last week's winner of a ticket to Wizkid's Starboy Tour Concert.
This competition is open to only UK residents or those who will be in the UK at the time of the show.If you will like to win a date with Wizkid, see the flier above for all the details.
_____________________________________________________________________________________________________________
Sponsored Content
Will you like to have bargain to be featured on BN Bargains? Email us via adsales (at) bellanaija.com