Yipee! It's Thursday.
We at BellaNaija.com are super glad and excited that you are here once again this afternoon. As always yours truly, has searched high and low for some of the hottest places, venues and hangouts to be spotted with your loved ones this weekend.
From the city that never sleeps – Lagos to Ibadan, Abuja all the way to the UK, we have compiled a list to make your calenders full. It is sure going to be a wonderful week for you all, we wish you the very best and remember to always show LOVE!
We Love you and we will see you all next week.
Ciao!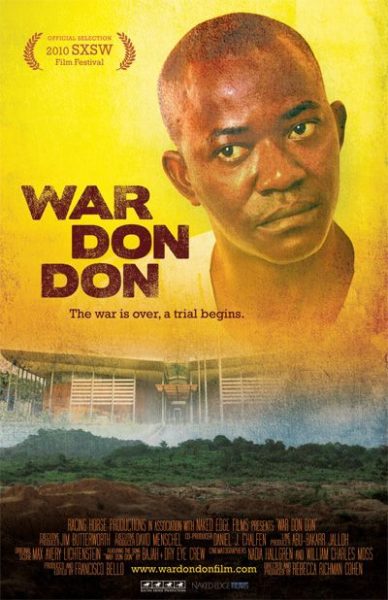 Reel Life Club presents War Don Don
Today, Reel Life Club at the Life House will screen the movie War Don Don. This film which was directed by Rebecca Richman Cohen focuses on the city of Freetown in Sierra Leone and tells the story of Issa Sesay who is awaiting trial for allegedly being known as a war criminal guilty of heinous crimes against humanity. Come and see for yourself how the story of this man ends. Admission is free for all but donations are appreciated.
Date: Thursday 3rd May 2012
Time: 7:30 PM
Venue: The Life House, 33 Sinari Daranijo Street off Ligali Ayorinde Street Victoria Island, Lagos
___________________________________________________________________________________________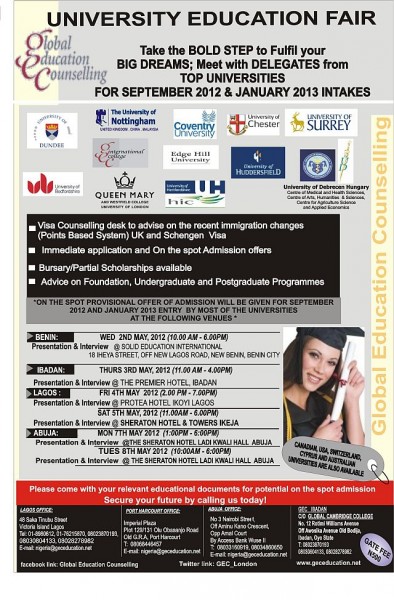 Global Education Counselling Exhibition
Global Education Counselling (GEC), will hold its bi-annual exhibition in Ibadan today, where top leading foreign Universities offering over 1000 courses from foundation, undergraduate to postgraduate degrees will be present. Through this exhibition, GEC will give parents, students and schools the opportunity to meet International Office Directors of 11 top leading universities.Attendees are advised to come along with relevant educational documents for potential on the spot admission.
Date: Thursday 3rd May 2012
Time: 10 AM – 6 PM
Venue: The Premier Hotel, Mokola Hill, Ibadan, Oyo
Contact: For more info and general inquiries, call 08023870193 | 08030804133 | 08023608385
____________________________________________________________________________________________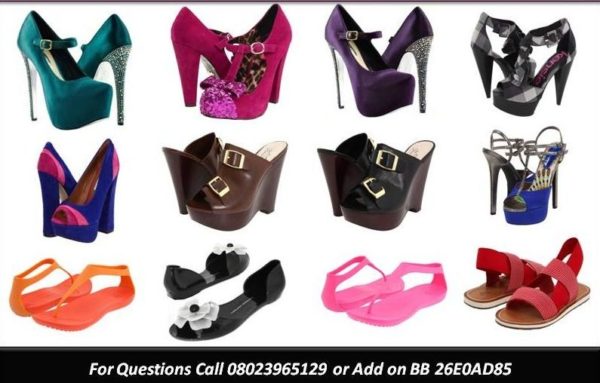 Mega Shoe Sale
Ladies, show love to your feet by heading to the Mega Shoe Sale event where you'll get to shop for stylish, classy and yet comfortable footwear by some of your favourite brands. Prices are N 8,000 or less with buy one get one free selects.
Date: Thursday 4th May 2012 – Sunday 6th May 2012
Time: 5 PM
Venue: City Mall, Onikan, Lagos
_________________________________________________________________________________________
International Cinematographer Jack Conroy to Lecture in Nigeria
Acclaimed cinematographer – Jack Conroy is coming to Nigeria to shoot a movie and he will tour Lagos and Ibadan to lecture aspiring cinematographers in an organised workshop and also to meet and interact with Nigerian film stakeholders.
Date: Friday 4th May 2012
Time: 5 PM – 10 PM
Venue: The Life House, 33 Sinari Daranijo Street, Victoria Island, Lagos
Course Fee: N 2000 (Free to Cinematography 1 & 2 applicants)
_____________________________________________________________________________________________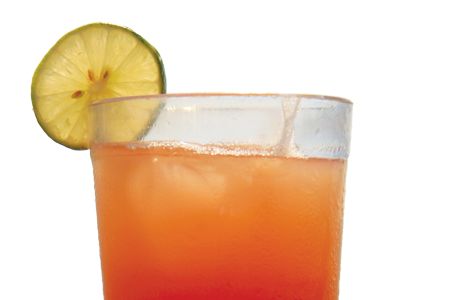 Sundown at Abule Cafe – Happy Hour!
Relax this Friday at the Life House after a stressful week with their special Happy Hour drinks which when you buy two you get the next one free. There will be lots of music by World House Beats, so be sure to come with your friends and family. For more info and general enquiries, E-mail [email protected]
Date: Friday 4th May 2012
Time: 6 PM
Venue: The Life House, 33 Sinari Daranijo Street off Ligali Ayorinde Street Victoria Island, Lagos
___________________________________________________________________________________________
The Official Menu Launch Party
On Friday Evening, La Mango Private Club & Lounge will hold its official menu launch and wine tasting event. The soiree which promises to be a classy and fun filled one, we see attendees savour some of the lounge's special meals, taste refreshing drinks and dance all night long to music by DJ Pinky. Admission is free for all.
Date: Friday 4th May 2012
Time: 7 PM
Venue: 2 Adekunle Fajuyi Street, G.R.A., Ikeja, Lagos
____________________________________________________________________________________________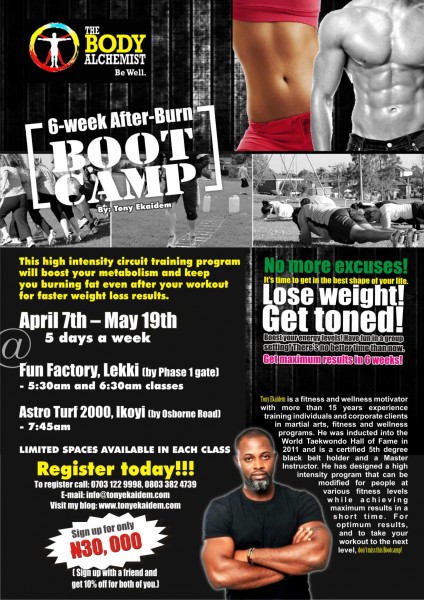 Stay in Shape and Get a toned body this 2012 at the Body Alchemist 6 Week  "After Burn" Boot Camp
Another day, another month and yet another exciting way to lose weight and get a toned body this 2012. Register today for The Body Alchemist 6 Week  "After Burn" Boot Camp – a  highly intensive circuit training program set to boost your rate of metabolism and keep you burning fat all day long. This boot camp is organized Tony Ekaidem – a master instructor of World Taekwondo and a consultant on self defence and unarmed combat for security companies and other corporate bodies. For payment details, be sure to contact them.
Date: Saturday 5th May 2012
Time & Venue: Fun Factory, Lekki Phase 1 (By Phase 1 Gate on Admiralty Way), Lekki, Lagos – Time: 5:30 AM and 6:30 AM | Astroturf 2000, (By Osbourne Road), Ikoyi, Lagos – Time: 7:45 AM
Contact: For more info and general enquiries, Call 07031229998 | 08033824739 | E-mail [email protected] | Log on to Tony Ekaidem's Website – www.TonyEkaidem.com
_____________________________________________________________________________________________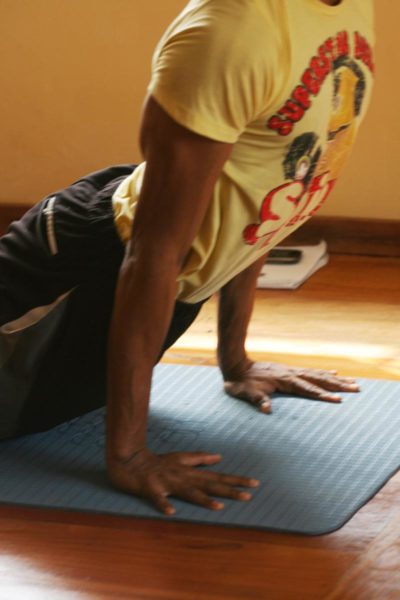 Stretch Your Muscles at DaYoga Studio
Get prepared for a brand new week by taking part in the never ending fun and excitement of Yoga and Pilates at the DaYoga studio this Saturday. The fee for each of the classes per person is N 2,000.
Date: Saturday 5th May 2012
Time: Beginners Yoga 9 AM | Immediate DaYoga Classic 10 AM | Pilates 12 PM
Venue: DaYoga Studio, The Life House, 33 Sinari Daranijo Street off Ligali Ayorinde Street Victoria Island, Lagos
Contact: For more info and general enquiries Call 07034030683 | E-mail [email protected]
_____________________________________________________________________________________________
Oxford Pan-Africa Conference
This year's edition of the Oxford Pan-Africa Conference focuses on building the type of leadership Africa needs to successfully face challenges in the 21st century. This conference will see in attendance young and emerging academics, students, entrepreneurs, activists, and politicians to discuss and debate the challenges of the day in Africa. Speakers are Vera Songwe (World Bank Country Director), Arthur Mutambara (Deputy Prime Minister, Zimbabwe), Sanusi Lamido Sanusi (Governor, Central Bank of Nigeria), He Liehui (Chairman, Touchroad International Holdings Group, China), June Arunga (CEO, Open Quest Media, 100 Most Creative People in Business), Matthew Hassan Kukah (Human Rights Activist & Social Exponent), Gbenga Sesan (Executive Director, Paradigm Initiative, Nigeria), Patrick Awuah (Founder, Ashesi University, Ghana) and Mary Harper 9Africa Editor, BBC World Service).
Date: Saturday, 5 May 2012
Time: 9 AM – 5 PM
Venue: Wesley Memorial Hall (by St Peter's College), New Inn Hall Street, University of Oxford, UK
___________________________________________________________________________________________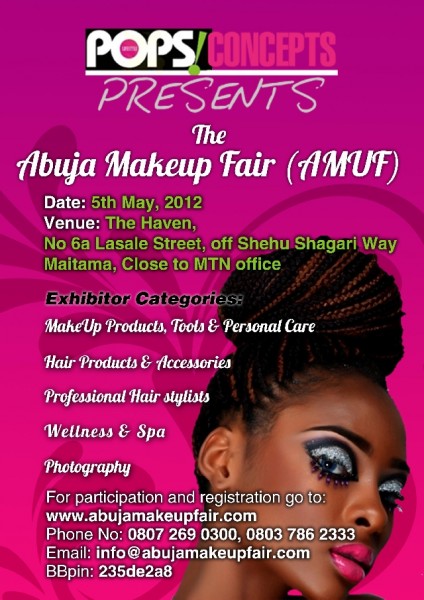 The Abuja Make-Up Fair
POPS Concepts will debut the first-ever Abuja Make-Up Fair this Saturday. This fair is organized to create a platform for make-up professionals, beauty experts, hair stylists, photographers and spa owners to showcase the best of their services to attendees at the fair.Visitors at this fair will have a unique opportunity to meet and interact with these exhibitors and gather relevant information they need to make informed purchase decisions and also to buy products and request for services from the exhibitors at a discounted rate. Admission is free for all
Date: Saturday 5th May 2012
Time: 10 AM – 7 PM
Venue: The Haven, No 6A Lasale Street, off Shehu Shagari Way, Maitama close to MTN Office, Abuja
Contact: For more info and general enquiries, Call 08072690300 | 08037862333 | E-mail [email protected] | Follow them on Twitter @abjmakeupfair | Like their Facebook Page  | Log on to their Website
_____________________________________________________________________________________________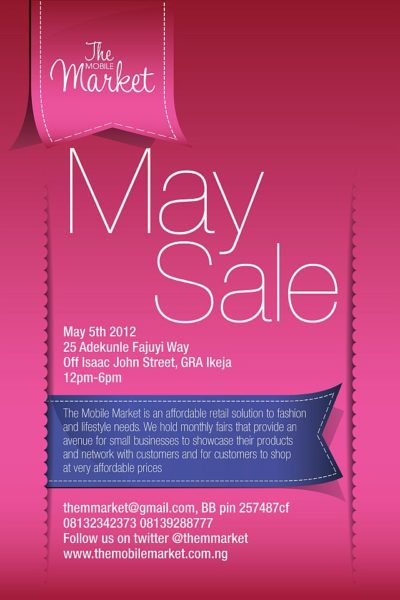 The Mobile Market Place presents it May Sale
The sensational affordable retail shopping experience – The Mobile Market is this Saturday. The aim of  the Mobile Market's "May Sale"  is to provide affordable fashion for the average Nigerian, retail fashion items as well as host fairs every month that provides an avenue for small business entrepreneurs and designers to showcase their work and meet clients and for customers to shop at affordable prices.This edition will see attendees shop for clothes, shoes, bags, jewellery, lingerie , hair extensions, accessories, art, food, drinks, beauty products and many more from over 20 vendors stocked with items that will make you spend every Naira you have on you.
Date: Saturday 5th May 2012
Time: 12 Noon – 6 PM
Venue: 25 Adekunle Fajuyi Way, Off Isaac John Street, G.R.A. Ikeja, Lagos
Contact: For more info and general enquiries, Call 08139288777 | 08132887549 | BB Pin 257487cf | E-mail [email protected]| Follow them on Twitter @themmarket | Log on to their Website
____________________________________________________________________________________________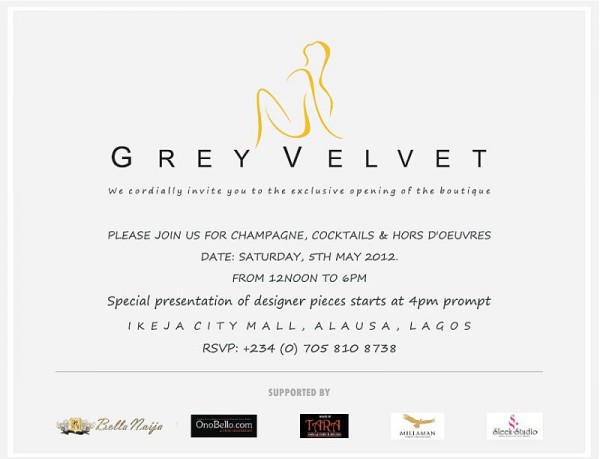 The Launch of Grey Velvet's Fashion Retail Store
This Saturday, Grey Velvet will launch its fashion retail store at the just opened Ikeja City Mall. The event which promises to be a unique fashion gathering will kick off by 12 Noon.The store will retail clothes, shoes, handbags, jewelry and accessories produced by Nigerian and African designers including Remi Lagos, Isi Brown, BebeGrafiti, Virtue Clothiers, Xclamations, Kiki Kamanu, Design for Love, RN Jewelz, T.T DALK, Dehadza, Ejiro Amos Tafiri, Republic of Foreigner, House of Farrah, DOT, Nick & Grace and many more. This event is strictly by invitation, to attend send an E-mail to [email protected]
Date: Saturday 5th May 2012
Time: 12 Noon – 6 PM
Venue: L34, Ikeja City Mall, Alausa, Ikeja, Lagos
___________________________________________________________________________________________
The Book reading of London Life Lagos Living
Make it a date this Saturday to be at the book reading of Bobo Omotayo's novel – London Life Lagos Living. The book is a collection of short stories inspired by the author's adventures through work and it is a must read for all. Admission to this event is free for all!
Date: Saturday 5th May 2012
Time: 3 PM – 5 PM
Venue: Patabah Books, Adeniran Ogunsanya Shopping Mall, (Ground Floor), Surulere, Lagos
_____________________________________________________________________________________________
The Diary of A Plus Size
Nollywood actress Adaora Ukoh will officially launch her clothing – Adaora Couture in Lagos this Saturday. The line by the starlet specifically caters for plus size women.
Date: Saturday 5th May 2012
Time: 5 PM – 10 PM
Venue: Scintilla Place, Banquet Hall, Km 20 Lekki-Epe Express Way, Access Road through Chevron HQ, Lekki, Lagos
_____________________________________________________________________________________________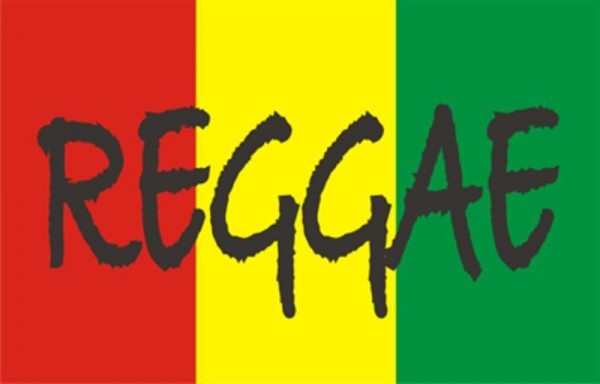 Live Reggae Music at The Life House
Join the Life House's in house band for an evening of mellow live jazz, highlife and reggae music. Admission is free for all but donations are highly appreciated.
Date: Sunday 5th May 2012
Time: 6:30 PM
Venue: The Life House, 33 Sinari Daranijo Street off Ligali Ayorinde Street Victoria Island, Lagos
___________________________________________________________________________________________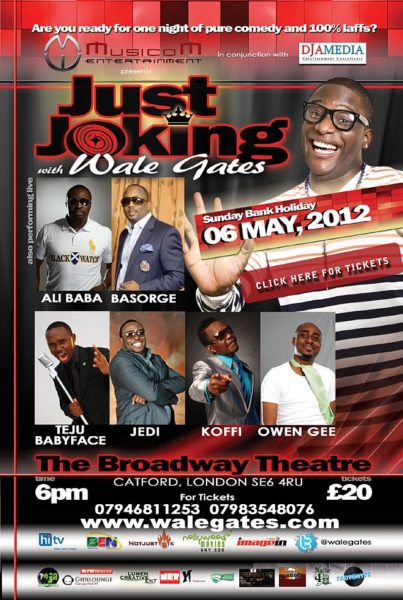 Just Joking with Wale Gates
British born Nigerian comic act – Wale Gates will headline a one man show – Just Joking with Wale Gates in London. Scheduled to also make appearances and deliver rib cracking jokes are Ali Baba, Basorge Taria Jr, Teju Babyface, Koffi, Owen Gee and Jedi. DJ Abass, DJ Wateva and DJ SholaB will also be present to play some of the best songs right now.
Date: Sunday 6th May 2012
Time: 6 PM
Venue: The Broadway Theatre, Catford, London SE6 4RU, UK
Ticket Price: £20
Ticket Locations: Click on the flier above
________________________________________________________________________________________
Bethari Studios Bootycamp
Get in shape this May with a fitness program for women at the Bethari Studios Bootycamp. There will be lots of routines like Cardio Kickboxing, HIIT drills and body-weight strength and conditioning workouts. Register a friend and you'll get a 5% discount.
Date: Monday 7th May 2012
Time: 7:30 AM &  9:00 AM Daily
Venue: Bethari Studios,Williams Estate by Bakery Bus Stop, Surulere, Lagos
Contact: For more info and general enquiries Call 08080756781 | E-mail : [email protected]
___________________________________________________________________________________________
BellaNaija.com is not responsible for the organization or further promotion of these events, neither do we have a stake in their sales or popularity. Inclusion in "Events This Weekend" is Free. Contact – adsales @bellanaija.com if you will like your event to be included. Note that BN reserves the right to choose which events are featured. "Pay to attend" parties attract a fee