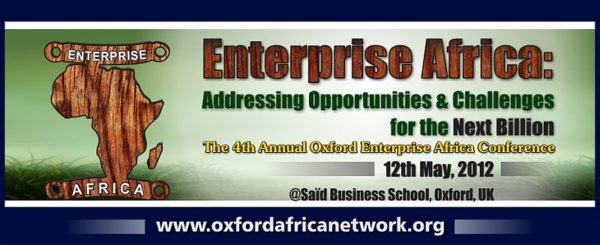 On Saturday 12th May 2012, the 4th annual Oxford enterprise  Africa conference will be held in Said Business School, Oxford, UK.
This year's theme "Enterprise Africa: Addressing Opportunities & Challenges for the Next Billion" highlights the potential for tangible business growth and investment presented by a continent on the rise.
This 4th edition will draw on Oxford's experience of educating leaders for more than 800 years, Enterprise Africa has emerged as one of the leading global platforms for engaging business leaders, students, and innovators from around the world on significant business issues and opportunities in Africa. The keynote speakers on the D-Day are Arnold Ekpe (CEO Ecobank Group) and John Momoh (Founder and CEO Channels Television Nigeria).
Also scheduled to speak at this 4th annual Oxford enterprise Africa conference are;
Henry Obi (Partner & Chief Operating Officer, Helios Investment Partners)
Jacqueline Muna Musiitwa (Founder and Managing Partner, Hoja Law Group)
Dai Jones (President and General Manager, Tullow Oil Ghana)
Mncane Mthunzi (Supplier Development Executive, Massmart (Wal-Mart Africa))
William So (Current Chief Advisor & Former President, China Unicom Africa)
Lerang Selolwane (Office Manager to the Group CEO, De Beers)
These top professionals will speak on these topics;
One Billion Strong Middle Class: Opportunities and Challenges
Unlocking Value in Africa: The Role of Private Equity and Frontier Investments
Managing Natural Resources in Africa: The Way Forward
Entrepreneurship on the Ground in Africa: How to Get it Right
Africa and China: Defining the Next Steps of Engagement
This event is open to all students and Oxford alumni interested in business in Africa. To register, log on to www.OxfordAfricaNetwork.org
Date: Saturday 12th May 2012
Venue: Said Business School, Park End Street, Oxford, UK
Contact: For more info and general enquiries, E-mail Ima-obong.ebong@exeter.ox.ac.uk
_________________________________________________________________________________
Sponsored Content