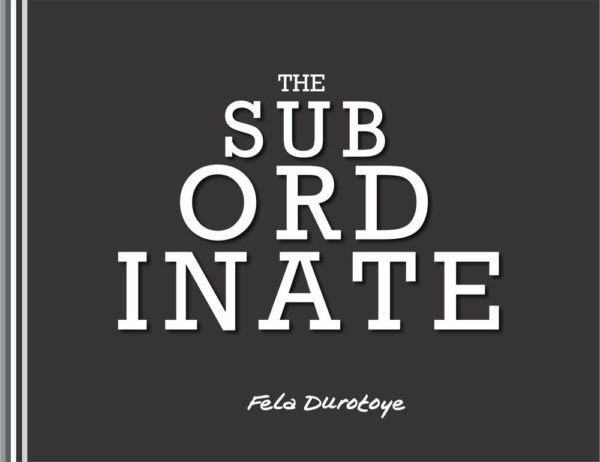 Celebrated nation-building strategist and multi-award winning inspirational speaker, Fela Durotoye has released a new book as he turns 41 today, May 12, 2012.
According to Durotoye, The Subordinate, subtitled: "Becoming the right candidate for promotion always", is one of his first written works and has gone through years of pruning and re-writing. The 165-page full-colour coffee table book is thoroughly researched and garnished with exceptional graphics and pictorial representations. In this highly anticipated title, Fela Durotoye shares success principles he has tried and tested over the decades through insightful anecdotes.
Why he wrote "The Subordinate"
"The truth is that, most employees and subordinates are unfulfilled on their jobs, partly because they do not love the jobs they have and mostly because of the so called bad bosses," he says on why he wrote the book. He adds, "The issue is that, your boss has certain expectations from you as a subordinate, which may be quite difficult to express to you up-front. This is because most bosses believe that their subordinates should know these things somehow even though no one ever tells the subordinates about them. Some bosses may also be quite concerned that their subordinates may consider them manipulative if they expressed such expectations directly. Yet these expectations find a way of becoming the real appraisal issues that determine your appraisal ratings even though you may never find them on your appraisal forms."
In "The Subordinate", he identifies the secret Key Performance Indices (KPIs) from the word SUBORDINATE itself. "Throughout this book, I will help you understand why your boss has these unspoken expectations. I will give you the secret keys to your boss' heart and you will discover how they can help you win the admiration of your boss and how you can naturally become the right candidate for promotion always," he explains.
What his former boss says about the book
The book also comes with a foreword from Foluso Phillips, the Executive Chairman of the Phillips Consulting Group, a business and management consulting firm with offices in Lagos, Johannesburg, London, and Kenya. Mr. Phillips, Fela's former boss, attests, "In over a decade of knowing Fela, I have seen him practically live out the principles highlighted in this book. Therefore, I am confident to certify that the contents are not just the theoretical illusions of an author. Rather, they are practical keys – or should I call them secrets, for a more accurate description of what they really are – that can be lived out by everyone and that will deliver the desired results of getting you to the top of your career ladder in the shortest possible time." Mr. Phillips who is also a qualified Industrial Economist, a chartered Management Accountant of the U.K., and a chartered Accountant of Nigeria, says, "It can be most challenging for any individual to fail in the work place, especially if it's because they are disconnected from their boss or were never even connected in the first place. I advise every organisation to acquire this book as a 'must read' for every employee and encourage them to act out the factors highlighted."
Where to get the book:
"The Subordinate" is available immediately in the United States and parts of Europe for $20 only at www.thesubordinate.com. Visitors to the site can also get a sneak peek into the book.
How about readers in Nigeria?
According to 'Seun Salami, Fela's publicist, readers in Nigeria can also place orders for the book immediately via the website, but it will be available for direct purchase and delivery in Nigeria for N5, 000 as from June 1, 2012. He warns, though, "This book is not for everyone. It is for the people who wish to fast-track their career rise. Consider it as the hidden treasure chest of secrets that most bosses may never share with you about what they consider to be your real access to a career fast-track."
It would be recalled that to celebrate his last Birthday, he held the "40 Days of Impact and 40 Events" across several Nigerian states. Here's wishing FD, as he is fondly called, a Happy Birthday and many more years of greater impact and service to Nigeria and the world!