Uti Nwachukwu is one of Nigeria's most popular entertainers. He is a TV Presenter, Model, Actor, Musician and MC and a 2012 nominee for Entertainment Personality of the Year at the Nigerian Entertainment Awards.
In 2007, he made a successful appearance in 'The Next Movie Star' Reality TV show where he finished as first runner up and 'Big Brother Africa' (BBA) 3 in 2008. However, his return to the house for BBA All Stars 5 in 2010 was the turning point of his career as winning the competition shot him up to stardom.
Uti is the Tourism Ambassador of Cross River state and the Youth Ambassador of Delta state, his home state. For his career achievements, he has won several awards including FAB Model of the Year 2011, Leadership Young Person of the Year 2011 and City People Most Fashionable Celebrity of the Year 2012. The video for his single, 'Once in My Life' carted away the Best Alternative/Rock Video at the Nigerian Video Music Awards 2011.
He speaks with Adeola Adeyemo in this exclusive, no holds barred interview.
Any misconceptions I had about Uti flew out the window after chatting with him for a few minutes. He was too bubbly, too friendly to be stuck up and struck me as one of the most down to earth celebrities I'd met. For one who was quite famous, he had no airs around him and responded to questions about his life, family, career and more without holding back.
You must be one of the most successful Reality TV Stars in the country with two appearances in 'Big Brother Africa' and one in 'The Next Movie Star'. Why did you decide to enter for these shows?
Actually I missed the audition to BBA 2 in 2007 and it was on my check list to enter for a Reality TV Show that year so I decided to enter for The Next Movie Star when I missed BBA. I grew up watching a lot of TV and I always used to day dream about doing things like I saw on TV. All I wanted was a platform, the avenue to be seen so that the producers or whoever is responsible for hiring actors, musicians, models can see that this boy is good at whatever he does.
What else was on your check list and have you been able to achieve all you set out to do?
I had a check list when I was 18 and on that list were different things – work on my physique, appear on a billboard, walk on the runway, do a TV advert of international standard, act in movies, record a rock single, win awards at everything I do, become a TV presenter, go on BBA (at that time there was only Big Brother South Africa and I loved the show so much, I wanted to be on it, and thankfully in 2001, Big Brother Africa was introduced). The only thing I haven't achieved on that list is acting in a Hollywood movie and going on Oprah Show, but of course there is no more Oprah Show.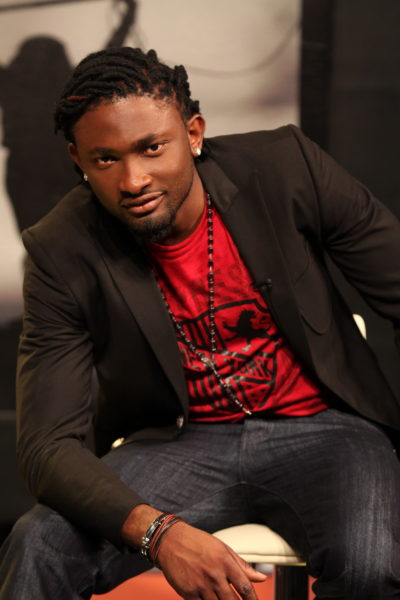 You had a brief stay in the house in BBA 3 but returned to clinch the ultimate prize in BBA 5 All Stars. Tell me about the period between the two shows. What was going on in your life at that time?
At that time, my career wasn't going exactly the way I wanted it to. People were pricing me cheap. For the fact that I hadn't won, they felt like they were doing me a favour and I wanted that to change. So one Sunday I went to church at RCCG City of David for a Thanksgiving Service. That very day, the Pastor said we should pray for a second chance. At that time, I didn't think of Big Brother as a second chance but I prayed and surprisingly, that same week, on Wednesday, I got a call to come and participate in BBA All Stars.
Tell me something about the show that most people don't realize.
A lot of people don't realize that it's very difficult to be with people you've never met in your life and you have to live with them. The last month is the most difficult because that's when you start to lose it when there are less and less people in the house.
What do you think about the current season of BBA and the performance of our Nigerian housemates?
It's very entertaining. It's sad that our representatives had to leave. For all you know, Ola and Chris might get another chance maybe at another All Star game. But Goldie is kind of emotional right now and I totally understand. I keep telling people that you have to be put in that house to be able to judge somebody. Goldie has a very pleasant personality, she's very down to earth but she's in shock now and she's slowly recovering from shock but Goldie is going to spring up. I'm yet to see that fun part of Goldie but with time, I know she'll wake up.
If you were called back for another season of Big Brother, would you return to the house?
Unless they are doing like a World Big Brother from all the countries and the price would be like $1 million, hell yeah!
Uti & his many talents
Let's talk about what's happening with you presently. I kind of feel like I already know you because I'm used to seeing you online, on TV, in magazines, making appearances at almost every major social event. Why does it seem like you're everywhere?
After BBA 3, I got lots of complains that I wasn't really coming out strong and people didn't know me on the social scene. I couldn't be bothered before but with BBA 5, I got even more invites to events and got sort of cajoled with appearance fees for some of the events. But that is not the real reason. I'm an entertainer and networking is key. I had to learn about it the hard way because I wasn't really getting a lot of jobs but the minute I started accepting these invites and attending these events, I started getting more jobs. For an entertainer, events are our official meetings just like how executives travel for board meetings. You have to be seen and heard. Also as brand ambassador for Martini, I am required to be at every event sponsored by Martini and 7 out of every 10 events I attend is sponsored by Martini. Don't forget that it gives me the opportunity to free my mind. I have all the time to get old. When I'm 60, I won't be going everywhere.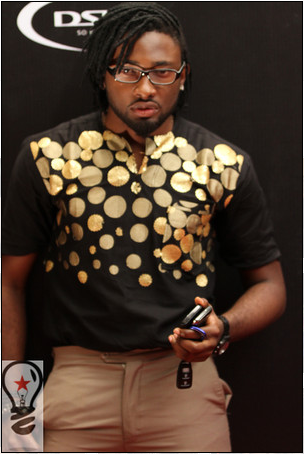 You released two singles and a video last year but we haven't heard much about your music career recently. What's happening in that area?
I've been so busy, really. A rock album is not something I'm going to rush because it's going to be very deep. I'm going to try as much as possible to finish recording the album this year. I take my time to do things. I like to do things the right way, the different way.
You sing Rock, which is not a very common genre in Nigeria. What influenced this and how has your music been received so far?
I'm not really a 'gbedu' music lover, except when it's time to party. I grew up listening to a lot of pop, rock, country music. I loved Linkin Park, One Republic, Foo Fighters. My music appeals to a certain class of people and I'm comfortable with that.
Your single, 'Once In My Life' is a very emotional song. What inspired it?
I was in a dark place when I wrote that song. There was a lot of backstabbing, betrayal, regrets and I just channeled all of that into music. It was not just about a girl as the video portrayed, but from people I called my friends then.
Your acting career has gained momentum since you acted in Tinsel, Bursting Out & Fear Not. Tell me about some jobs you've done recently and what to watch out for.
True Citizens was recently released. It had a lot of mixed reviews but people didn't really understand that it wasn't supposed to be a blockbuster, but a drama. Speechless with Uche Jumbo and Tonto Dikeh and In The Cupboard with Ini Edo and Alex Ekubo would soon be released. Another movie to look out for is Weekend Getaway. I got paired with Genevieve Nnaji in that movie and it's something I've always wanted.
You've hosted two major successful TV shows, U&I and currently Jara with Helen Paul. What was the experience like on both shows?
U&I was a great show. We used to talk to the most random people, bus drivers, we even went to the brothel once to talk to the prostitutes. It was all about understanding these people better, knowing why they are the way they are.
Hosting Jara with Helen Paul is great. She is very funny. She makes my day really happy. With her, it doesn't feel like a job.
Acting, Presenting, Music and Modeling – which one is most fulfilling to you?
All really. TV Presenting is very easy because it's just me being me. Music is most challenging. Acting and Modeling strikes the balance.
Have you been involved in any other jobs or career outside the entertainment industry?
I worked in a bank from 2003 to 2004 after my Diploma at University of Nigeria, Nsukka. I made Senior Bulk Teller, counting people's money and wishing I could credit my own account with all that money. But I went back to school for my Bachelors degree at Benson Idahosa University, Benin to study Computer Science and Education.
Controversies & Rumours
You were once rumoured to have clinched a Glo Ambassador deal worth $700,000. That sounded really mouth watering but is it true?
If I had a Glo deal, you would have been seeing my face on Glo billboards all over Lagos. l don't know where that rumour started from. When I heard it, I contacted Glo and said its either we make this a reality or you guys refute the rumours so that you don't scare away other people that might want to endorse me. I think they did publish a story to refute it. The way rumours fly in this country, it is crazy.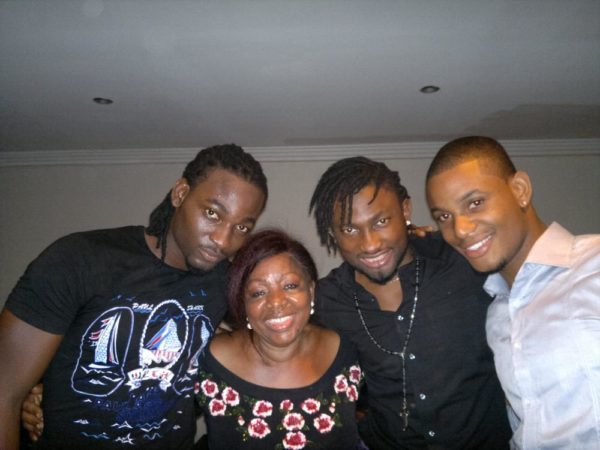 Another rumour that really flew was regarding your relationship with your friends, Alex Ekubo and Gbenro Ajibade and also Florence Ita-Giwa. Some news media alleged that you were in a romantic relationship with them. What went through your mind when you heard it?
It went from shock, to worry to laughter and now it's extreme laughter. Back in the days, when two guys are always seen together, people would say this one has passed friendship, now he's your brother. But now, people are saying we are in a relationship and I'm like what is happening in Nigeria? It's very hilarious. I'm not trying to disrespect anybody's sexual preference but for Alex and I or Gbenro and I, it doesn't make sense. Florence Ita-Giwa is just a lovely woman who has helped my career in so many ways.
You have been severally misrepresented by the media but you seem to have grown a thick skin against misleading or negative comments and rumours about you.
I usually don't read comments about me on blogs. I think most people that believe and carry these rumours are people that practice these things. I'm happy that we can sit down and laugh about it or else they would have ruined a good relationship. The more they talk more about us, the more relevant we are. In fact they should talk more, it's really helping our career in a positive way.
Love & Family
Talking a bit more personal now, tell me about the first time you fell in love.
The first time I fell in love like a fool was when I was 20. I had to see her everyday; if I didn't see her in a day I would just be tossing and turning. Sometimes I would go to her BQ at 12 midnight just to see her face. At a time I started getting too possessive because I wanted to be the only one that would make her happy. I would wear stuff because she liked it, dressed in a way she would like. It was very sweet but when it started getting bitter, it crushed me. I think I started growing grey hair at that time.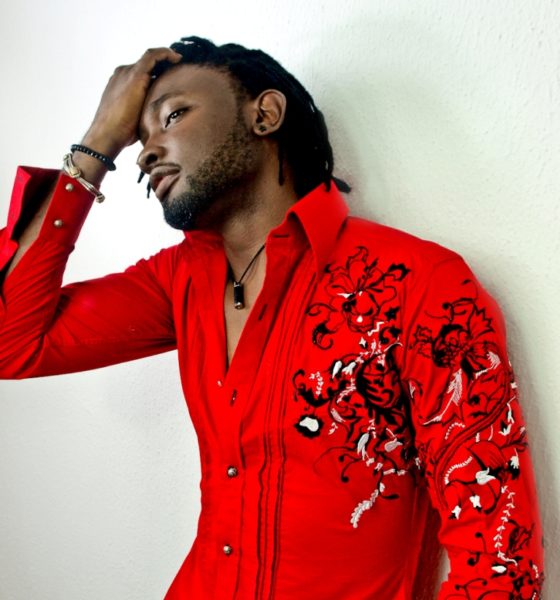 Awww, that sounds cute. You sound like a very emotional person when it comes to romantic relationships.
In as much as I'm one of the most pleasant friends to have, as a lover, I'm not very easy to be with. I'm a bit paranoid because of what has happened to me in previous relationships; I'm suspicious and quite possessive to an extent and with that comes the hint of getting jealous easily, I can be very controlling. So relationship wise, whoever is going to be with me has to love the flaws as well as the positivity in me.
I believe there's a lady out there for every man. Have you found your kind of lady?
There is somebody but we're not serious. I'm trying to see if we can get serious; we're not calling it a name, we've not started dating and I'm trying to see how this can work because I've not dated in a while. I've had flings and sometimes really close friends but when it gets physical, it just kills everything; you now know that this can't go beyond the physical. For me to date someone, I have to connect with that person on a very spiritual level, and I have to trust the person. Unfortunately, I'm not really that trusting anymore.
Would you be willing to reveal her identity? Could you tell me more about her?
No, because I don't want to jinx it. I don't like people butting their nose into my relationship. It really ticks me off, it takes the fun out of it. But she's a very cool person, she's patient. Sometimes when I lose it with my mood swings, she knows how to get me back on track. She tolerates me, she guides me a lot, tells me when I'm wrong in a way that is not like she's attacking me.
What are your fondest childhood memories?
I was a very mischievous playful child, very adventurous. I was the one who would get all my friends dirty and we'd come back home and they would call me the instigator. Every day was fun for me. I can't pick any moment.
You lost your father while in the Big Brother Africa 5 house. Please accept my condolences. How were you able to pull through that period in the house and still win the competition?
I was sad and angry. He left at a time when all my siblings had settled down except me, when it was time to make him proud. It pained me so much, I cried my eyes out.  I think being in the BBA house helped me accept it better because if I was at home and seen all the drama, I think I would have lost it.
Tell me about your charity initiative, 'Uti Leads the Stars'.
My Mum became a widow while I was in the Big Brother house and I know how worried I felt about her. Her husband was her only companion especially since all her children are grown and out of the house, I am the last born. So it got me thinking about other widows out there, the ones that don't even have anybody to check on them, especially the poor ones. So on my birthday, I celebrated with the widows, took a lot of foodstuff to them and then for Christmas, we decided to bring more people from different homes and invite our celebrity friends to come and have fun with them and bring a gift along. It was awesome, I didn't expect to see as many celebrities that turned up that day.
Was it a one-off thing or are you going to continue with it?
This year, I'm going to be 30 on August 3rd and I'm putting everything into Uti Leads the Stars 2. My fan club members have already started organizing and it's going to be bigger and better.
Uti has decided to loosen his thick skin a little on BN and respond to questions and comments about him. So if you want to pass any message across to him or ask him a question, drop it in the comment box and he will respond to your question.
Uti Nwachukwu ft. Mtrill 'Once In My Life'
In The Cupboard (Trailer)

Uti Nwachukwu 'Go Down'