Nollywood actress, Halima Abubakar is one of Nigeria's finest acting talents. Having spent over a decade in the industry, she has grown a large fan base over the years and has received national and international recognition for her work.
Halima is a graduate of Sociology from Bayero University, Kano and has a number of awards to her credit. She recently received the Best Actress Award at City People Entertainment Awards, Best Actress Award at EMINENT Achievers Award powered by News Of The People and Best Actress Award at Leadership. She also received the Icon Award from the Actors Guild of Nigeria, Best Supporting Actress from Afro Hollywood Awards and African Movie Icon from CEPAN Africa.
In this exclusive interview with Adeola Adeyemo, the Kogi State Youth Ambassador speaks about her journey so far in Nollywood and surmounting several challenges that have come her way.
Halima Abubakar is blunt, and she has no excuses for that. In her beautiful, cosy house where we had a chat, she struck me as a very determined person, a hard worker and someone who is very comfortable with herself, regardless of what anyone thinks. For someone who has spent so long in the industry, it was interesting listening to her story. We started our chat right from the very beginning.
The Early Years
Take me back to the start of your acting career. How did you make your debut into the movie industry over a decade ago?
I got into the industry through a colleague of mine. I saw him in Kano and told him I wanted to act so he gave me an address which was Tobe Restaurant and ECOWAS Hotel in Surulere. When I came visiting in 1999, I went searching for the address. I went for a few auditions but I didn't get any role and I went back to Kano but from then, I started becoming frequent in Lagos, visiting my aunt and using that as an excuse to come to Lagos for auditions.
How old were you at that time?
I was 16.
When did you finally get your first movie role and what was movie was that?
My first movie was The Rejected but it's not out till date. Then I did another one, Sabotage. I can't remember the names of most of my early movies except a few like But Why, Sabotage and Gangster Paradise which I did around 2000.
Tell me, how has the journey been so far?
It's been rough but we thank God, at least I'm still here to tell the story. I'm very grateful for all the decisions I've taken, the struggles, the pain, the rejection but I'm glad I went through all that because I appreciate it more.
What lessons have you learnt over the years?
That things are not as easy as people make you believe and to be good to people. Consistency, prayer and being focused. Focus is the main thing.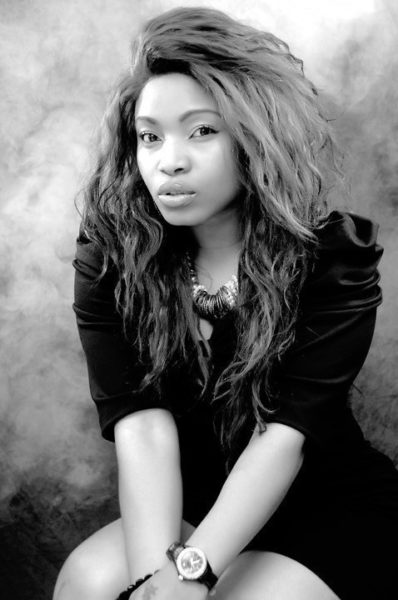 Breaking New Grounds
You've been in the industry for so long. Have you diversified into other roles aside from acting, like directing or producing?
I made my debut as an Executive Producer in a recent movie, Mistresses which starred myself and Ghanain actress, Yvonne Nelson.
That should be interesting. Tell me more about the movie.
It's about everything that has to do with relationships be it as a boyfriend, as a husband, wife or whatever. It's about deceit, betrayal and people would learn one or two things from it.
When would the movie be released?
I'm going to see the finishing job today and see if there is anything to correct and then we'd see where it goes from there. I'm not in a hurry but I'm sure it won't take time.
How many movies have you featured in so far in your career?
I've done over a hundred movies.
Wow, a hundred. I read a biography of yours somewhere that you've done over 40 movies.
Maybe it's an old one. Between last year and this year I've shot over 50 movies.
Seems like you've been very busy lately. Have they all been released?
They are not all released but this year, I've had 10 movies already out.
Don't you think 50 movies in one year is quite a lot and could probably adversely affect the quality of the movies?
The movies are not saturated which is a great thing. I'm not in every poster, I'm not in every movie. I actually had to caution myself not to do too much. I need the money but there are limits of jobs that I can do. Moreover my health is more important to me. So if I feel that I can't do three movies at a stretch, I do two and I rest, then another one. At a time I was doing up to four movies at the same time but I just had to stop. There are other people that want to act too and I can't be in every movie.
What has been the most memorable movie you've featured in so far?
I can't choose because they all define me at the end of the day. Choosing one particular one won't be fair to the other producers.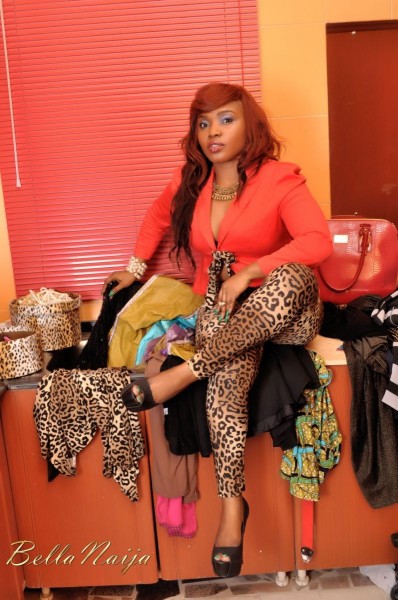 Dealing with Criticisms & Misconceptions
You released some promo pictures to the media recently which came under some criticism especially on online social media. How have you been able to deal with the backlash?
I think most of them who do that are sad people, that is why they can afford to put their hands on the computer and be criticizing people. If I'm comfortable with my body, I don't know why others should have a problem with it. For them to sit down and criticize when people are doing stuff shows the mindset of those people criticizing because they are not better than those people doing it. It's just a picture, it's not food, it's not clothes, so they should take it easy with themselves. It was just for my website. If I'm OK with the pictures, you don't have to like it. You can pass a post when you see Halima Abubakar on it. But it won't stop me being real. I didn't have to retouch those pictures, I didn't have to do a glamour shoot because no matter how beautiful the pictures are, they will still slam it. They should try and encourage people because others do. Why should people on the internet not?
You mentioned that the pictures were for your website and a charity initiative. How far have you gone with those projects?
My website www.halimaabubakaronline.com is up and running. I've been doing the charity work for a while. In the past one month or so, we've done a lot of charity work.
What is the name of the Charity and what is the focus area?
Halima Abubakar Foundation for the Poor. Actually it focuses on people that don't have food. My concern is that a lot of people are hungry so aside from giving them money, we can buy a bag of rice and share it to them. Food and water generally is my interest because I was hungry once so I know a lot of people are hungry too.
Tell me something about you that a lot of people don't know. Correct some misconceptions or rumours about you that have been widely spread.
I love to sleep. I don't go to clubs and I don't smoke. I heard I smoke and my brand was some brand. I used to drink and I stopped drinking over a year now because I realized that I had reactions which couldn't make me sleep so my doctor had to stop me. And again, I'm not a lesbian. People keep tagging me with that and I wonder why. Whoever I slept with should please come out and let's just get it over with. And trust me, if I am, I am one of those people that would come out and say "hey, I am a lesbian". But I'm not so they should stop giving me names that God did not give me.
Growth & Awards
I understand you would be clocking another year very soon. How old will you be?
Yes, June 12. I'm getting old. I'm going to be 29.
How are you going to celebrate the day?
I will just sleep. I've been doing a lot of celebration and that takes a lot of money. I can't be spending money for every celebration. I'll just thank God and sleep at home.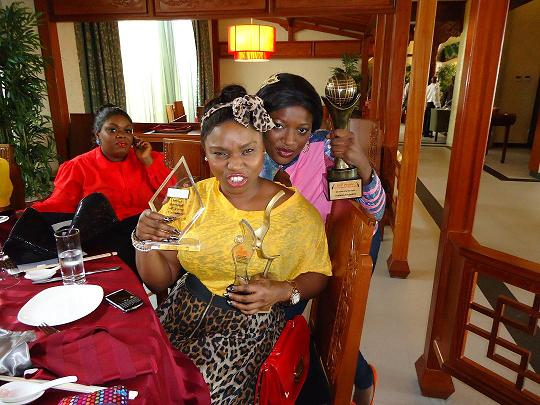 It's been a season of awards for you recently. I've seen you receive a couple of awards over the past one year.
I've won 9 awards in the last 8 months.
That's impressive. How do you feel about the awards?
It's humbling, amazing, and unbelievable but I'm grateful to God because he made all that possible. Without him I don't know where I would be. It's a great thing when you receive acknowledgement for what you're doing, it shows you're doing something well. I'm grateful for those people who keep encouraging me no matter what I've gone through. It's not about how long you've been in the industry, when you're doing good jobs, people watch it.
Growing Up, Education & More
Now, please tell me more about you. Where were you born and where did you grow up?
I was born in Kano. I grew up in Lagos, Katsina and Kano.
Tell me about your fond early memories.
I was very stubborn while I was young so I kept changing schools. Sometimes I would tell my dad, "Oh I saw a ghost yesterday", or "I saw somebody with half leg walking". I cooked up a lot of lies so I could leave where I am to come to Lagos. Eventually I got admitted into Ojo High School in Lagos and that was the period when my love for acting started. I stayed in Lagos with my aunt but after a while I left because it was becoming discouraging and disappointing putting in so much hard work and not getting roles. As a young girl, I didn't want to be taken advantage of so I had to go back to Kano again after my Junior Secondary School to complete my Senior Secondary Education at Army Day Secondary School, Kano.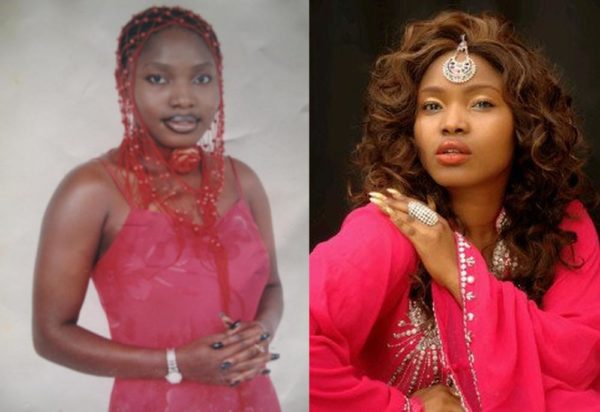 Looking back now, would you say you were a rebellious child?
My dad did not allow us come to Lagos except during my holidays but I rebelled and came to Lagos but after all the suffering I had to pack my bags back to Kano. I remember when I got back it was during fasting period and my Mum was just sitting down looking at me, wondering what sort of child is this. But when I sit down to think about it, I can't even believe that I pulled such stunts. I thank God they are in support of me now, there is no need to do hide and seek.
You studied Sociology at the University. If you were so passionate about acting, why didn't you study a course related to acting?
I was already acting while in Secondary School so I didn't feel like I needed to read Theater Arts. I wanted to do something different.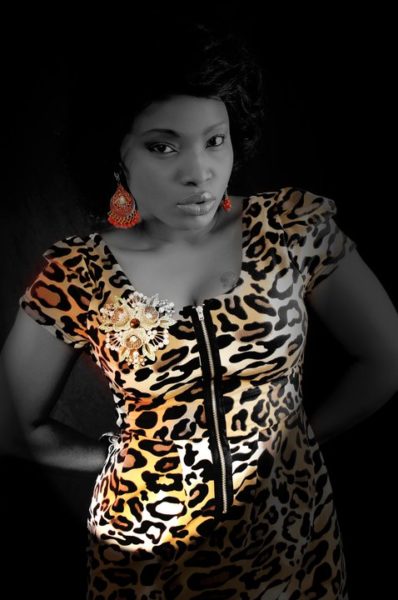 Were you still acting while in the University and what year did you graduate?
Yes I was but I wasn't too active. I graduated in 2005 but I came back to Nollywood in 2008.
Your alma mata, Bayero University and the city of Kano where you grew up has come under attack by the Boko Haram sect in recent times with many losing their lives and property. How do you feel about these attacks and how has it affected you?
They have business with the Government not the individuals so I think they lost focus of what they were doing. My business and family were affected and I'm still pained about it. We are just going to pray to God to keep guiding and protecting everyone. I do not support any crisis from any angle at all.
Are your parents and siblings still in Kano?
My dad has been in Lokoja for the past one year with my Mum although she visits Kano often. Leaving Kano would not be easy, she grew up there but for now they are in Lokoja with all my siblings.
Fashion, Love & New Projects
What is your most expensive fashion item?
My wristwatches. I love wristwatches. And rings, I love rings. It's amazing when you hear the amount some of these rings cost. I love accessories a lot.
What informs your choice of outfit when you are getting prepared to step out for an occasion?
I like being different. I want people to look at me and say "yes, she has a style", even if it's weird. I don't have to come out wearing a mini skirt like every other person. I can't come out wearing something that won't allow me breathe well in order for people to look at me and say "oh, she's a fashion icon". I'd wear 16 colours if I choose to as long as I'm happy about it. I love colours. Look around, there are always colours. See, I painted my house purple. I was almost going to paint the gate red but then people stopped me.
Speaking about your house, I read somewhere that you spent $200,000 to build this house. Is that true?
People can do promo! Thank you so much for that wish. With $200,000, I can build five houses in my village. Don't mind them, it's just a renovated house.
Let's talk about your love life. Several versions of your relationship have been published in the media over the years. Do tell me the real situation of things in your relationship.
There's nothing to talk about. People are always in a hurry to say people were dumped. I don't know where they get their stories from. I'm not one of those people that go in and out of relationships. I maintain friendship and that is the important thing. People just keep going to press to say things that were not verified. It's a private thing. I'm in a relationship and I'm happy.
Would you say being a celebrity affects your relationship in any way?
You can be a low key celebrity, you don't have to be everywhere. I'm a low key celebrity. The time I have for myself, I have to sleep. I don't come out brandishing the things that I do. I'm not in your face kind of actress.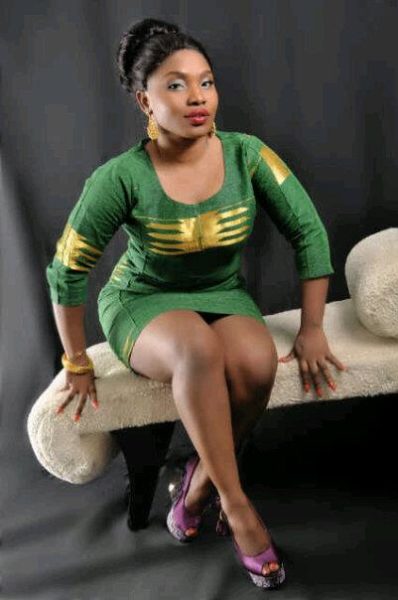 What qualities would you say makes a relationship work?
Honesty and loyalty makes a beautiful relationship. If you are honest, it helps in everything, not just a relationship. If you are loyal, you would see the reward of being loyal to someone. Everyone should be careful and live by what they preach. If you preach love, show love. If you preach honesty, be honest.
What's next for Halima? What new projects are you working on?
I'm doing a short drama about bullying because it's a sensitive subject to me. I've been bullied a lot, in Nollywood by friends and in school and I survived it. I need to help other people know that bullying is a dangerous act. It gave me depression and for a long time I was on medication. My wonderful internet bullies are part of my story and I just want to say they should be ashamed of themselves.  When you see a young girl growing up and you give her so much hate, it's not a happy place that she would be. To think that another person could be responsible for that is shameless. I'm going to be focusing my attention on students in schools.
Is it more than just a movie?
Yes. I've started doing a campaign. I've started going to schools to lecture them about bullying.
Halima would be giving some of her time to respond to questions and comments from readers. So if you want to pass any message across to her or ask her a question, drop it in the comment box and she will respond to your question.
Halima Abubakar in 'Mistresses'

Halima Abubakar in 'Good Girls Gone Bad'