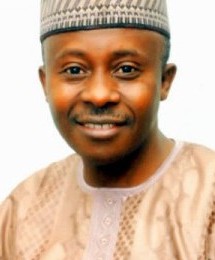 The embattled former Chairman of the House of Representatives Ad-Hoc Committee on Monitoring of Subsidy Regime, Mr. Farouk Lawan, made a dramatic reappearance at the House on Thursday, the first since the $620,000 bribery scandal involving him broke out.
Chairman of Zenon Oil, Mr. Femi Otedola, had claimed that he gave $620,000 bribe to the lawmaker to remove his companies from the list of firms indicted by the committee for fuel subsidy fraud.
Mr. Lawan strolled into a session of the House presided over by the Speaker, Mr. Aminu Tambuwal, around 12.55pm. He shook hands with a few colleagues before taking his seat on the front row. He exuded confidence as if nothing had happened in the past days.
He however, did not bow to the mace, placed right in front of Tambuwal, which by the convention every member does. However, the Peoples Democratic Party legislator from Kano State did not speak on any issue in the chamber before he left at about 1.25pm.
Speaking about the measures taken against him by the House, Mr. Lawan said the decisions were taken to protect the integrity and credibility of the legislature.
He said he bore no grudge against the House over the decisions, admitting that the legislature was bigger than an individual.
"First of all, I think it is important to note that I have been a member of the House of Representatives in the last 13 years, of course with several of some of my colleagues (past and present).
"We have done so much to build the House as an institution that should enjoy the respect and confidence of Nigerians and whatever the decision taken by the House, I believe it is meant to ensure the credibility of the institution.
"Because, as members, we must at all times recognise that the institution is bigger than each and every one of us."
Lawan added, "The decision of the House is a collective decision of an institution and I have absolutely no problem with that decision.
"As far as the issue relating to me is concerned, I believe ultimately I will be vindicated; I just urge Nigerians to continue to be patient."
The House had at an emergency session last week, removed Lawan from the chairmanship of the fuel subsidy panel. He was also suspended as the Chairman, House Committee on Education.
What do you think? Should he be attending sessions at the House of Representatives while investigations on the bribery scandal are ongoing?
News Source: Punch