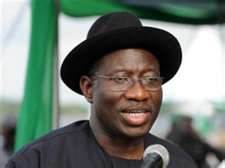 President Goodluck Jonathan yesterday made another surprising sack of top government officials which has sent the country debating over his recent actions. Only last week, he sacked his National Security Adviser and Defence Minister over what he claimed to be "to conform with the changing tactics of the Boko Haram insurgency".
However, yesterday's shake up had nothing to do with Boko Haram. He removed the Group Managing Director of the Nigerian National Petroleum Corporation, Mr. Austen Oniwon, and three group executive directors.
Mr. Oniwon was asked to go on compulsory retirement.
The GEDs sent packing alongside Oniwon are Mr. Michael Arokodare, in charge of Finance and Accounts; Mr. Phillip Chukwu, Refineries & Petrochemicals; Mr. Billy Agha, Engineering & Technology.
In a statement by the President's Special Adviser on Media and Publicity, Dr. Reuben Abati, the affected officials are expected to proceed on retirement immediately and a new GMD, Mr. Andrew Yakubu was named to replace the outgoing one.
He commended the outgoing directors for their service to the nation and urged the new management team to be fully committed to rapidly implementing the critical interventions needed to positively transform Nigeria's petroleum industry.
The new NNPC GMD, Mr. Yakubu graduated from the Ahmadu Bello University, Zaria, in 1979 with a degree in Chemical Engineering.
He joined the NNPC in 1980. Positions he has held in the corporation include Managing Director of the Warri Refining and Petrochemicals Company and Group Executive Director (Exploration and Production).
He is an indigene of Kaduna State and a Fellow of the Nigerian Society of Engineers.
According to some analysts, Mr. Yakubu's appointment was to satisfy the federal character demand of the country: a northerner NNPC GMD under a petroleum minister from the Niger Delta.
However, there has been several calls for the President to remove the Minister of Petroleum Resources, Mrs Diezani Alison-Madueke. The cry has been that there could be no such rot in the oil sector with the head allowed to keep her office.
The President, Nigerian Association of Petroleum Explorationists, Mr. Afe Mayowa, while commenting on the appointment said, "Yakubu is a man of integrity. He is a geologist and very competent. This appointment means that government is serious to check corruption. It is a welcome development."
"If you fix the NNPC, you fix Nigeria. Yakubu represents this. This is in line with the move to fix the NNPC."
What do you think about the sack of top officials in the petroleum sector? Is this what Nigeria needs at this time to revamp the petroleum sector?
Please share your thoughts.
News Source: Punch