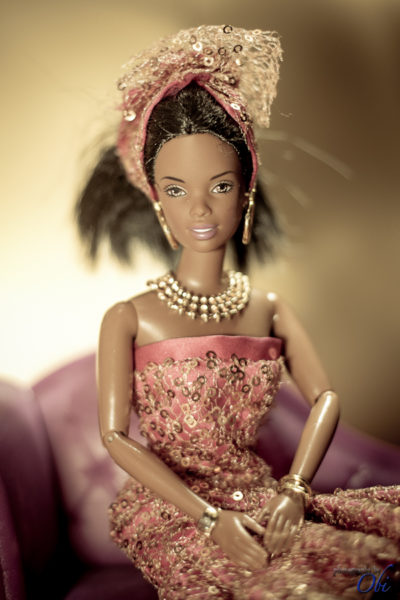 Ok, I have already confessed my love for weddings on the Funke Akindele wedding post and I am sorry to bore you on how much I love and can't stop talking about it but I just have to. Apart from the couple's first dance, the first kiss, the food (Yes, ke, a wedding has to have good food), I also love a wedding that has a good photographer. A friend and I were talking the other day about wedding photographers that truly know how to capture the most memorable moments couples would like to see on their wedding albums and the name Obi Nwokedi came up.
After surfing through his website, I found a one of a kind wedding shoot the London based photographer had for the black barbie and ken dolls. Short of words and truly impressed by the attention to detail by the photographer, I knew that I had to catch up with the brain behind this spectacular shoot that has gone viral and ask him a few questions.
Obi Nwokedi told us that the inspiration for the shoot came from Vogue Italia's Black Barbie shoot as well as some French photographer's barbie based wedding shoot. Let's not bore you with talk, see for yourself Obi Nwokedi's glam miniature wedding shoot.
****
The Traditional Wedding
More Questions for Obi Nwokedi
How long did it take you to finish the shoot?
The whole shoot took about 5 months, basically because of the sewing and difficulty finding the little accessories.
I must say the clothing and accessories used for the shoot are simply impeccable, who designed them and the set of the shoot?
I designed the set and built a mini stage. My wife, Olachi made the outfits
And I humbly speak for all wedding lovers out there, when should we expect Ken & Barbie's white wedding shoot?
Ken and Barbies white wedding .. er… I rather doubt that
Let's Imagine black Barbie and Ken are real human beings, can you tell us how they met and how Ken proposed to her?
They met through a mutual friend Jennifer, who set them up on a blind date and funny as it may seem they clicked and became an item.  For the proposal, Ken took Barbie to Eiffel Tower in Paris and when the moon was about to set, he knelt down and said "I know I am not the best looking guy, I don't have all the money in the world, but what I do know is that I can't live without you, will you please marry me and be the mother of my children?", with tears in her eyes, she screamed Yes!
How much did you spend in creating this shoot?
A couple hundred pounds I guess,  I sort of lost track because the dolls and accessories were bought in bits over a 5 month period.
As an experienced photographer, what to you are some of the most memorable moments every photographer must capture when shooting a wedding?
For me, its the emotional shots. They could happen anytime, bride looking into husbands eyes during the vows, parents faces and vows are read or during the first kiss, dad's face when he first sees the bride all dressed up and more.
 Just for Fun
Your favorite color is? I like to think its White but my wardrobe is a sea of blues.
On a hot day, you will caught eating what? Nothing, drinking is more like it.
Your best form of relaxation is? Legs up, drinks, movies and someone I love (or at least I like)
What's on your i-pod? Loads, but now currently listening to oldies from the early 90s
Your favorite reality show is? Really don't watch much of those, I'm more of a movie addict
Vendors (Lol!)
Photography: Obi Nwokedi (www.PhotographyByObi.co.uk)
Bride's Shoes: Christian Louboutin
Make-Up Artist: Barbie's Best Friend Jennifer