Hey there people! You know what they say about a picture saying a 1000 words? It's so true. However, what they don't tell you is that the quality of the picture can help increase the ratio of positive to negative words out of the 1000. So with that, I hope you are all ready for my very 1st snap happy, camera review?
The Samsung DV300F is one of the newly released cameras in Samsung's product line (23rd May Samsung Electronics Company unveiled four new Smart Cameras- WB850F, WB150F, ST200F and DV300F that offer Wi-Fi connectivity for photo sharing, back-up and lots of other features into the Nigerian market). Not only are they nice and portable, but each of them has its very own unique feature (Or "special move" as I like to think), but I digress. We are here to talk about the DV300F and as a guy who loves gadgets and used to be an obsessive picture taker, my experience with the camera has been fun.
Looks and Specs: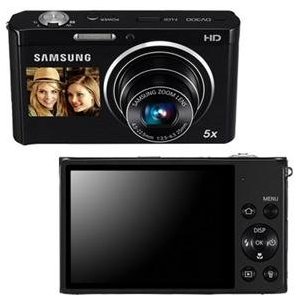 The Samsung DV300F…. The 16 megapixel version I have is a brushed aluminium Black, with a textured faux-leather back (it also comes in, dark grey with a red back or dark grey with a blue back) . I didn't notice it initially, but is has a well hidden 1.5-inch front LCD screen which can be switched on at the click of a button and makes those self-portraits shots a breeze. The buttons are easy to use as there's a panel of physical controls ranged alongside the LCD screen on the right-hand quarter of the camera back. They are all neatly arranged so nothing juts out to snag your pockets. The DV300F is petit as it's shorter than a business card with proportions at 95.2 x 56.5 x 18.3, while it weighs just 120g.
Bits and Bobs (Details and Add-ons):
The DV300F, as small as it is, offers a 5x optical zoom lens with 25mm wide-angle setting which is supported by optical and digital stabilization, (for camera enthusiasts, there's a maximum aperture of F2.5, dual image stabilisation, 16.1 effective megapixels from a 16.4MP 1/2.3-inch CCD, face detection and 720p HD video recording at 30 frames-per-second).
Another cool thing (which took me a little while to get the hang of) is that the it comes with a wide range of special effects, and the intelligent Smart Auto feature which automatically adjusts the camera's settings (So it can save your preferred options and has cool pre-sets).
The video camera is just ok, with it's 1280×720 pixels at 30fps. It was annoying that there is no dedicated REC button, but it's great that the zoom works well while recording (even though there is still mild noise as you zoom).
The flash is at the top left of the cameras front, so stray fingers can block it. There's also a 3-4 sec delay between flashes, so make sure subjects don't lose their smiles at the wrong time.
I do have to mention I just got a test model, but research shows that for charging it only comes with a USB cable. So you can charge and transfer files I guess. I noticed it doesn't come with an HDMI cable either.
All the bells and whistles (Special Features):
Another tasty treat I found, is that it comes with built-in Wi-fi connectivity, so sharing photos is now a snap (however, here in Lagos WiFi isn't quite yet everywhere, so you may not enjoy these perks as much).
When there's wiFi you can email pictures, upload to Facebook, Picasa, Photobucket and YouTube, or instantly save to a home PC via Auto Backup. If that sounds good, then the many free storage options like Samsung's AllShare Play and Microsoft's SkyDrive cloud services make it even better (if you have an account that is). Using MobileLink, you can send images to a some smartphone's or tablet's, while with TV Link using an established wireless connection you can display photos on any device on the network.
The menu on the DV300F is neat and organized with several shooting modes; Scene and subject recognizing Smart Auto capture and Program Auto, dual image stabilization mode, video mode, and a few icon-illustrated scene modes (night shot,landscape, text, sunset and dawn mode, an options for shooting backlit subjects, beach and snow scenes, etc). What's more is that it also has digital filters like; beauty shot, magic frame, exposure merging HDR, funnel effect zooming shot options and many are applicable to video as well. So in my opinion, that's were you get the extra bang for your buck (but bare in mind that with all the automatic settings, it can be hard to tell when the picture will be taken, you press the button and the camera snaps only when it's good and ready).
The camera is not exactly the best looking device out there, but it's practicality and ease of use (after a short learning session) really does make up for it's lacking "wow" factor.
 Shot taken with Samsung DV300F:
Pro's and Cons:
Positive:
– It's compact and full of options
– The zoom is really good
– Picture quality is fantastic
– Filters make taking pictures more fun
– Mini front LCD comes in more handy than you would think
Negative:
– Takes a while to get used to it (menu system, timing, options, etc)
– Switches off to save battery randomly, leaving lens sticking out
– Many options means many time spent searching for things
– Recharge needed after a day of shooting
– Have to wait for face detection, flash, auto preferences, etc
The Verdict:
As I mentioned earlier, the DV300F does not look ground breaking and can't replace a high-end pro camera. But that said, the amount of creative shooting modes, it's nifty price (about $150 on-line) and the neat little front-facing screen, help place it firmly at the top of list of fun pocket gadgets for family use. Casual photographers will be at home with it and with the filters and shooting modes like "Jumping shot" or "panorama", it would always make every moment look like more fun than it actually was.
For more details about the new Samsung Cameras, Log on to www.Facebook.com/SamsungSmartCameraNigeria
Photo Credit: www.photographyblog.com and www.cnet.co.uk