Radio On-Air Personality Titi Adelagun and media entrepreneur Gbemileke Oscar Oyinsan have one of those super sweet love stories that just tugs your heartstrings! You have spotted them on red carpets, you have seen her in ads including the popular Fanta billboard and many more, you might have seen him at an event where he was the MC, you have heard them both on Inspiration FM where Oscar previously worked as an OAP and Titi currently headlines one of the station's most popular shows, now BN finds out how this beautiful love emerged!
Titi and Oscar met working the red carpet (at Denrele's birthday party) for SoundCity and Showtime Africa respectively. Titi dragged Oscar (who was also working on the Carpet but unknown to Titi) for an interview and ended up never leaving her side till this day!
…From that point on, the duo became inseparable as they built their relationship, bond and began working together on various projects including their media company – Amber 11 Media.
In April 2010, Oscar proposed to Titi! It was April 2nd 2010, Oscar's Birthday, he suggested they go for a drive after working all night at an Inspiration FM event. It was raining heavily but kept driving despite all the questions. The couple ended up at Oriental Hotel, took the lift all the way to the Penthouse suite. Overlooking the beautiful Lagoon, Titi opened their breakfast tray only to find a stunning ring!
On One Knee, One Question, One Answer…YES!
It was very romantic and there were a lot of happy tears.
Fast forward 2 years, it was time for the wedding…
Before you explore all the BN Exclusive photos, we asked Titi and Oscar to share one piece of advice for couples and they told us, "Don't take advice from other couples… discover one another!"
Enjoy!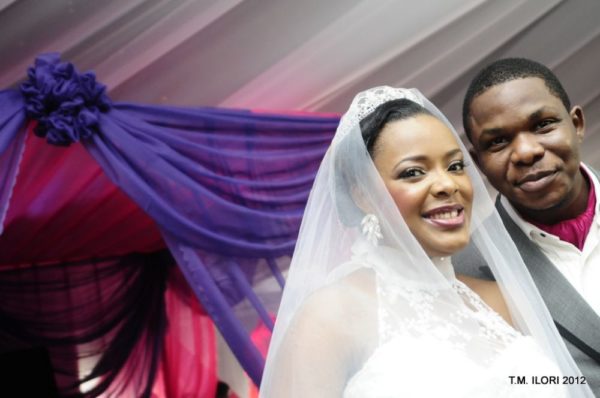 April 28 2012 was a day filled with colour and lots of laughter as Titi Adelagun and Gbemileke Oscar Oyinsan were joined as husband and wife. From the beginning of the day till the close of festivities, everyone was smiling as they witnessed this joyous double occasion.
Titi and Oscar's traditional engagement was the first ceremony of the day as the couple emerged in their purple and lilac aso-oke perfectly paired with shimmery white and silver lace. Titi looked so gorgeous as her beau gazed adoringly at his bride all through the ceremony. After all traditional rites were completed, it was time for the couple along with their families and friends to move on to the next celebration! The blessing and wedding reception.
With a princessesque tiara atop her bridal coif, Titi looked beautiful in her lace dress which was a reflection of the bridal vision she created with her mum and brought to life by designer Ade Bakare.  The bride stepped into the wedding venue clutching her bouquet of pink roses as she walked towards her love, Oscar who was eagerly waiting for his bride.
As their marriage was blessed with prayers and vows, then sealed with a romantic kiss, it was the start of a new beginning for Titi and Oscar! Their wedding slogan was "Aspire Forever, Achieve Together" and this positive bond was evident all through the day.
During their wedding reception, it was time to party with music spun from the decks and live music from Tosin Martins and the groom!
BN wishes Titi and Oscar a blessed marriage as they aspire and achieve each goal. May each day be filled with joy, love and favour.


Traditional Engagement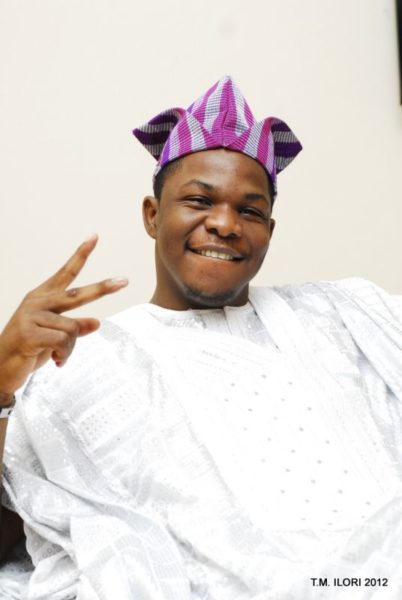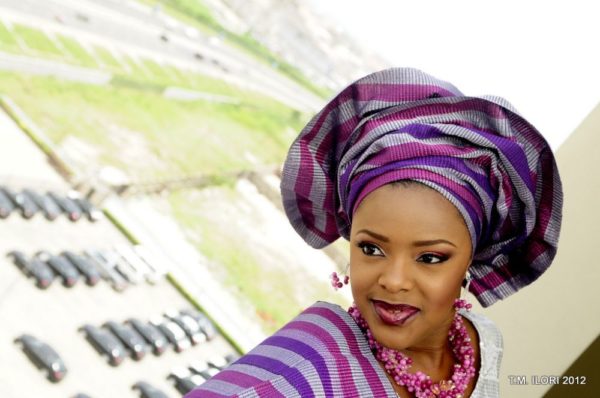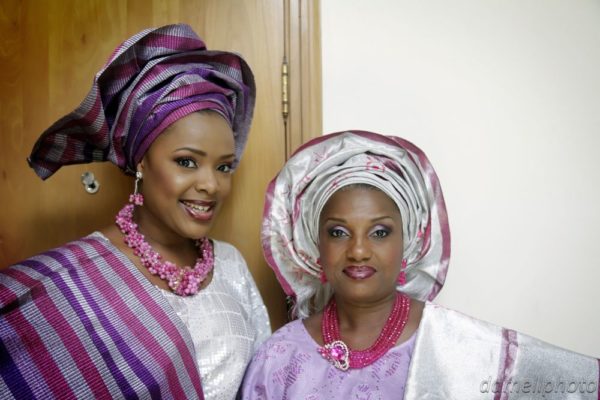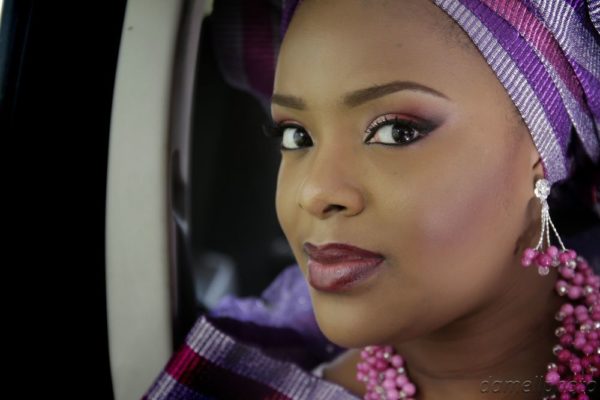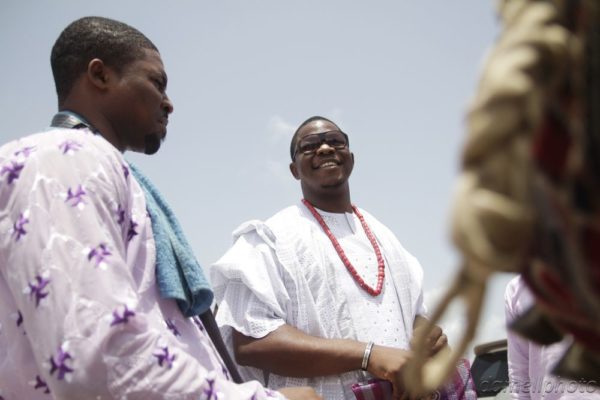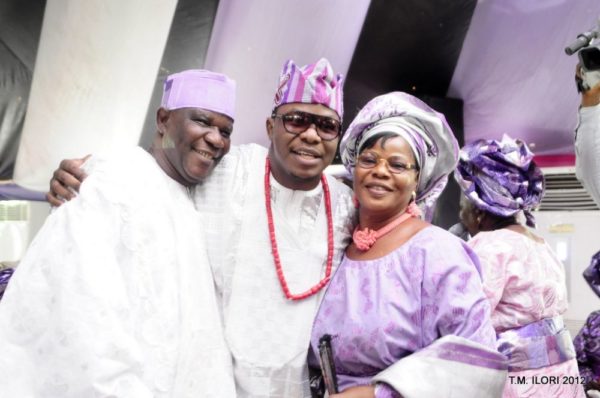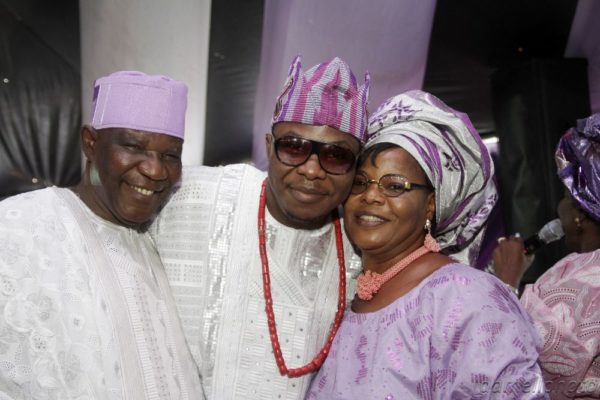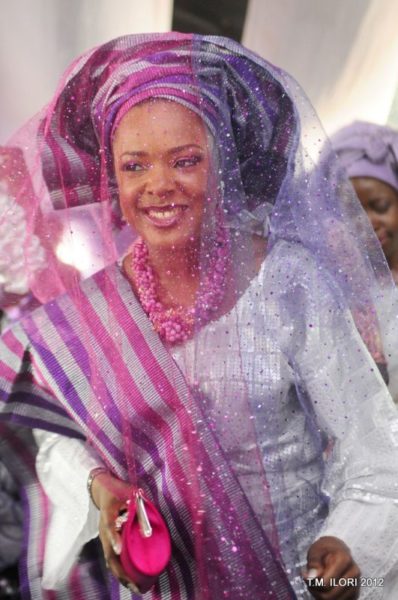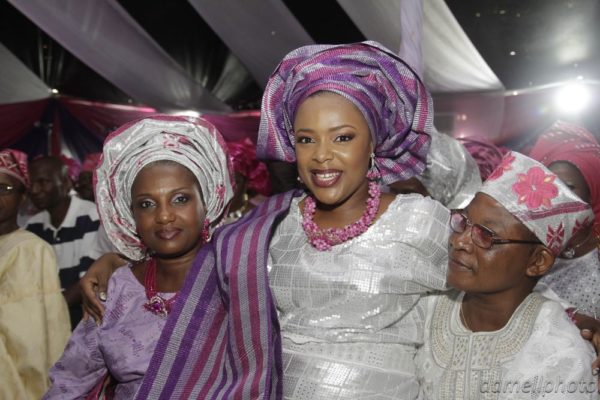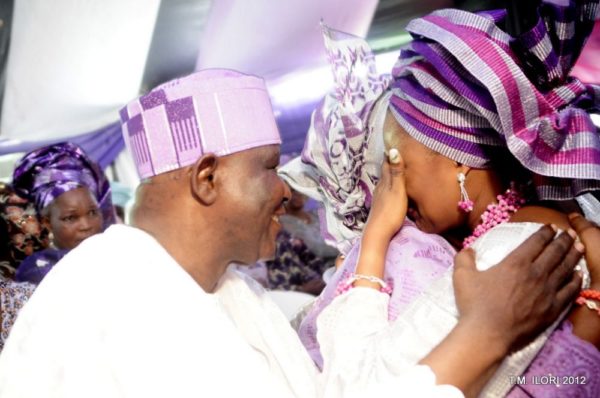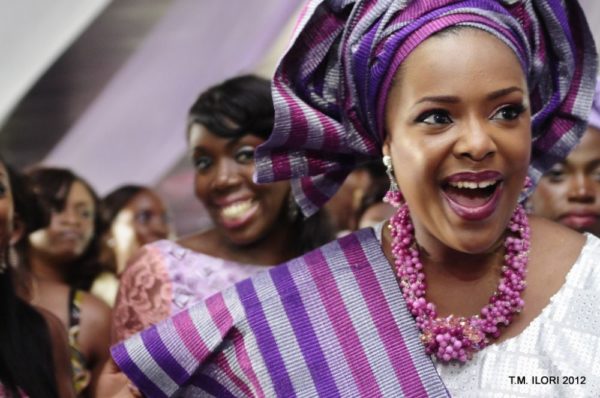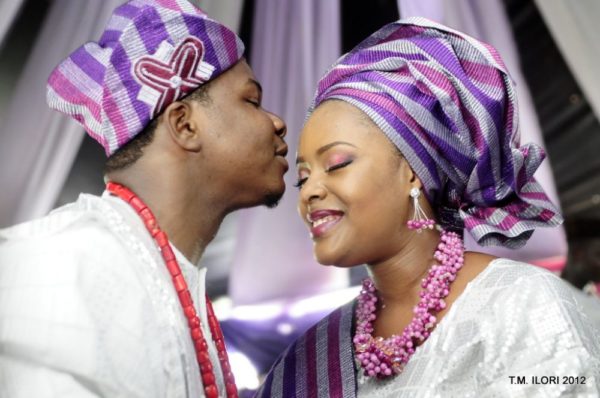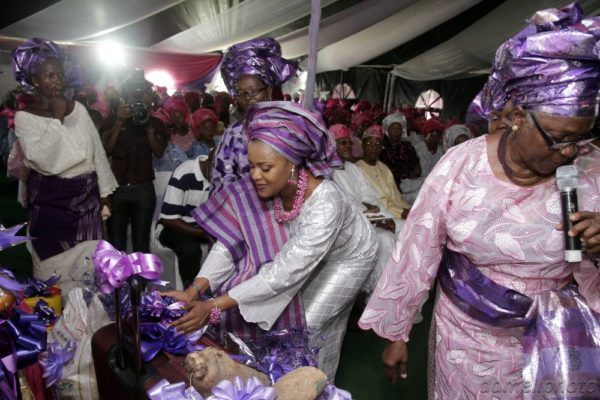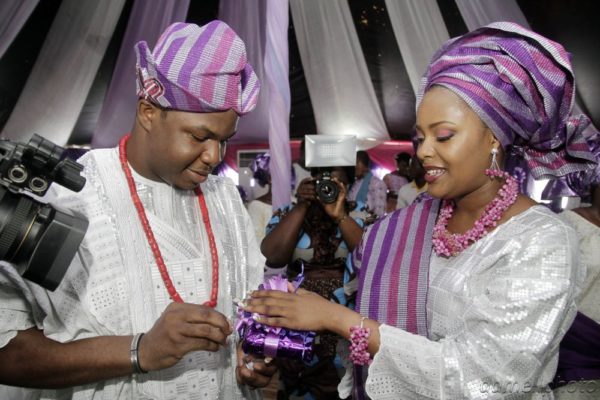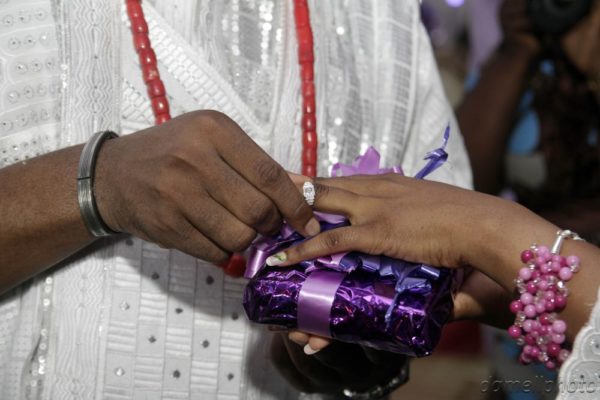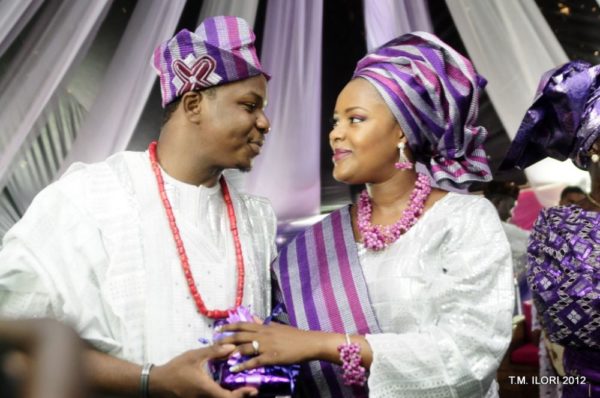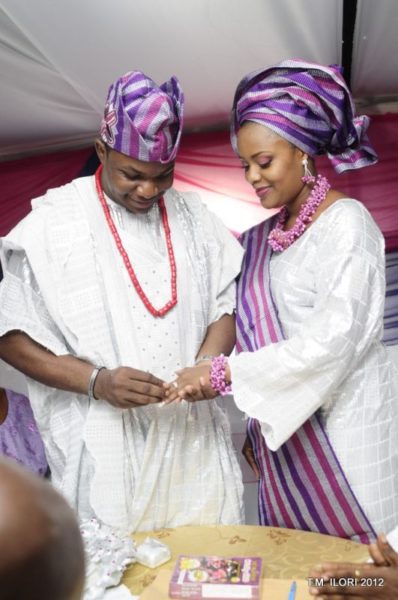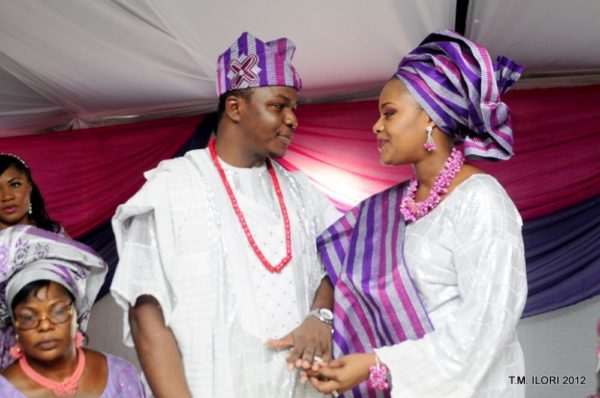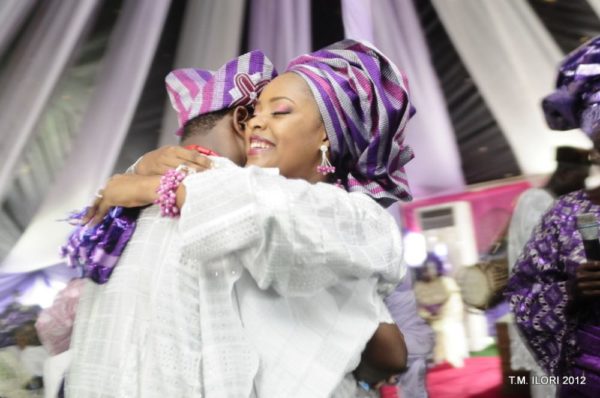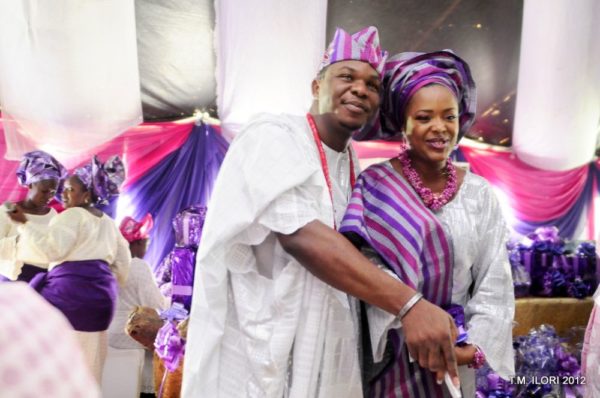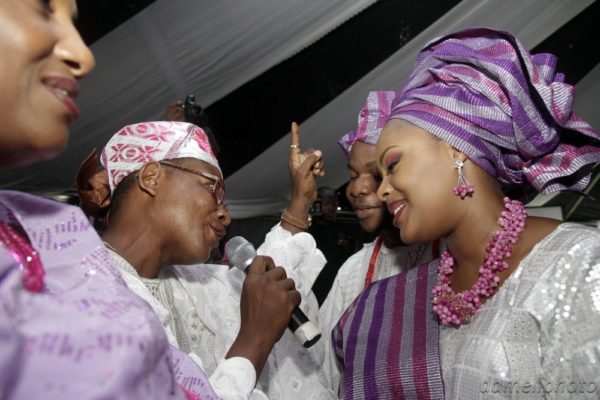 White Wedding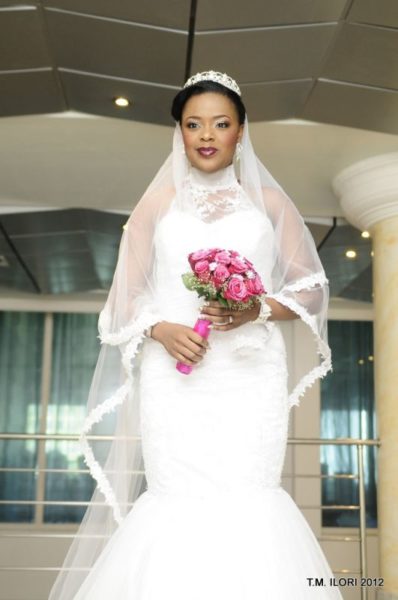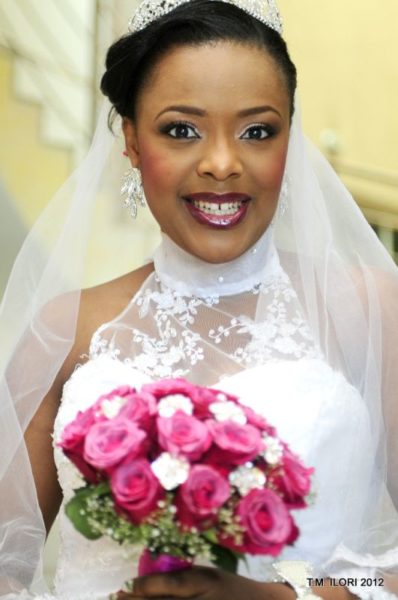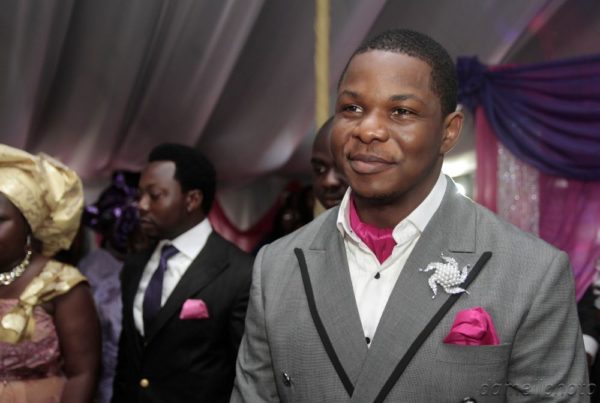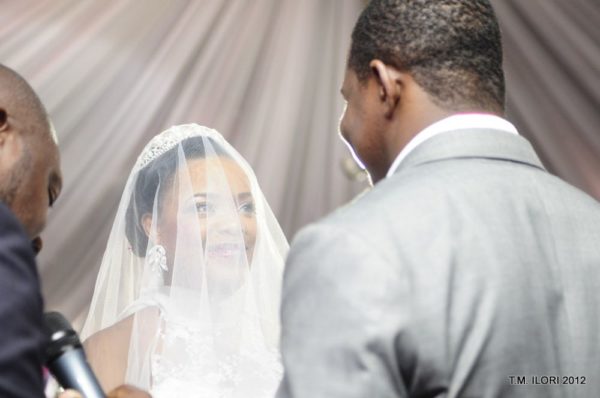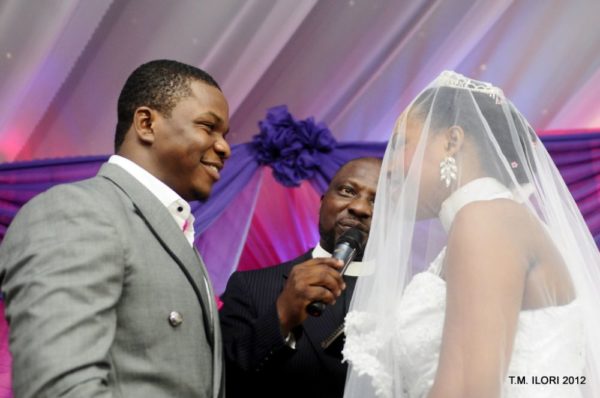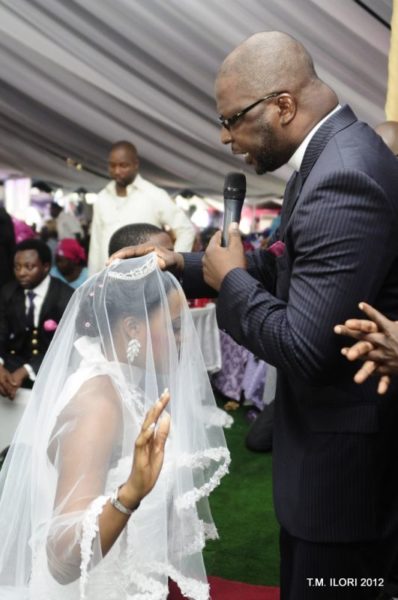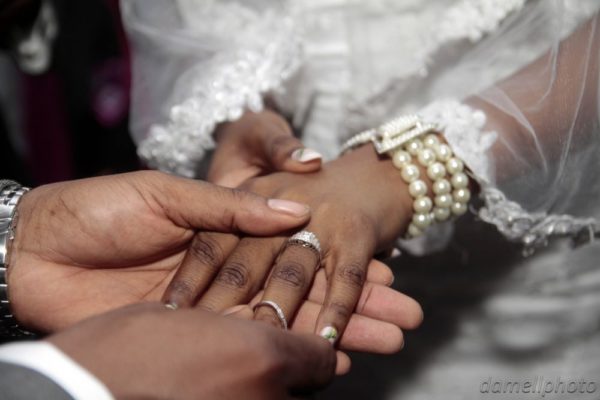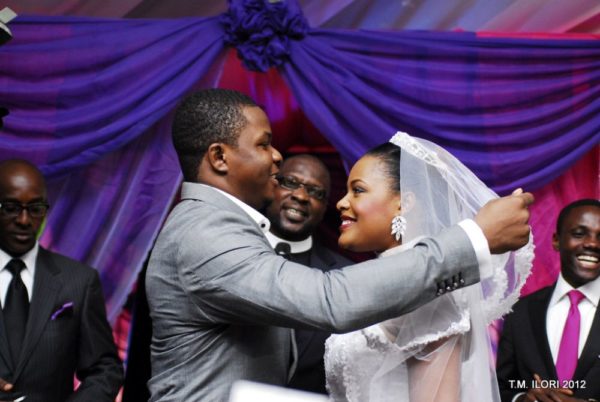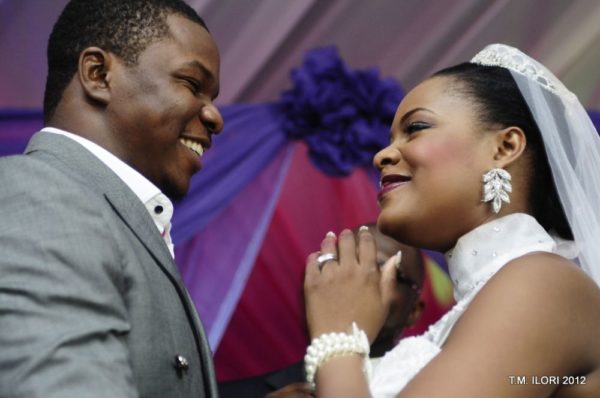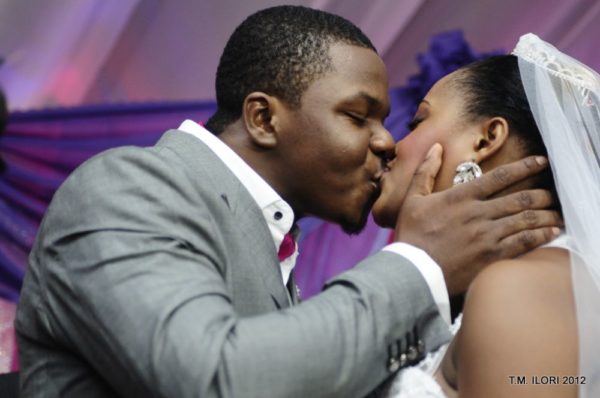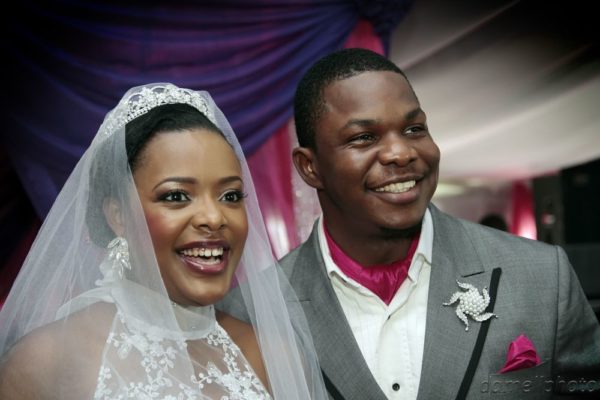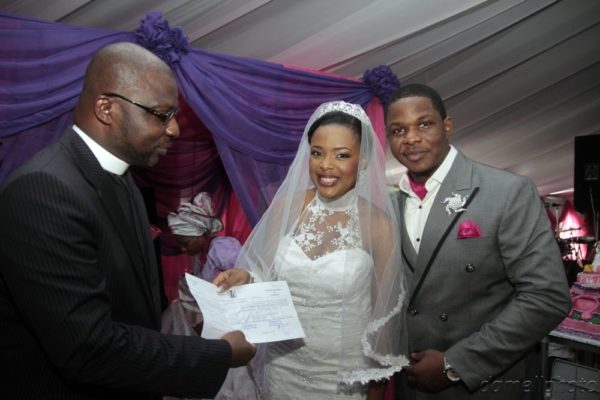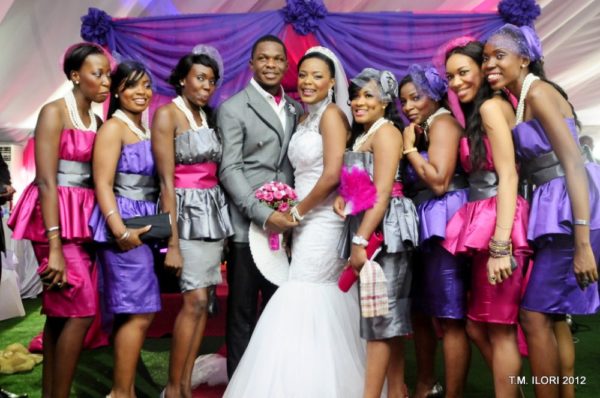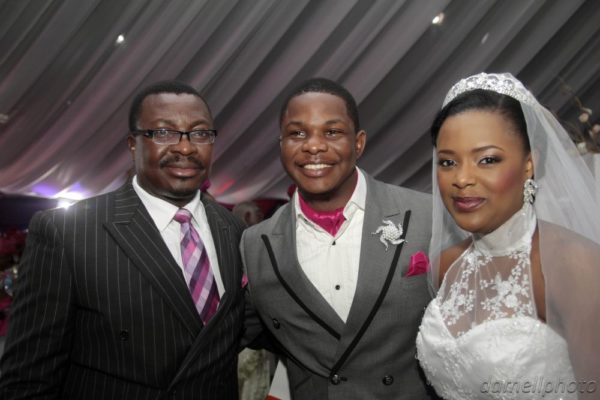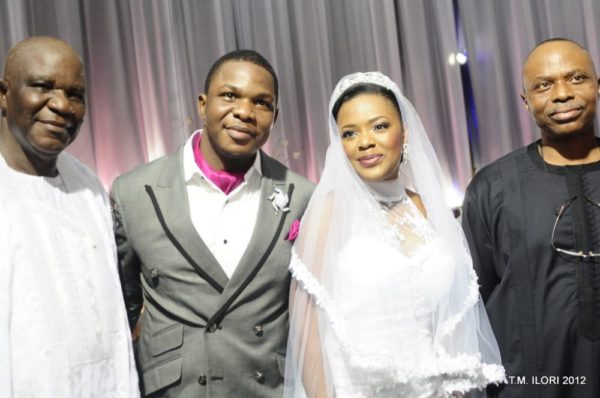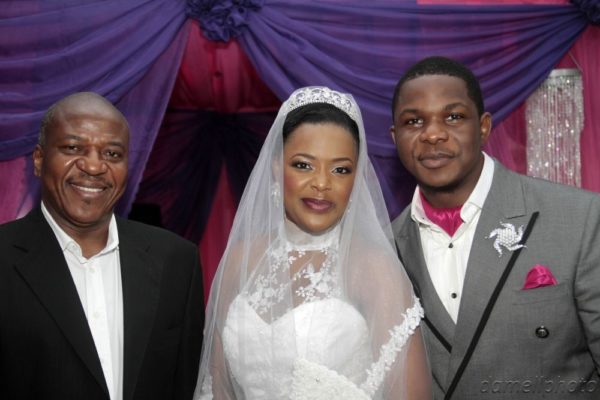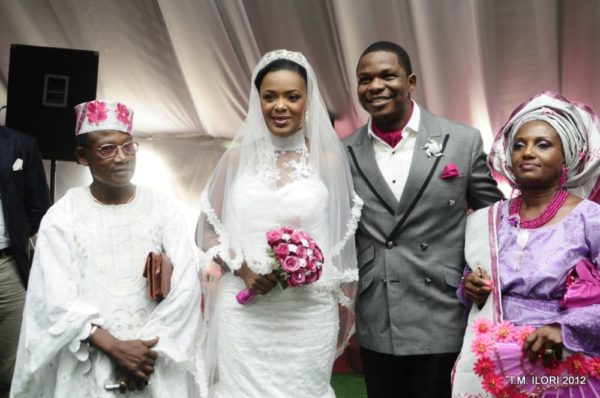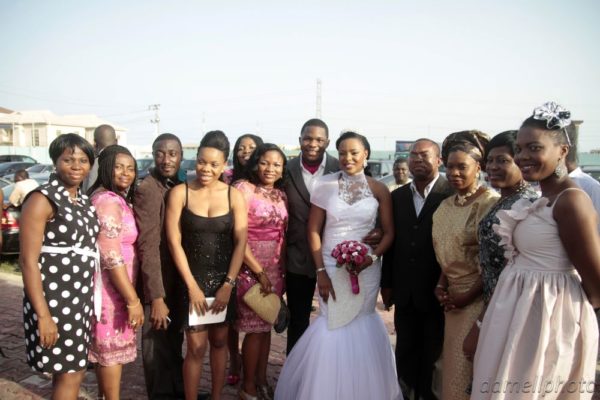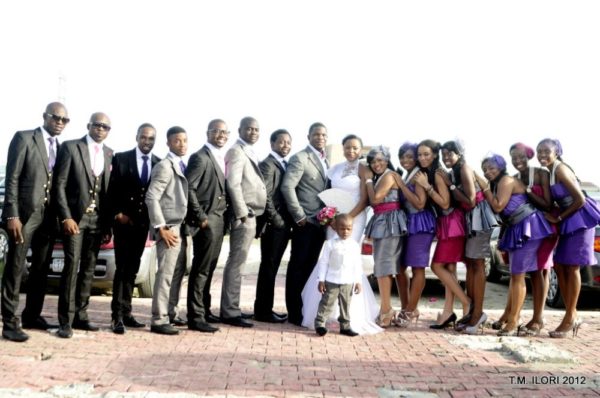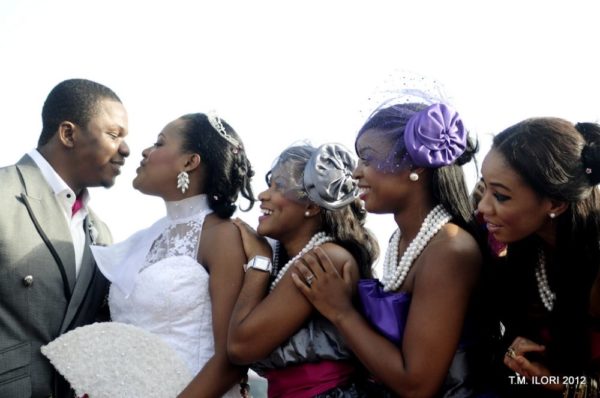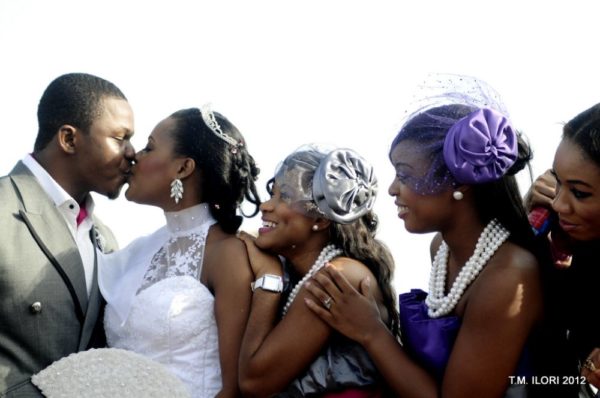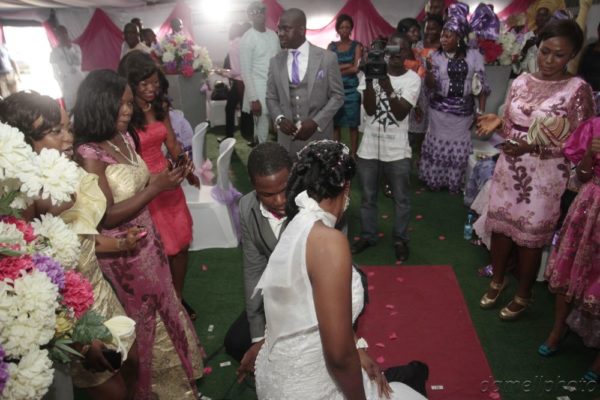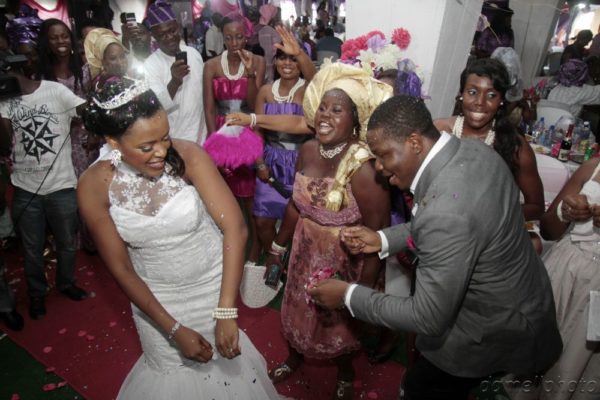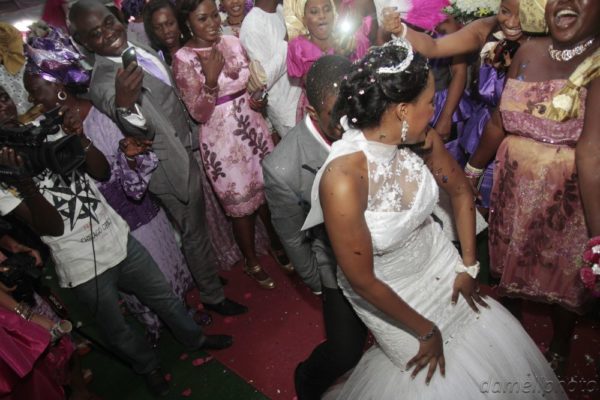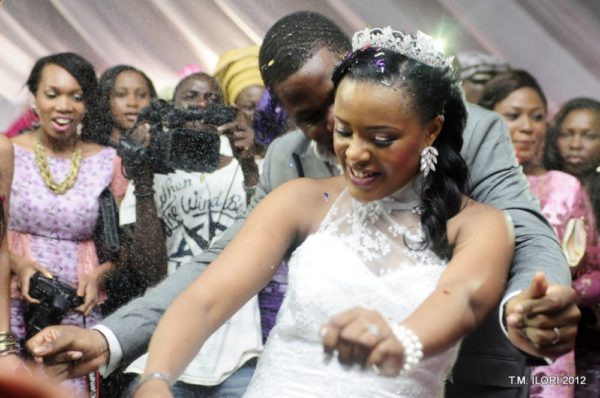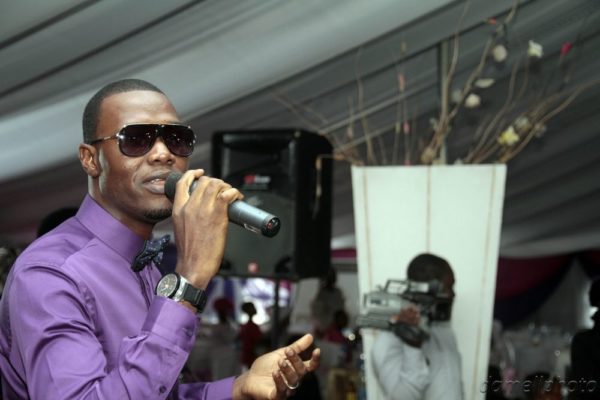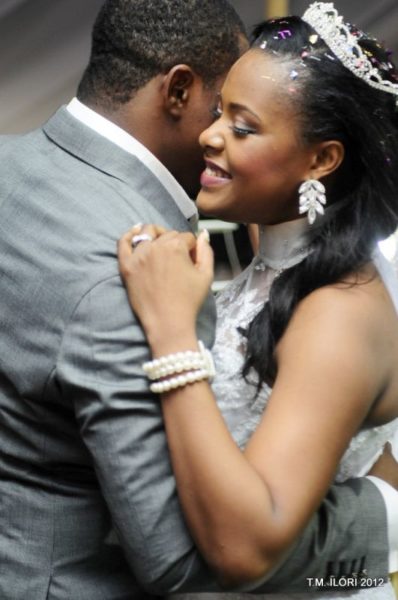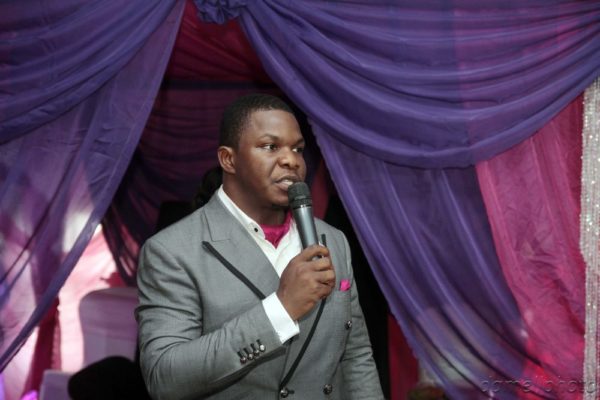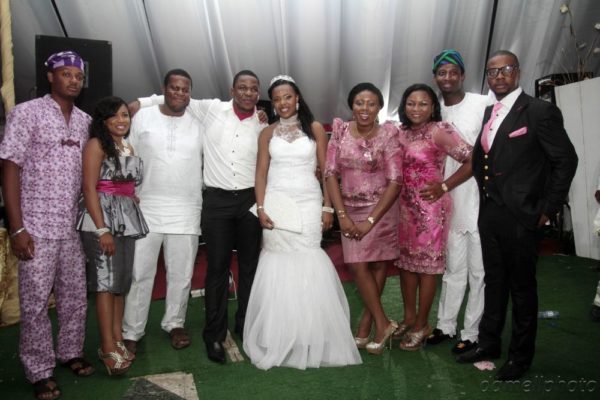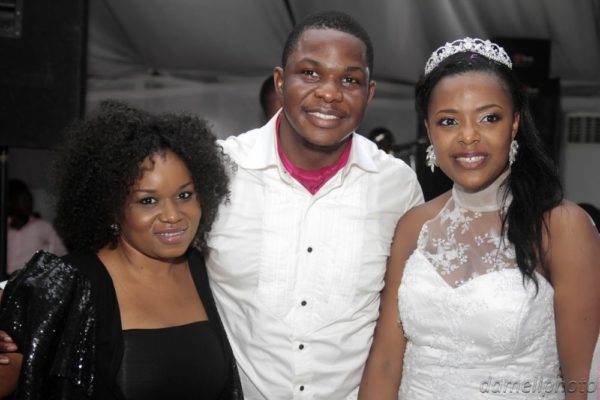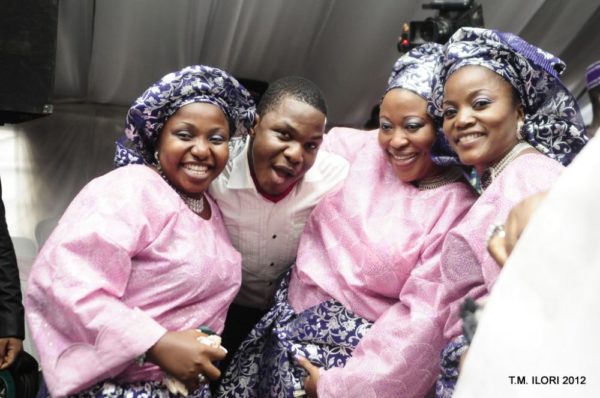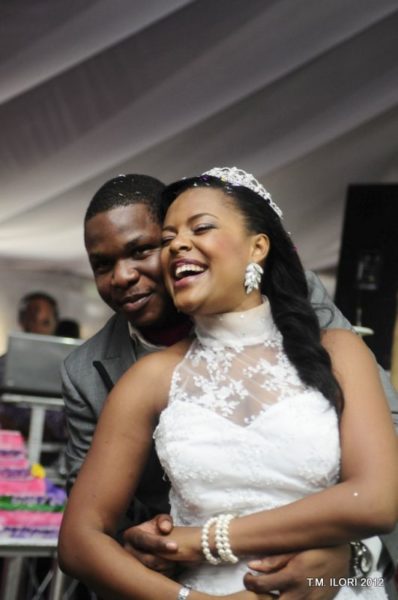 ~ Photography: Damell Photography – http://www.facebook.com/damellphotography – http://www.damellphoto.com/ | TM Ilori Photography – http://iloriphotography.com/home
Wedding Details
Dates:
Traditional Engagement & White Wedding – 28th April 2012
Venue:
Traditional Engagement & White Wedding – The HNK Event Centre, Lekki Phase 1, Lagos
Colours:
Traditional Engagement & White Wedding – Lilac & Purple | Fuchsia and Silver
Theme:
Colourful and Jovial
Vendors
Event Planners: TSoule Events | HNK events | Titi & Oscar 🙂
Wedding Dress: Ade Bakare
Bridesmaids' Dresses: Kechi Bridals
Groom's Suit: Hakbal Exclusives
Groom's Men Suits: Hakbal Exclusives
Makeup: Banke Meshida-Lawal for BM|Pro | Kashogy
Hair: Abbey from Bobby's Signature
Cake: Aunt Landa Teenage Bethel Catering Services (An NGO Titi & Oscar work with)
Food/Drinks: Wuzzy Party Delight
Sound: Kiss Events
DJ: DJ Sose | DJ Bammie
Band: Tosin Martins
Security: K Square
***
Amber 11 Media Ltd is a creative group focused on crafting powerful stories for the ever-changing world of advertising and entertainment.
The company services both agencies and brands, helping to develop visionary creative across all borders and disciplines. At root, Amber 11 Media is intensely passionate personalities, devoted to inspiring audiences large and small.
From media buying to content development, production and execution for radio and tv, the company continue to evolve and find new ways to provide the best for our clients.
Please visit www.amber11media.com for more information or enquiries.
Get Amberactive!