The BellaNaija Weddings team has something really special planned for you this week!
All through the week, we will be celebrating BN at 6 (It's our sixth anniversary this month, but you should know that!).
We have delved into our BN Weddings vault and scooped out 6 fabulous proposal stories. From simple romantic proposals to dramatic productions, you'll love it. Ladies, grab your boo and show him this page. Fellas, please read and learn! Married folks, if you didn't do it right the first time, you can always surprise her with a new ring or even a vow renewal proposal 🙂
Today we have chartered accountant Abiola Shode and project manager Adedayo Ajayi. Abiola and Adedayo chose one of the most special days to get married 11/11/11. Here are the beautiful details on how Dee proposed to his love Abi and photos from their wedding which was celebrated in style in Nigeria's commercial capital, Lagos.
Enjoy.
Before She Said Yes…Abiola & Adedayo's Love Story
by Adedayo
It all began nearly a decade ago during a short holiday in the city of Lagos. I accompanied an uncle's friend to see her mum who just came back from England at her mum's mini mart. When we got there, we were offered a sit and entertained.
Whilst my uncle's friend was talking to Abi's mum, my attention was immediately drawn to Abi who was helping her grandma out around the store. I kept on watching this beautiful young lady from the corner of my eyes not wanting anyone to suspect I was starring at her but I couldn't take my eyes off her because she had a big smile which I thought was just perfect! Even when her mum and grandma weren't looking, I was too shy and nervous to even say hi so I just admired her from where I sat.
When I got back home that day, my mind kept on flashing back to that young lady who didn't even notice that I was seating there admiring her. I could just visualise a beautiful face and the big smile and the other things she did when I spotted her at her mum's store so I thought to myself, I have to see her again.
The following day I decided to go to her mum's shop pretending to buy something although I asked a friend to accompany me for moral support otherwise. Although we had not talked before, I decided that I had to get to know her before I missed my chance.
Fortunately or should I say as God planned it, she was at the store by herself so I was able to say hi and I managed to exchange numbers with her. That was my golden opportunity to communicate with her. Thereafter I began calling her, at first she didn't pick up my calls so I kept calling until she picked my call and we started talking.
After several conversations on the phone, I knew there was something special about Abi. Few days later we arranged to meet and went on a date. Since then, we've been inseparable.
by Abiola
On this fateful afternoon I was helping out at my mum's store when Dee and a friend walked in buy something. They were both looking around when Dee asked if I remembered him from the previous day. It was only then I realised that he was the one who came with his uncle's friend to see my mum the day before.
Although he personally didn't know my mum because he just tagged along with his uncle's friend, the fact that my mum entertained them the previous day broke the ice so I gave him some audience and started chatting with him and his friend.
We exchanged numbers that day and started talking on the phone afterwards. The many phone calls eventually led to a lunch date which was at the (then newly opened eatery) Tantalizers in Surulere, Lagos.
The Proposal
Late 2010, Dee had started asking me a lot of questions about marriage and settling down so I knew the proposal was on his radar, I just didn't know when he'll pop the question formally.
I thought the proposal was going to be in December, specifically on my birthday because a week to that day he had sent me a little black dress, booked a really nice restaurant for dinner and specifically asked that I wore the dress on my birthday.
We had a wonderful day and really nice dinner and although he kept his gaze on me throughout the evening, nothing happened. I later learned that he suspected that I knew he might propose so he didn't go ahead with it. He wanted it to be at a time I wasn't expecting it at all. He waited for a day he could not forget, even if he tried to, – his birthday!
On his birthday (Feb 2011), I traveled over to Bradford to spend the day with him and we planned to go out to dinner later that evening. Before we left the house, he received a call from one of his business associates asking him to pick up the keys to one of the leased office buildings they both managed.
Dee said he couldn't because we were already on our way out to dinner. The guy really pleaded with Dee to stop over on his way back from the outing to collect the keys because he was traveling early the following morning and there might be people who will want to view the office space whilst he was away.  Dee had the phone on speaker so I gently told him it was ok for us to stopover and get the keys. We got to the building and he showed Dee the first office space and acquainted him with the price per sq foot etc. He then moved on to this other room which they had called the board room and stylishly they had made me walk ahead of them.
I stepped into the weirdly shaped boardroom first and as I reached to switch on the lights, I just heard – Surprise!
Dee had planned with some close friends of ours, some of which had travelled over to Bradford and patiently waited in the room for me to arrive. I was completely taken aback when I heard people say surprise from a dark room and for a second I thought it was a birthday surprise was for him by his business associates and friends.
It was when I turned back to speak to him that I saw him on his knees, then it dawned on me what was happening. He had single handedly decorated the room with red petals, lots of candles and a cake which had the ring in it.
He also gave me a beautiful bunch of flowers, read me a special love message which he had carefully framed and sang me a song. He's a very shy person but the shyness disappeared that night.
…I said YES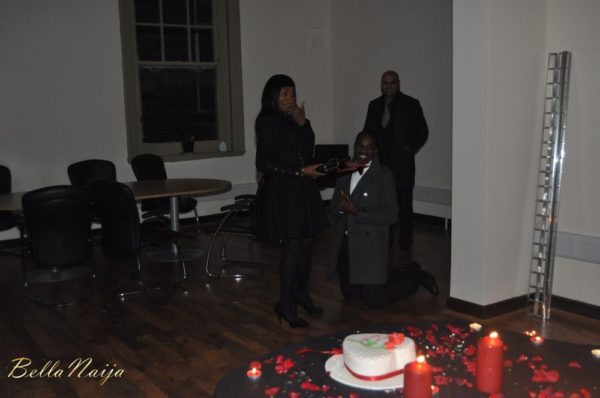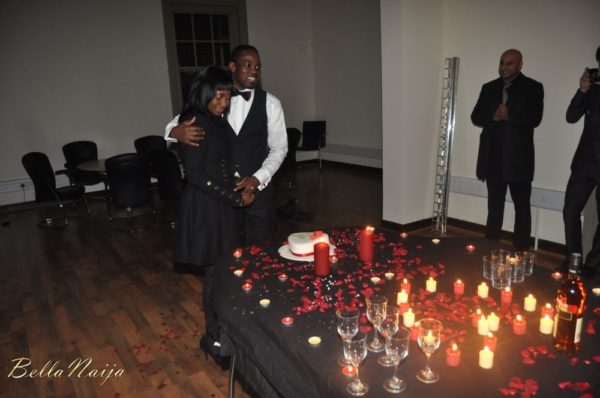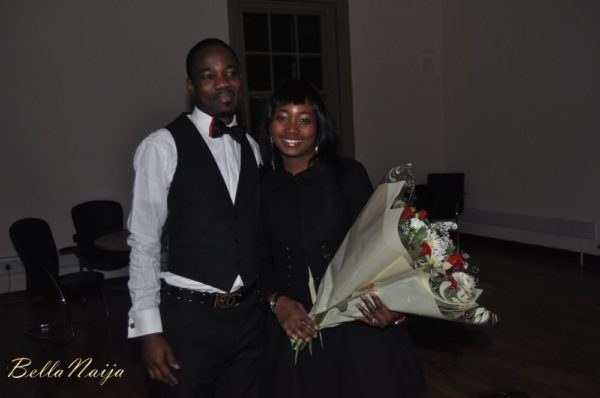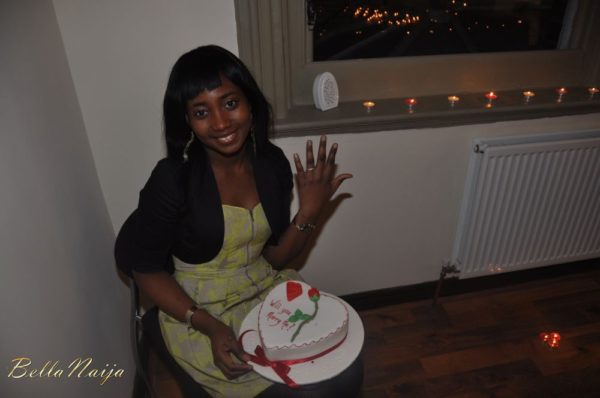 ***
Absolutely sweet! We love how Adedayo sought out the opportunity to surprise Abiola! Such a beautiful proposal.
***
White Wedding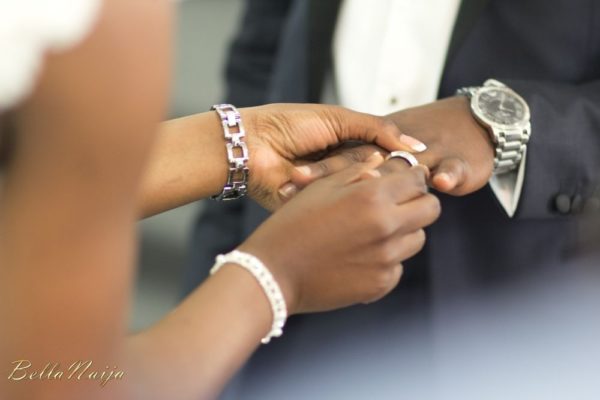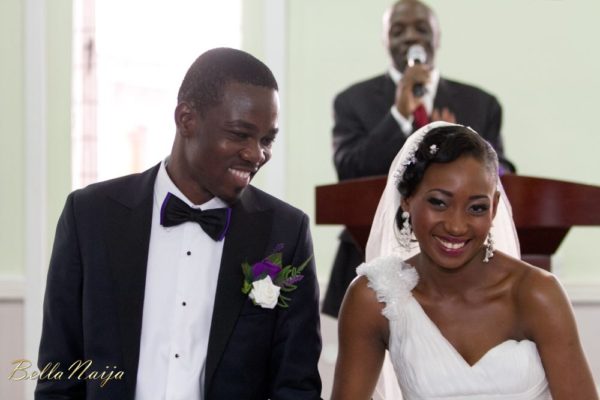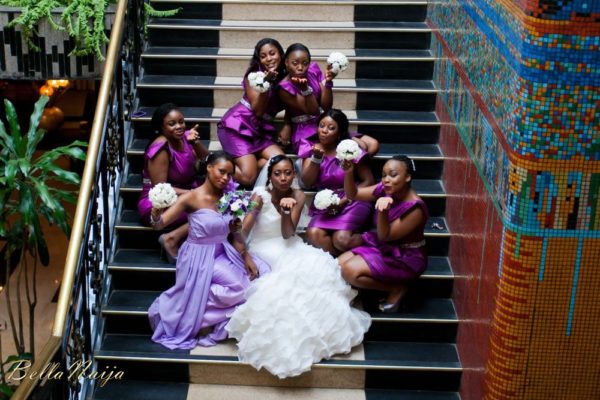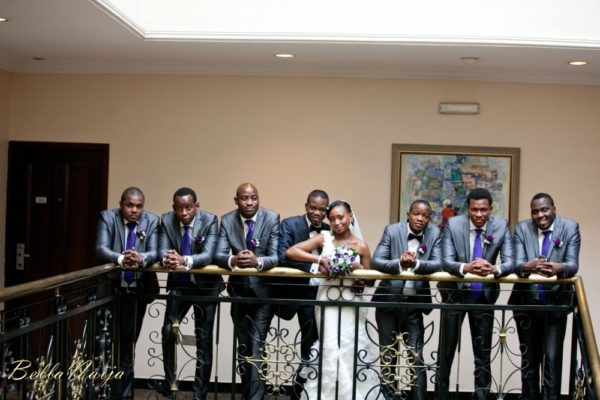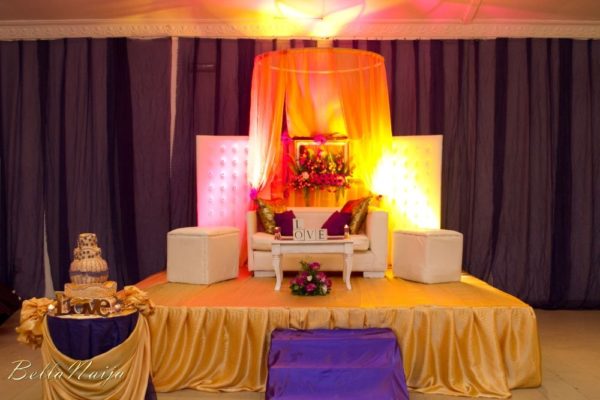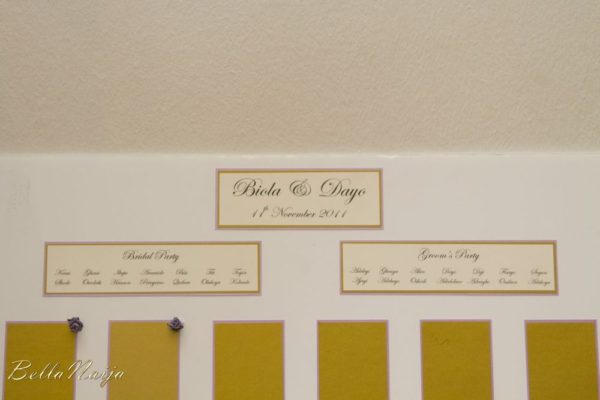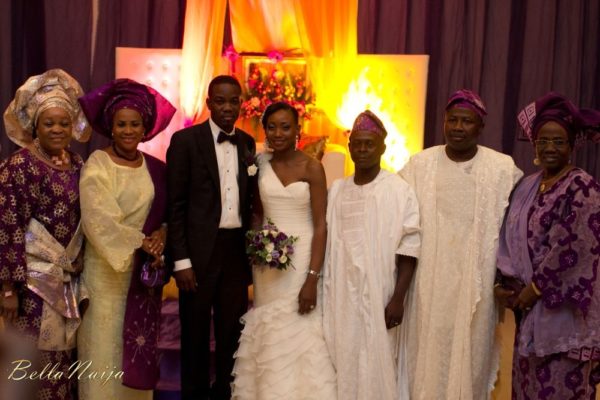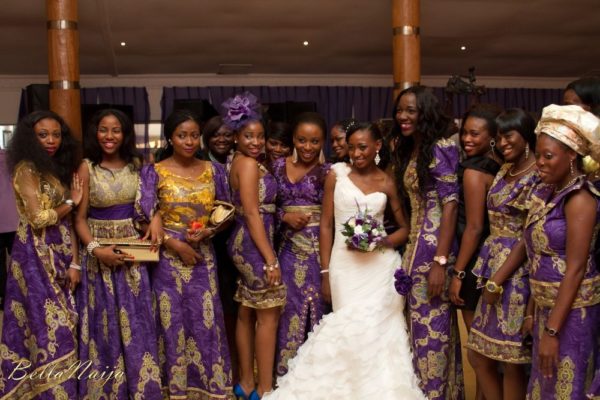 Abiola & Adedayo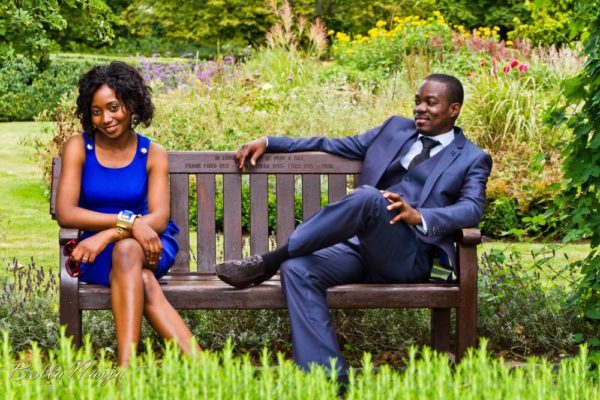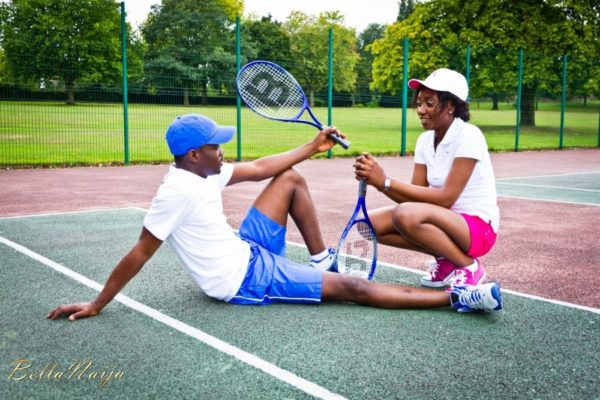 Photography: Atunbi – www.atunbi.net/ | http://www.facebook.com/pages/The-Atunbi-Experience/293798756210
***

Vendor List
Chief Planner: Bride's Mother
Wedding Day Coordinator/Provider of Ushers: Kemi Esan of Red Peach Events
Wedding Dress: Pronovias
Groom's Suit: Gieves & Hawkes
Bridesmaids Dresses: Doyin Isa of Kina Designs
Groomsmen's Suits: Moss Boss
Cake: Mery Horn Catering Services
Make-up Artist: A.Y.O
Food: Abnik Catering Services
Drink Managers: A-Z Drinks
Desserts & Cocktails: Clinks Services
Hotel: Planet One
Engagement Gift Wrapping: Teeloni
Events Decorator: Events Redefined (Nigeria)
Wedding Filmmaker: Dotun Adesida of I-Light Media
Master of Ceremonies: Mc Timmy – London UK
Flowers: Upsadaisy
_____________________________________________________________________________________________
Want your wedding on BN? Email weddings (at) bellanaija.com