Hello BellaNaijarians, how are you all doing?
Hope great! It's Thursday and as you know this is the well known slot where Africa's pace setter for all things entertainment, fashion, lifestyle, music and a whole lot more – BellaNaija.com keeps you updated with the hottest places, venues, hangouts, events to be spotted with friends and family this weekend.
Trust me when I say its one packed full weekend with interesting events in the city that never sleeps Lagos. So sit back, relax, grab a drink and see for yourself the places of interest this weekend.
Have a great weekend and remember it is never too late to start living your dreams.
We Love you, Ciao!
Freedom Hall presents Omolara
Experience Omolara this Thursday live like never before. Admission is free for all!
Date: Thursday 12th July 2012
Time: 7 PM
Venue: Terra Kulture, Plot 1376 Tiamiyu Savage, off Ahmadu Bello Way, Victoria Island, Lagos
__________________________________________________________________________________________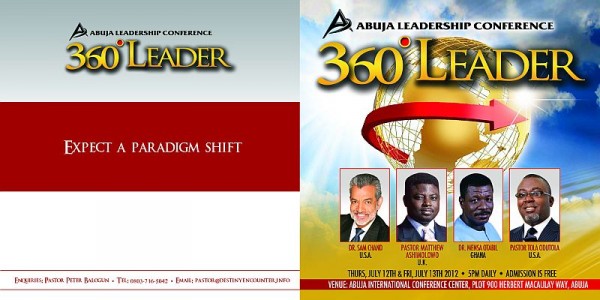 2012 Abuja Leadership Conference – 360 Leader
The International Conference Centre in Abuja will host the 2012 Abuja Leadership Conference which will feature world renowned pastors and business men including Matthew Ashimolowo, Dr. Mensa Otabil, Tola Odutola and Dr. Sam Chand. The leadership conference which has been tagged ''360 leader'' will take place from Thursday July 12 to Friday July 13 2012 at the Abuja International Conference Centre and admission to this historic event is free.
Date: Thursday July 12th – Friday July 13th 2012
Time: 5PM Daily
Venue: Abuja International Conference Center, Plot 900 Herbert Macaulay Way, Abuja
The event is free but requires registration. You can register by texting 360leader to 33810.
___________________________________________________________________________________________________________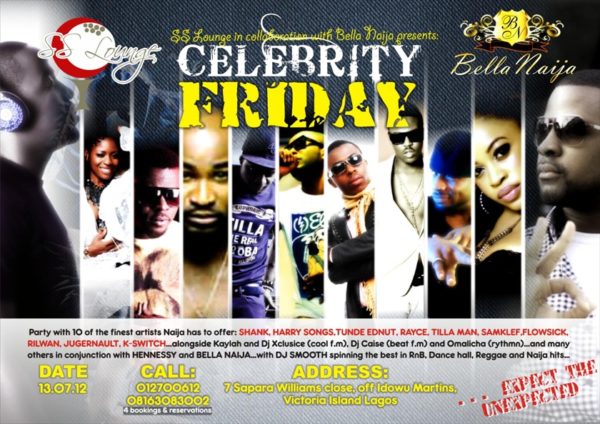 Celebrity Friday
This Friday, get yourself set and ready to party with 10 of Nigeria's finest artistes – Shank, Harry Songs, Tunde  Ednut, Rayce, Tilla Man. Samklef, Flowssickk, Rilwan, Jugernault and K-Switch at the Celebrity Friday show organised by SS Lounge in conjunction with BellaNaija. Also scheduled to attend are Kaylah, DJ Xclusive, DJ Caise and Anita Isedeh a.k.a Omalicha from Rhythm FM. To attend, call 012700612 or 08163083002 for more info.
Date: Friday 13th July 2012
Venue: 7 Sapara Willams Close off Idowu Martins, Victoria Island, Lagos
_____________________________________________________________________________________________________________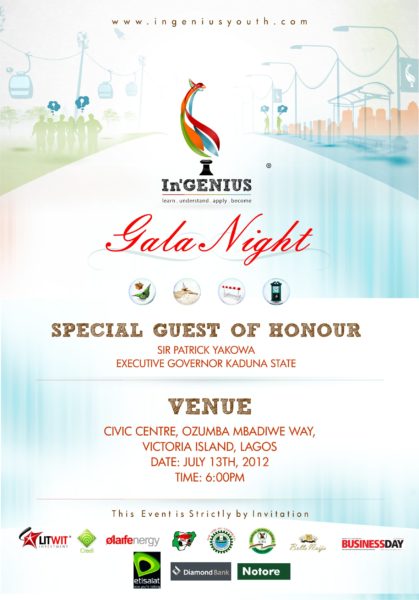 Top Nigerian Chief Executives Gears up for In'Genius Youth Project Dinner
Leading Nigerian Chief Executives, Captains of Industries, Development Organisations as well as Top Government Officials are expected to storm the Civic Centre, Victoria Island ,Lagos on Friday July 13, 2012 for a special dinner event organised by the In'Genius Youth project to showcase to them the best 10 shortlisted ideas proffered as solutions by Nigerian youth to some prevalent problems confronting the nation. The 10 best ideas to be presented on the night are the best adjudged entries out of several received in the just concluded In Genius competition which was introduced by In'Genius Youth Organisation as a medium through which young ideas generators can find a platform for expression and have a chance to win fabulous prizes.
Date: Friday July 13th 2012
Time: 6PM
Venue: Civic Center, Ozumba Mbadiwe Way, Victoria Island, Lagos
__________________________________________________________________________________________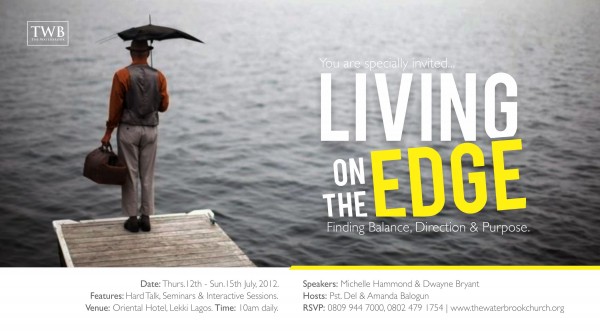 Living On The Edge
Life! Are you struggling with different areas of your life? Do you feel like you are on a road without any particular direction to where you are headed? Do you need direction? Do you want to understand what it means to LIVE for God in these trying times? Are you looking to live a balanced, purpose driven and victorious life? Then "Living on the Edge" is the event for you. Living on the Edge is a 3-day event hosted by The Waterbrook Church (TWB). The event will see popular and noted speakers and authors, Michelle McKinney Hammond and Dwayne Bryant, discuss key challenges of life and offer nuggets for successful living based on the Word and their own life experiences.
The Events
HardTalk (2 Sessions)
Date: Friday 13th July 2012
Time: 3PM
Talk Show/Interactive Session
Date: Saturday 14th July 2012
Time: 9AM
Close-out session
Date: Sunday 15th July 2012
Time: 10AM
Venue: ALL events take place at the Oriental Hotel, Victoria Island, Lagos
For more information and general enquiries E-mail: [email protected]
__________________________________________________________________________________________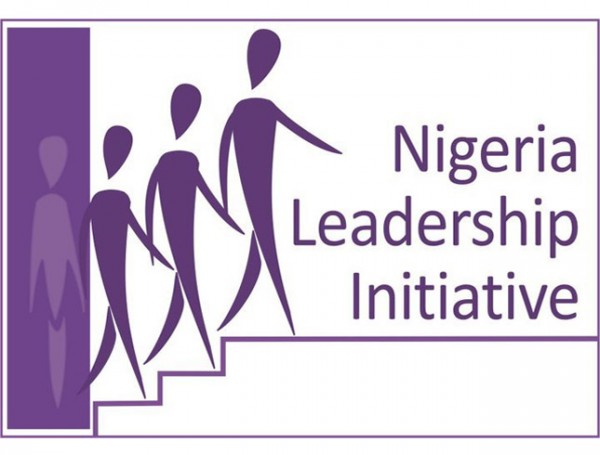 Nigerian Leadership Initiative Holds Information Forum for victims of Dana Air Tragedy
The families of the victims of Dana Air Tragedy will be hosted by the Nigerian Leadership Initiative(NLI) on July 14 at the Muson Center, Lagos. An Information Forum is being organized to assist the families and dependents, of victims, with their problems and concerns during the grieving process as well as disseminate information on their options and rights resulting from the tragedy. Specifically, specialist advice and guidance will be offered on a range of issues including: Counselling and Welfare; Rights and options for families and dependants; Next steps and processes in accident investigation of Dana Air flight 992. Contributing to the forum are NLI Senior Fellow Oba Nsugbe QC, SAN, Dr. Femi Olugbile (Psychiatrist), Captain Dayo Awobokun (qualified Pilot and Flight Safety Expert), and Jim Morris (qualified Boeing Pilot and Aviation Specialist) from the UK.
Date: Saturday 14th July 2012
Time: 10 AM
Venue: Muson Center, Onikan, Lagos
Contact: For more info and general enquiries call Ase Taidi on 08158430814 | E-mail [email protected]
__________________________________________________________________________________________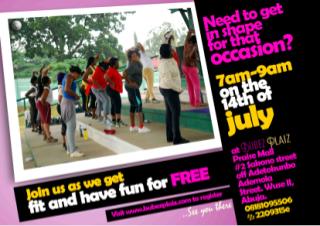 Stay Fit the Fun Way this Weekend at a Free Aerobics Class
Do you need to get in shape for that occasion? Come join in the fun and stay fit this weekend at an aerobics class for FREE! Bubez Plaiz is organizing an aerobics class for free in Abuja on the 14th of July. To be a part of it, simply login to www.bubezplaiz.com. Go to "never miss a sale/register for aerobics" and sign up. The gate pass is your email address. Alternatively, you can subscribe to receive blog posts and voila! You are qualified to come and join in the fun. There would be free t-shirts for the first five people to register. Don't worry about water, it would be provided for you!
Date: Saturday 14th July 2012
Time: 7AM – 9AM
Venue: Praise Mall, No. 2 Sakono street, off Adetokunbo Ademola Street opp Poly/AP Plaza Wuse 2 Abuja
Contact: For more info and general enquiries, call 08181095506 | add BB Pin 2209315E | Twitter @bubezplaiz | Log on to their website http://bubezplaiz.com/
__________________________________________________________________________________________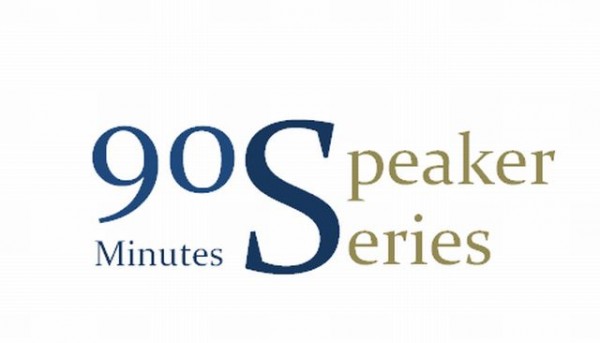 Come Interact With Austin Okere as he shares his Business and Life Experiences
Austin Kwesi Okere is the Managing Director and Chief Executive Officer of Computer Warehouse Group, one of the fastest growing information and communication technology companies in Africa which he founded in 1992.
Date: Saturday 14th July 2012
Time: 1PM
Venue: Bogobiri House, 9 Maitama Sule Street, Off Raymond Njoku Street, off Awolowo Road, Ikoyi
__________________________________________________________________________________________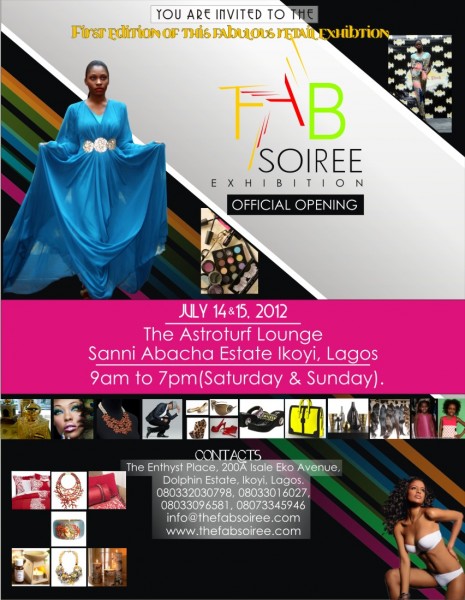 Fab Soiree Exhibition – Official Opening
Do you love to shop and you are searching for a fun retail therapy where you can network in a serene environment?  Then it's your lucky day as the maiden edition of the Fab Soiree Exhibition. Attendees at the Fab Soiree Exhibition will get to shop for lots of items including designer accessories, jewelry, bridal outfits, kaftans and abayans, home decor and fragrances, colognes, kiddies outfits, hair products, body scrubs, cosmetics, exotic fabrics, food and drinks at a discounted rate. There will also be a play area for children, non stop music, a relaxing lounge and fabulous gifts for all who attend.
Date: Saturday 14th July 2012 – Sunday 15th July 2012
Time: 9 AM – 7 PM Daily
Venue: The Astroturf Lounge, Sanni Bacha Estate, Ikoyi, Lagos
Contact: For more info and general enquiries, call 08033096581 | 08033016027 | 08073345946 | e-mail [email protected] | like their Facebook Page – www.Facebook.com/TheFabSoiree | follow them on [email protected] | log on to their website www.TheFabSoiree.com
__________________________________________________________________________________________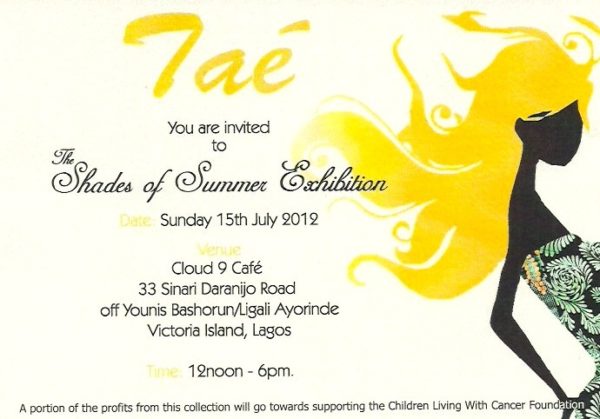 Shades of Summer Exhibition
You are invited to the Tae Shades of Summer Exhibition
Date: Sunday 15th July 2012
Time: 12 NOON – 6PM
Venue: Cloud 9 Cafe, 33 Sinari Daranijo Street, off Younis Bashorun off Ajose Adeogun, Victoria Island, Lagos
__________________________________________________________________________________________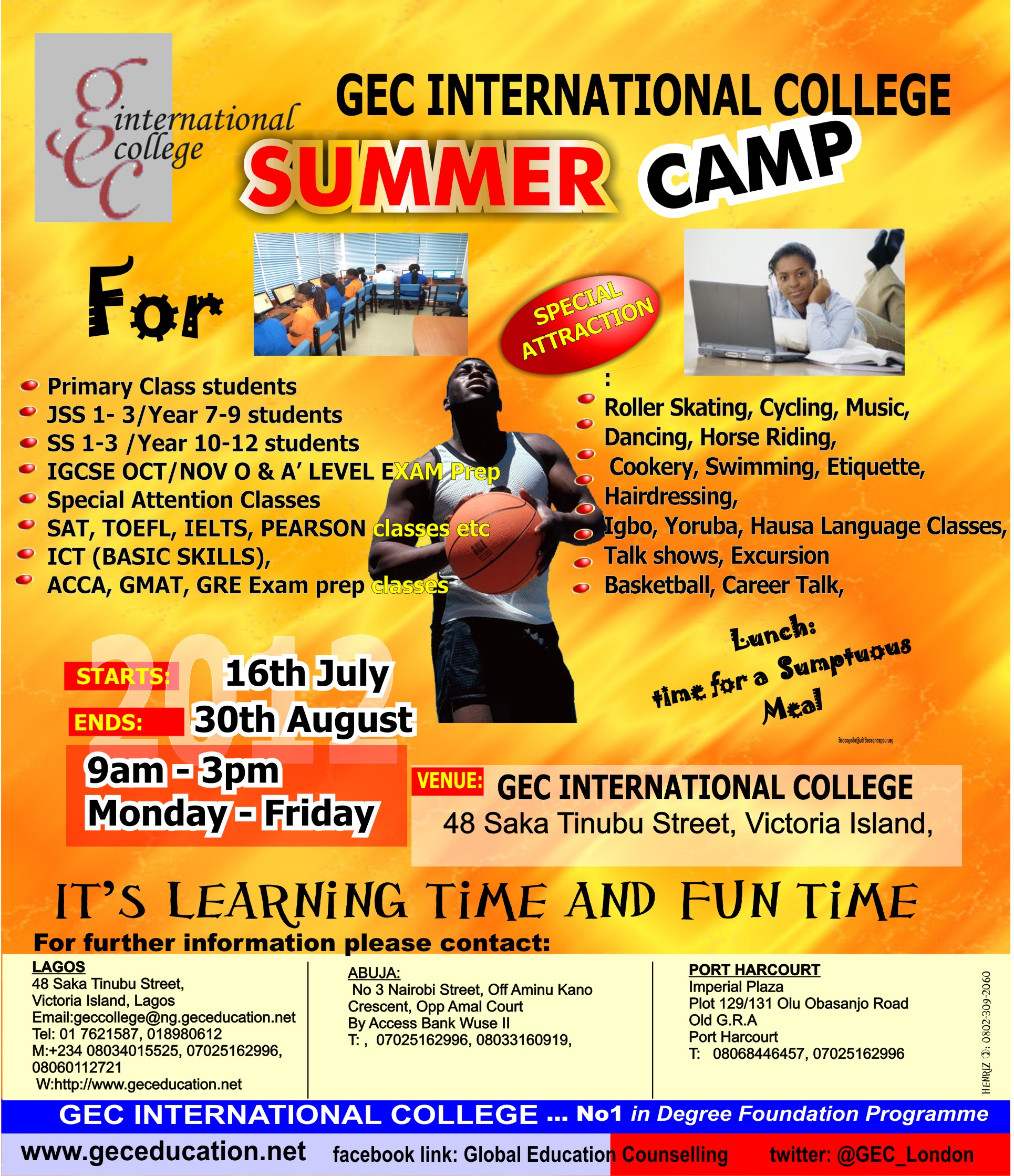 The GEC International College Summer Camp
This Summer the Kids are in for a fun and educational treat, GEC educational College are having a Summer Camp full of fun and entertaining events. These range from Basket ball, roller skating and horse riding to cookery and language classes. As a great way to keep your kids busy over the holiday they could have fun and also take part in one of their many courses, which range from Primary, JSS, SS all the way through to SAT, Tofel or GMAT.  So be sure to head over or find out more on their facebook or twitter: @GEC_London.
Date: Monday July 16th – Monday August 30th 2012
Time: 9AM – 3PM
Venue: 48 Saka Tinubu Street, Victoria Island, Lagos
Contact: For more information and general enquiries, call 08034015525 for Lagos, 08033160919 for Abuja, 08068446457 for Port Harcourt| Email: [email protected]| Website: http://www.geceducation.net
__________________________________________________________________________________________
The Reopening of Didi Museum and Photo Exhibition Tilted Whispers From the Sahara by Kelechi Amadi-Obi
You are cordially invited to the reopening of Didi Museum, Nigeria's first private museum. The opening ceremony will be flagged off with a photo-exhibition titled Whispers from the Sahara Desert by Kelechi Amadi-Obi. The pictures to be exhibited were taken during the Newton Jibunoh Desert Warriors Expedition Across the Sahara Desert. The opening ceremony slated for Friday July 13, 2012, is to be chaired by the Emir of Kano, Alhaji Ado Bayero and is strictly by invitation however the photo exhibition will be a month long affair and admission is free for all.
Date: July 16th – August 13th 2012
Exhibition Hours: 12pm – 7pm
Venue: Didi Centre for Arts, 175 Akin Adesola Street Victoria Island Lagos
Host: Dr. Newton Jibunoh
Contact: For more information and general enquiries, call 0703 717 9392| Email: [email protected]| Website: http://www.didimuseum.org/
__________________________________________________________________________________________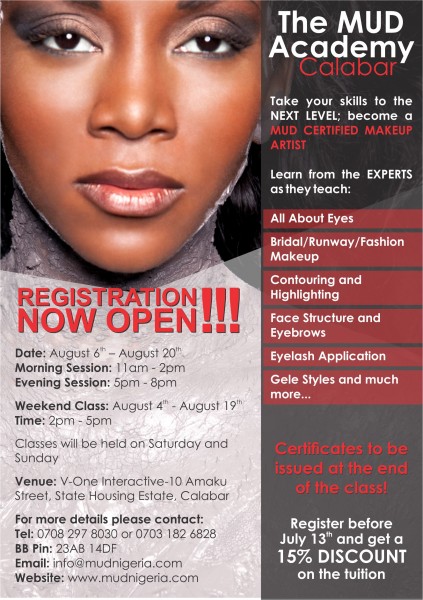 Become a Certified Make-Up Artist this year by enrolling for MUD Academy's Intensive Training in Lagos
This July 2012, renowned beauty academy Make-Up Designory (MUD) known for providing quality education in the craft of make-up artistry has officially announced its training set to take place in Lagos, Abuja and for the very first time in Calabar. To commemorate the opening of their Yaba studio, MUD has made preparations to organize a 2 week intensive training in make-up artistry with options of either weekend or weekday training to make it possible for all to learn from the renowned grooming brand while a full month training will hold in its Lekki, Lagos studio as well as in Abuja and Calabar.
Lagos 2 Week Course (Yaba Studio)
Weekday Classes Classes will hold on Mondays to Fridays.
Date: Monday 16th July 2012 – Monday 30th July 2012
Time:11 AM – 3 PM Daily
Weekend Classes Classes hold on Saturdays and Sundays only. There is a 15% discount on tuition if you register before Friday 6th July 2012.
Date: Saturday 21st July 2012 – Sunday 6th August 2012
Time: 2 PM – 5 PM Daily
Venue: MUD Studio, JBL House, 2nd Floor, 40B Commercial Avenue, Sabo, Yaba, Lagos
1 Month Course (Lekki Studio)
Weekday Classes Classes will hold on Mondays, Wednesdays and Fridays
Date: Monday 16th July 2012 – Monday 13th August 2012
Time: 11 AM – 2 PM Daily
Weekend Classes Classes will hold on Saturdays and Sundays only. Early registers will get a 15% discount off tuition fee, if they register on or before Friday 6th July 2012.
Date: Saturday 14th July 2012 – Sunday 12th August 2012
Time: 2 PM – 5 PM Daily
Venue: 12B Fatai Idowu Arobieke Lekki Phase 1, Lekki, Lagos
To register, pay the specified amount into MUD's GT Bank Account, Nationwide. Account Name: Make-Up Designories Nigeria Limited | Account Number0019014350 and get in touch with them.
Contact: For more info and general enquiries, Call 07082978030 | BB Pin 23AB14DF | E-mail [email protected] | Log on to their website www.MudNigeria.com
__________________________________________________________________________________________
BellaNaija.com is not responsible for the organization or further promotion of these events, neither do we have a stake in their sales or popularity. Inclusion in "Events This Weekend" is Free. Contact – adsales @bellanaija.com if you will like your event to be included. Note that BN reserves the right to choose which events are featured. "Pay to attend" parties attract a fee