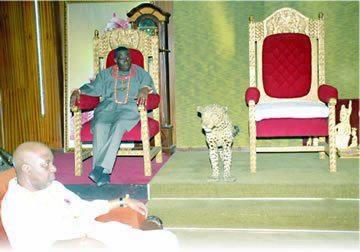 Widespread outrage has continued to trail the recent visit of President Goodluck Jonathan and his Vice, Namadi Sambo, to the Palace of the Oba of Benin.
According to media reports, the President and his Vice visited the ancient city of Benin on Saturday and waited for several minutes in the Palace of the Oba of Benin but the Oba never showed up to receive them.
The Oba's action came as a rude shock to them.
President Jonathan had already taken his seat next to the Oba's throne and was made to wait for about 15 minutes before a palace official announced to his delegation and the Bini chiefs that were also seated that the royal father would not be seeing him because of circumstances beyond his control.
However, the monarch's official added that the usual palace formalities would still be observed in the absence of the monarch, including prayers for the president and the distribution of cola nuts. According to him, "because of circumstances beyond his control, the Oba cannot receive the president, but the normal procedures of prayer for our guest will still be carried out."
President Jonathan, who was apparently taken aback by the announcement, looked calm as he simply lowered his gaze even as the palace official invited the most senior chief present to offer the prayers. After the prayers, the palace official, again, announced that even though the Oba would not see the President in public, he would be willing to receive him alone in another section of the palace.
Among those with the president in the palace were Vice President Namadi Sambo, Governors Emmanuel Uduaghan (Delta), Idris Wada (Kogi) and Seriake Dickson (Bayelsa); top government officials and PDP chieftains, led by the National Chairman, Alhaji Bamanga Tukur, as well as former Acting National Chairman of the party, Alhaji Abubakar Kawu Baraje.
Meanwhile, the Oba of Benin, Omo N'Oba N'Edo Uku Akpolokpolo, has refuted publications in some national newspapers that he shunned President Goodluck Jonathan and members of the Peoples Democratic Party (PDP) on their recent visit to his palace.
The Benin traditional council, in a statement signed by its secretary and issued on the authority of the traditional ruler, in Benin City, on Monday, described some of the publications as mischievous.
According to the statement, "the palace would like to make it clear that the Omo N'Oba did not shun President Jonathan and the PDP members that came with him.
"In fact, it is the respect and love Omo N'Oba has for the president that made him to still manage to see the president in a private chamber in the palace, despite a complicated situation that day."
So, what do you think about this? The Oba of Benin kept the President waiting for 15 minutes and did not come out of his chambers to honour the President's visit. Was the Oba of Benin right to have kept the President, the Vice President and his aides waiting?
News Source: Tribune