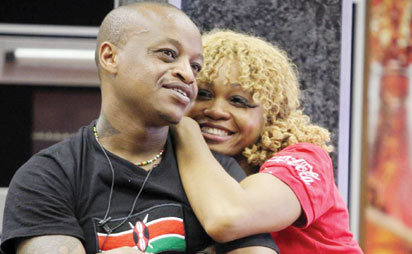 One of the major storylines from this year's edition of Big Brother Africa – Big Brother StarGame was the relationship between Prezzo and Goldie.
While Goldie seemed to be head over heels in love, Prezzo on the other hand seemed to be playing the game. He won a lot of fans but also a multitude of StarGame viewers were turned off by "the way Prezzo treated Goldie".
Earlier today, the 34 year old Kenyan Star, real name – Jackson Makini parleyed with the Nigerian press at an event in GRA, Ikeja, Lagos.
He had a lot of interesting things to say. Prezzo who was dressed in a cream Agbada paired with leather slippers, expressed that he still had feelings for Goldie and explained that some of his seemingly negative actions towards Goldie in the house were caused by what he called "temporary paranoia". He said he is determined to make things right and also spoke passionately about his charity work including his new role as a One Campaign ambassador.