Although the report below was on blast across the internet this morning, a lot of people are in doubt of the news as the Wiz Khalifa tweets whose screenshots were taken (below) are somehow currently not on his timeline. And, before fans and well-wishers could make up their mind on who to believe, Sinzu tweeted this a few minutes ago:
Is it coz we both tatted n get high? SMG Gang over any other Gang. Sinzu lockerz.com/s/237494934

— @sinzuSMG(@SinzuSMG) August 23, 2012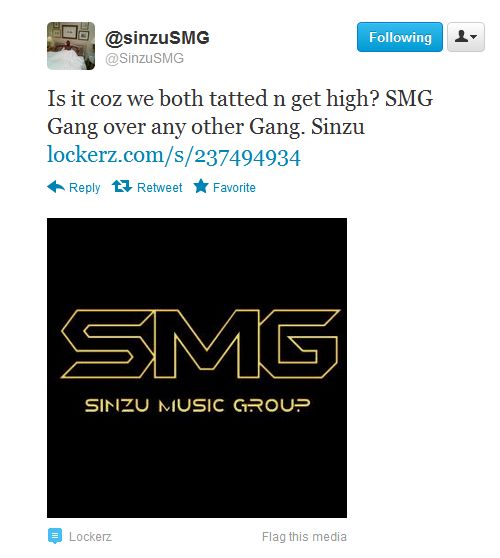 So, does this verify or negate the report below? Was this a publicity stunt or was the rumor mill at work again?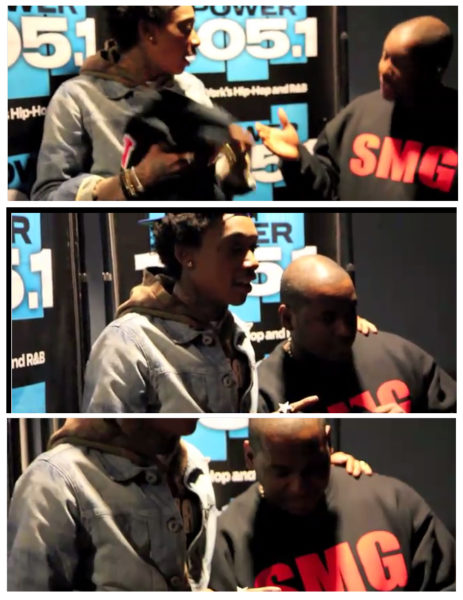 Well, it's official… "Roll Up" and "Black and Yellow" hitmaker, Cameron Jibril Thomaz, better known as Wiz Khalifa has officially sealed a deal of inking a partnership deal with Nigeria's very own Afro-Hip-Hop sensation, Sinzu (aka Sauce Kid) to his independently owned, Taylor Gang Records which also boasts of the likes of Lola Monroe, Chevy Woods and Juicy J (of Three Six Mafia)
In the photo above, Wiz Khalifa and his entourage were spotted with SMG management at an interview in the 105.1 radio building in New york city; it is alleged that this was their first public outing since the deal was sealed.
"We're psyched to be able to close out first international deal with a very talented African rapper from the mother land… It's a great time for music globally, and we are proud to be amongst the leading record labels to be associated with helping regional artists become internationally recognized." – Wiz Khalifa
I'm glad that our Nigerian artists are getting the opportunity to surpass their regional success and become international superstars.
Source: SinzuMusicGroup