Today's edition of BN Our Wedding Story is so fabulous! Why you ask? Let's start with Asisat Adeyemi & Benjamin Odufuwa's love story…from the first time they met to the well crafted surprise proposal and then their uber fab wedding! This is arguably the hottest BN wedding ever! Asisat & Benjamin's chemistry is off the charts…
Enjoy.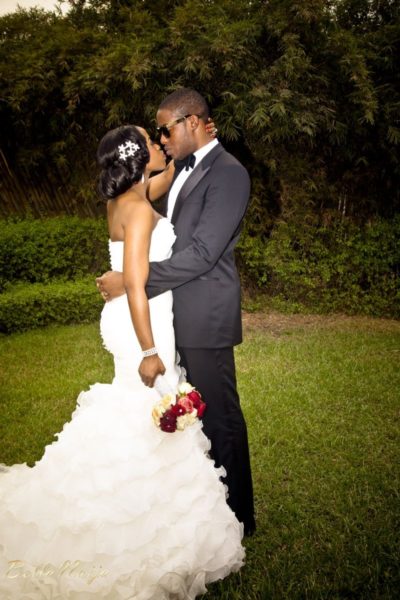 _____________________________________________________________________________________________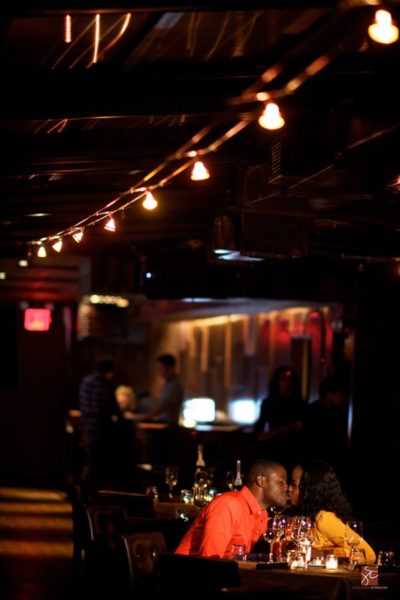 How Asisat & Benjamin Met
by Asisat
We met at a college party in Washington, DC. December 27th, 2003. I actually saw a picture of him in my cousin's party album a week before meeting him and was head over heels. I told myself "goodness, I have to meet this guy"!
I immediately asked my cousin if he would be attending the party we were suppose to attend the following weekend. When she told me there was a chance he may attend, I immediately begin to pre-game everything down to my hair, outfit and what I would say if I met him. When that night came and we went to the party I kept a look out for him all night.
When he finally came in, my heart was beating so fast. He was talking to someone and I immediately reacted by cutting into the conversation. This was so unlike me. I'm usually the girl that is against making the first move on any guy but for some reason I just felt the urge to approach Ben. Anyway, as soon as I cut in, I asked him "why was his eyes so low?" (Ben as these attractive sleepy eyes). He answered with a giggle, then asked me what was my age was. I responded.
We were literally glued to each other the whole night. Dancing, talking, laughing, etc. The connection has been strong ever since and the rest is obviously history.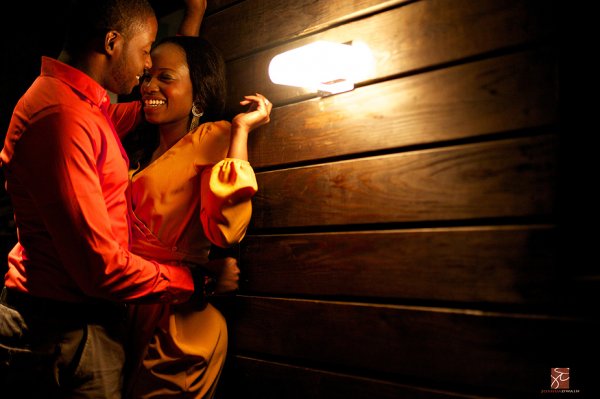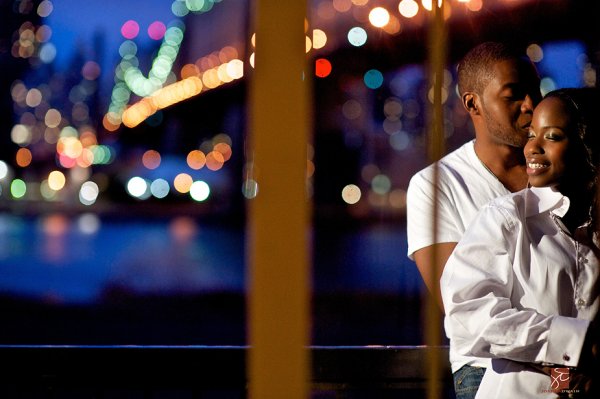 The Proposal
My engagement was really special. Ben was in Nigeria and I was in New York. I will never forget that day. It was Monday, March 7th 2011. I was interning at a hospital and I had been trying to call Ben all day but his phone wasn't seeming to ring. This wasn't too abnormal being that sometimes the connection in Nigeria can be a little off. So, I just ignored it and went about my day.
I got home that evening and my friend Jessica called me and said she wanted to go out for dinner. I really didn't want to go because I was really tired and hungry and couldn't wait for her to commute to my house, but she was pretty persistent, which was weird because I figured it was just a regular Monday and "why must we go out tonight?".
Anyway, after keeping me waiting and Jessica claiming she was in "traffic" she finally arrived at my house. She seemed a bit too happy and at this point I was cranky and hungry after waiting for her for so long. We get into the car and she tells me she feels for PF Chang's (Ben and I's favorite restaurant). I gave her a "are you crazy?" look because PF Chang's was somewhat distant and I already had my mind on a local restaurant.
We then continued to drive and I notice Jessica was driving extremely slow. Like 25 mph. She was really trying my patience that night. I asked her why was she driving so slow, that the restaurant is about to close. She proceeded to say "her wheel alignment was bad." I just shrugged my shoulders. While driving, I also notice she was receiving constant calls from someone asking her about her whereabouts. I found that to be a bit strange but ignored it. Anyway, in the car, we started talking about friends of ours who are engaged, which was always our normal convos.
We finally arrived at our destination and Jessica was very persistent about sitting in the back of the restaurant. I was just too hungry to care about our seating. When we finally got a seat, Jessica requested the best bottle of Zinfindel on the house. Now that was just too strange since she was the driver and I stress again this was a Monday evening. We proceeded to order our entrees which was a bit of a wait.
In the process of waiting I remembered texting Ben and telling him how I miss him and how I was currently at our favorite restaurant ordering our favorite dish. During all this, Jessica is still receiving calls from this strange person about her whereabouts. The food finally arrived and my order was all wrong. Talk about upset and hungry. I felt like I waited too long. After waiting for what felt like a life time for the waitress to come out with my new order, I just heard a deep male voice from behind me asking "Did someone order Chang chicken?"
I automatically recognized the voice…
Ben immediately got down on one knee and I just kept screaming "Is it you? Is it really you?" I then touched his face in disbelief asking him what he was doing in town. Ben just kept telling me to sit down so that he could propose. When I finally set down, Ben proceeded to pop the question and went into details of how much he loved me. I couldn't bring myself to say "Yes" but "Omgosh" I finally said "YES" and we are here today – happy and married.
_____________________________________________________________________________________________
It was all about Asisat Adeyemi & Benjamin Odufuwa on their wedding day. The couple were a perfect representation of elegant sophistication as they said "I Do"; the beautiful bride Asisat in her mermaid style dress with a dramatic ruffled train paired with a feathered birdcage veil and then the groom Ben in his sleek black tuxedo accentuated by his red suspenders and a luxe red rose boutonnière.
The colour red played a big role on the Asisat and Ben's day, the vibrant hue and the passionate emotion it is associated with was evident all through the day. From the couple's love-filled kisses to the bridesmaids' dresses and reception decor. Asisat and Benjamin's marriage blessing was reflective yet inspiring. After church, it was all about having a great time and celebrating their love with family and friends at the reception.
Dancing, great music, yummy food and so much more ensured that this was a day to remember. When the bride emerged in her dazzling reception dress, the tempo of the event was elevated once more as guests danced the night away while Asisat and Ben savoured their special moments!
BN wishes Asisat and Benjamin a blessed and prosperous life together. May each day be filled with love and joy.
~ Wedding Photography by Deji Atte of Deji A. Photography – deji.a.shutterchance.com | Layi Wola of Litehouse Photography
~ E-Session Photography by Joshua Dwain Photography – http://joshuadwain.com/blog/

Wedding Details
Wedding Venues –
Traditional Engagement: OK Estates, Abeokuta, Ogun State
White Wedding – Reception: Yard 158, Ikeja, Lagos
Wedding Colours –
Traditional Engagement: Purple and Gold | Bride's Family: Purple and Groom's Family Gold
White Wedding: Red and Metallic Grey
Wedding Theme: Simple and Elegant with a touch of fire
Vendors
Wedding Dress: Provonias
Groom's Suit: Hugo Boss
Bridesmaids Dresses: Bespoke – New York
Event Planner: Royal and Marks
Cake: Cakes and Cream
Table Decor: Essential B.
Flowers: Royal and Marks