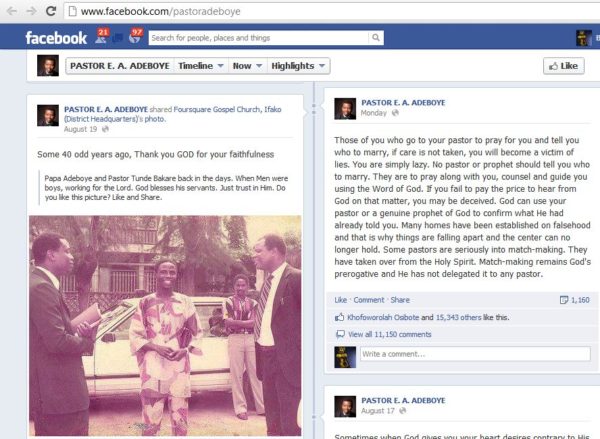 I'm a Christian but I'm also one of those people who believe that many Nigerians now practice a warped form of Christianity. There are so many egotistic pastors with millions of teeming fans. The issue of marriage is always a hot button topic even more so in church!
The other day, I was listening to Wazobia FM online and heard an ad for a church service/all night vigil taking place at the National Stadium tomorrow and the theme of the event is…"War against Marriage Delay". Considering the venue is the National Stadium, can only imagine the number of people who will land to "fight" the war.
Back on topic, I've heard so many stories about women and men who break up their relationships or even engagements because their mother/father/aunty's pastor said they should beware or that there was danger looming in the future of the relationship. On the other hand, I have a friend who upon the breakup of her marriage lamented that "her pastor warned her and she should have listened"…
On Monday, I spotted this posting on Pastor Enoch Adeboye, General Overseer of one of the largest churches in the world, the Redeemed Christian Church of God's Facebook Page. As of today, the topic had racked up over 11,000 comments and 13,000 Likes.
Those of you who go to your pastor to pray for you and tell you who to marry, if care is not taken, you will become a victim of lies. You are simply lazy. No pastor or prophet should tell you who to marry. They are to pray along with you, counsel and guide you using the Word of God. If you fail to pay the price to hear from God on that matter, you may be deceived. God can use your pastor or a genuine prophet of God to confirm what He had already told you. Many homes have been established on falsehood and that is why things are falling apart and the center can no longer hold. Some pastors are seriously into match-making. They have taken over from the Holy Spirit. Match-making remains God's prerogative and He has not delegated it to any pastor.
Will be great to hear your thoughts on this!