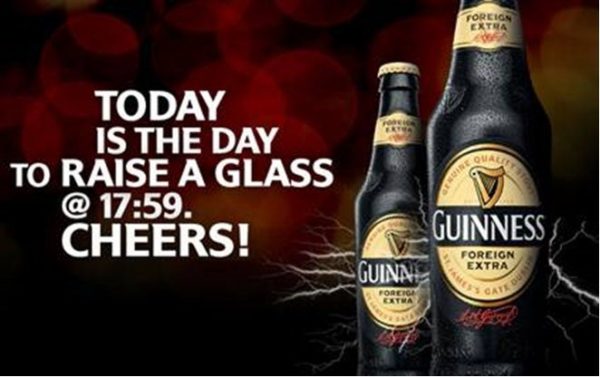 Yippee , it's G-Day!  Yesterday, BN told you that Nigeria has been named the largest market in the world for Guinness Foreign Extra Stout and the brand wants to celebrate the Nation and they would like you to join them by raising a glass of your favorite stout at 17:59 PM.
You also get to win a month's supply of your favorite stout, Guinness Foreign Extra Stout, during the celebration. All you have to do is raise your glass to Guinness at 17:59 PM, take lots of photos with your friends while doing this and upload the photos on m.GuinnessVIP.com – The most creative photos WIN! WIN! WIN!
You can also be a fan of Guinness on Facebook – www.Facebook.com/GuinnessVIP and follow them on Twitter@GuinnessVIP to stay up to date about all the latest news on products and services from Guinness Nigeria.
So join the celebration, take photos, upload the photos and keep on WINNING!
Guinness Foreign Extra Stout wishes you all a fun Friday and encourages everyone to Stay On-Side and enjoy their drinks responsibly;
Guinness is strictly not for sale to or consumption by persons under 18
Drink water between drinks to keep you refreshed
Eat a good meal before and after the big match
Captain your team – keep an eye on your friends and make sure they get home safely
Don't drink and drive
Do you want to stay in touch with everything football and entertainment? Join Guinness VIP by sending an SMS "Yes" (Space), "Your Date of Birth" to 1759 and you are In – See you all at the Guinness Nigeria VIP section.
Please Note: Terms and Conditions apply.
______________________________________________________________________________________________
Advertorial