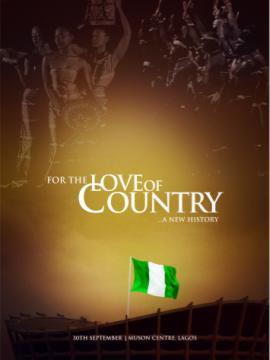 The 52nd Independence Anniversary is around the corner!
To make the celebration a memorable one for you, your family, friends and colleagues, For The Love Of Country Musical Theatre is just what you need.
The theatre musicale event themed "For The Love Of Country" is an eclectic fusion of sight, soul and sound by some of Nigeria's most talented music artistes with dynamic theatrical dance performances by exceptional actors. It is about fanning the flames of patriotism, deepening our sense of unity, celebrating the beauty and diversity of our tribes and rich cultural heritage without the pains of tribalism.
The event would feature performances from some of Nigeria's best musical talents like Onyeka Onwenu, Timi Dakolo, Bez, Kemi "Lala Akindoju", Omoye Uzamere, Yinka Davies, Tosin Martins, Modele, Threadstone and the Ochestra and more!
What makes this event extraordinary is that it is part of a cultural renaissance set to awaken social consciousness, chronicling the issues that have plagued our country; capturing the past, present and future into one event with eloquence, depth and humor. It is about striking the chord of that indomitable Nigerian Spirit which binds us together in spite of our broken past. It is about sharing the miracle that despite 30 months of Civil War, 10 bloody military coups and years of endless political turmoil and the bleak present, Nigeria still stands.
The aim of the redefinition campaign is to raise 52, 000 revolutionaries signatures, that will subscribe to the vision of The New Nigeria by endorsing the "We Believe" creed. This campaign is to redefine Nigeria and salvage it from battered perceptions, using compelling messages and the empowering voices of ordinary people like you and I. Visit their website to endorse the campaign.
You can't afford to miss this!
For The Love Of Country Event Details
Date: Sunday 30th September, 2012
Venue: Muson Centre, Onikan, Lagos
Contact: For more information and enquiries Email [email protected] | Visit their facebook page www.facebook.com/creativenigeriaproject | Follow them on Twitter @Cre8iveNigeria | Visit their website www.creativenigeriaproject.org
__________________________________________________________________________________________
Bellanaija.com is an official media partner of the For The Love Of Country Musical Theatre