Hi guys, this week has been so stressful. I mean, the month is only a few days old and I'm overworked. Unfortunately, I'm not too stressed to think, breath and sadly eat food. Anyway, a  few weeks ago I  found myself immersed on a blog that celebrated Nigerian food in all its awesomeness and glory. Check it out here. The pictures took me by supirse and wowed me. With each recipe I was caught up in the writers mind and then I saw her amazing suya recipe. Lohi made her suya into a sandwich and it inspired today's post. The birth of the Suya-Wich… My friend, Demilade had moaned about what he'd do for a chick-fil-a sandwich and I knew what to do in that very minute. My thought process for this sandwich was to brine the chicken add suya pepper for the flavour and like a Chick-Fil-A sandwich deep fry in a suya pepper breading. I'd like to share the journey with you guys. You see, I didn't cook with a recipe.
Bread -I used a panini bread. It was beautifully marked and cost me 50 naira from Goodies Ikeja. I also experimented with a baguette loaf but any interesting bread would do or thick cut sliced white bread. Remember to be creative, it's more fun that way.
Chicken – I used 2 breasts of chicken. They went into a brining liquid of 1/2 part plain vinegar to a 1/2 part water and some sugar, salt and suya pepper (the suya pepper is quite salty so be careful)
I literally soaked the chicken breasts in that solution for a day and a half. The brining kind of precooks the chicken and it ensures the meat stays moist and cooks evenly when cooked. Brining is also a way to ensure meat is tenderized and has maximum flavour in it.
The sandwich had some gem lettuce I found at Oasis supermarket in Ikeja and some humble cucumber and tomatoes. Again playing with things that go with suya. I didn't use onions because I honestly forgot  to slice some. It didn't matter much because I'm not a huge fan of raw onions.Actually, Icould have sautéed them a bit but I forgot so… you can try it when you make yours.  The coating for me this is where the sandwich really comes together! My secret weapon is rice flour. I get it form my Shop Perfect store in Ilupeju. Rice flour is way crisper than regular flour. Mix rice flour with lots of suya pepper. Slice one chicken breast across itself to almost butterfly it. Take each piece and rub in egg and dredge in the flour suya mix doing so 3 times for a great crust!
In hot oil, drop the coated brined chicken and fry till golden brown or Amber and not burnt of course.
To assemble – I made a mayonnaise mix by mixing sweet chilli sauce, tamarind sauce, some suya pepper, and mayonnaise. Spread across the hot panini loaf that was heated through in the oven, then the crisp lettuce leaves, tomatoes and cucumbers. The chicken is the crowning glory.
After this state theres only one thing to do…
EAT… and that's what Demilade and I did. The sandwich was all sorts of amazing, but we agreed it could have done with more suya flavour. So we did it again this time we grilled it it to give the roasted flavour and added more spicy suya blend to everywhere the suya powder went into. Please if you're like me sprinkle a bit more pepper on the cooked chicken when it gets out of the fryer.
Don't forget to rinse off the excess brine of the chicken before you cook to reduce the "saltiness". Make sure you use a more spicy than salty pepper mix as well since the brining has salted it enough.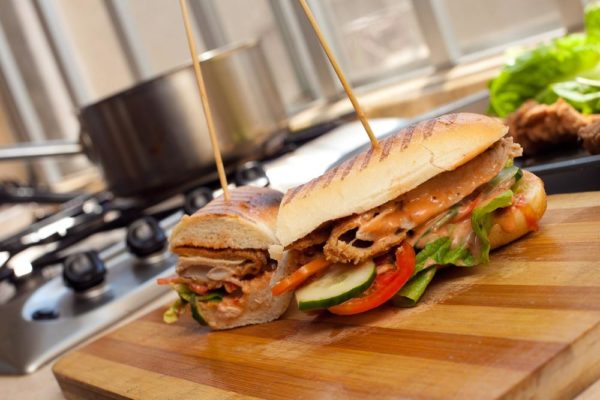 Feel free to have some fries with it but I recommend a cold drink. Please don't forget to send in your general food and kitchen questions to features@bellanaija.com because next week would be all about answering your questions and clearing all kitchen myths.
Special shout out to Demilade Banwo who makes my food look even better than it tastes. He's @franksinatre on twitter and instagram and his blog @ Demilade's Photos
Enjoy a flavour filled weekend and may the food force be with you.
Ciao!
_____________________________________________________________________________________________
Fregz loves to cook! He is a graduate of Le Cordon Bleu Paris Culinary Arts School in France and hosts monthly "Chef Fregz Specials" where he whips up a yummy menu with a different theme each time then everyone enjoys a taste.He also caters special events and private dinners. To find out more, visit http://theskinnychefthatcould.wordpress.com/