BN Making It! is a BN feature focused on young entrepreneurs. BellaNaija.com launched BN Making It! in 2009 and we are hoping to spotlight more upcoming entrepreneurs in 2011 and beyond. We will feature young African entrepreneurs both at home and in diaspora who are making an impact in their chosen fields. Technology, Non-Profit, Fashion, Media, PR, Music and everything else. From those who are just starting their first company to young Africans who have their companies listed on the stock market. The purpose of this feature is to promote and encourage entrepreneurship among young Africans. We aim to inspire the next generation to be enterprise builders. Noble Chibuzor Igwe is not a name to be ignored. Tagged by many readers of BellaNaija as "That Stubborn Biafran Soldier" and the man behind the 360Nobs brand, Noble constantly exhibits strong character traits such as determination, resilience and hard work. BellaNaija is proud of Noble's achievements and his thirst for more definitely positions him for even more all round  growth.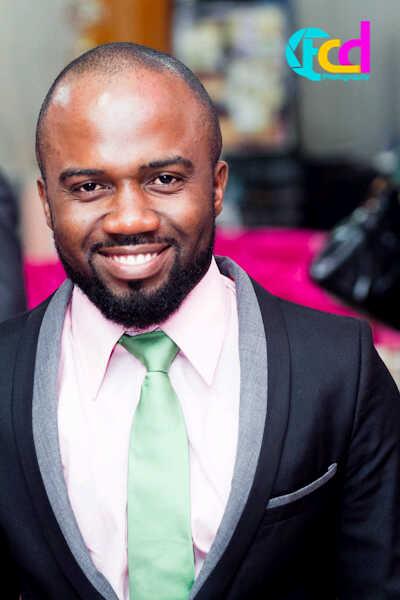 Who is Noble Igwe?
Noble Igwe is the son of Sir Herbert & Lady Charity Igwe from Umuomaku in Orumba South Local Government of Anambra State. I was born and raised in Aba, Abia State, but education took me through National High School Aba; St Augustine's Anglican Seminary Nbawsi; Federal Government College Okigwe and the University of Nigeria, Nsukka.
Growing up was fun because I've got the most wonderful siblings and we had the best things of life that could be provided by our parents.
Tell us about your career development
I started my career (NYSC) as a Fine Arts teacher with the Gombe High School, Gombe State in 2004; then Virgin Nigeria Airways as a customer service officer in 2005 but moved to the Marketing Department in 2006. I left Virgin Nigeria Airways in 2008 for 141Worldwide, an advertising firm and finally resigned from paid employment on April 1, 2011 to start The 360 Nobs Group.
As a full fledged Aba boy, what was your first experience of Lagos after a long stint in the East.
Hahahahaha. Is this the point where I say 'I was mesmerized with the length of the 3rd mainland bridge'? Anyway, before moving to Lagos in 2005 I used to visit on holidays and cannot point out any outstanding first experience, but one thing that stood out was the neighbor-to-neighbor relationship. I grew up in an environment where it was acceptable to go to your neighbor's house and say "Biko, Mama Emeka, nye'm matches and maggi. Emesie, ka'm nye kwa gi" – "Please, Mama Emeka give me some match sticks and a cube of Maggi. I will give you back later"
Moving to Lagos, I realized that it was totally uncool to "beg" for match sticks. In most cases, a lot of people didn't know their next-door neighbors and it was "ok" to sit in your car while the car in front of you is being robbed. One thing was clear: in Lagos, "You are On Your Own!"
From Urban & Regional Planning at UNN to Customer Relationship Officer at Virgin Nigeria.  How did that happen?
My parents believe that University education is to make one trainable and provide you with the necessary skills to fit into any environment. Towards the end of the mandatory NYSC programme in 2004, I saw an ad in The Punch Newspaper for vacancies in different positions in the then newly- approved National flag carrier. I applied for the position that had no work experience requirement and I was called. It was at that point that I moved away completely from drawing, but I kept the knowledge of space arrangement.
How did you transition to public relations and media?
I've always loved to organize events right from my days in the University and in most cases, these events required publicity. So I would put together the idea, find ways to publicize these ideas and then use the available platforms for post-event publicity.
I joined Virgin Nigeria as a Customer Relationship Officer, but was officially moved to the Marketing department because of the way I handled the first ever Virgin Nigeria Anniversary. While working at Virgin Nigeria, I used to write Facebook notes and one day I was contacted by BN to write for them. If you missed them check out the links, here and there. These two events gave me the courage to take my interest in media and public relations more seriously. While Virgin Nigeria events provided me with the opportunity to meet with people who work in entertainment, which required PR, Bellanaija.com provided me with the platform to share my writing with a bigger population. Equipped with knowledge and experiences from these diverse fields, I decided to go into advertising to learn the act of creative publicity/promotions. It was at that point that Mo'hits employed me for PR, followed by SWE Bar and the rest is history. 😉
How did you start 360Nobs Limited?
We've moved from 360Nobs Limited to The 360Nobs Group. In 2007, I registered a business name "Noblekonsepts" and with it, I was doing my PR and events. Because I was still in paid employment, I didn't register or bother with the registration of a proper company, as I did not have an office for my personal business. However, when I started doing business with more than one artiste and more than one lounge, I decided that it would be more professional to register a company that would play majorly in entertainment & lifestyle. I started the business and later called in two of my good friends (Oye Akindeinde & Tonia Soares) to join me on the board as partners and directors. They brought in their special skills. We set up 360Nobs Limited housing, 360PR, 360Events, 360Productions & 360nobs.com in 2010 and later moved them under The 360Nobs Group housing the above, 360Delivery and the soon to be launched 360Cafe.
What was the first major setback you had?
I cannot point out a major set back, but I would say that I wasted a bit of time in paid employment after 360Nobs limited has been registered. I was dating the Comfort Zone and didn't know when to leave. I was hoping to get a "pointer" for the right time and I think not being directly and actively involved in the business affected the growth a little bit.
However, I can't completely refer to that as a set back because I wanted to make sure that the business would be able to stand on its own.
How did you source for funds?
I had a business plan while I was in paid employment and, every year, I was putting away some money to be used in starting my own business.
I made sure that monies realized from PR, SLU…shh and every other thing I was doing on the side didn't go to waste because I wanted to take the business risk with personal funds and not a bank loan. So I had a plan and I saved to give birth to my dream.
What kind of support did you have?
I didn't have financial support from anybody, but I have enjoyed unending support from family and close friends. Segun Demuren, who's also on the board of directors, Ebuka Obi-Uchendu (Company lawyer) and Olamide Adedeji.
My family is always there to support me and because I was not sending money home while in paid employment, I was able to save to start my own business.
Tell us about the 360 Nobs Group
The 360Nobs Group plays in the lifestyle and entertainment sectors. 360nobs.com, 360PR, 360Management, 360Production and 360events are all under 360nobs Limited as the parent company.
360PR is the PR arm of the company and has worked with some of the best in the Nigerian entertainment industry such as D'banj, Banky W, M.I, Pope, Chykay, May Boys ,Ebisan and many others.
A lot of artistes need publicity and we've been able to deliver for our clients.
360management deals with artiste management, which includes booking them for shows; managing their daily dealings as it relates to their music career. 360 management has worked with WAJE and is currently working with Kayzino & Eva jay
360Production are the owners of the popular SLU…shh brand and have handled events such as MI's album launch, De marquee first year anniversary, SLU…shh with HP, etc.
360Events handles events management for clients such as Deuces, De Marquee, Bacchus, Twin Peaks, amongst others. It has not been easy but the glory of God has been guiding us and has been providing us with clients.
Special thanks go to MNET, MTN, HP, NOKIA, Etisalat, CIROC and etc. They've been good to us.
What's the difference between 360Management and 360PR?
While 360Management handles the management of an artiste which includes PR and show booking, 360PR can work with an artiste, person or club with a different management.
What's the current staff strength of 360Nobs Limited?
On 360Nobs Limited, we've got 12 permanent staff and over 40 contributors.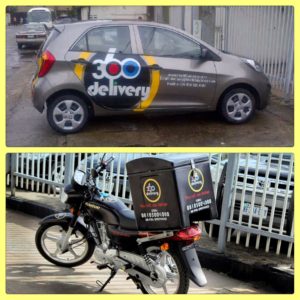 What inspired the newest baby of the 360Nobs Group…360 Delivery?
Wow! 360Delivery… It was always in the original plan to launch 360Delivery right from day one but I needed to wait for the right time.
The idea was to push the mother company, gain grounds in the local community and then launch 360Delivery. 68% of Lagos is covered by Water and the rest is totally covered by 360Delivery. Unlike your normal delivery/logistic companies, 360 Delivery is here to serve the Nigeria public by combining the international method with the local ways of doing things.  Because we know that the woman selling boli, corn and coconut will not bother herself with a website, we source these service providers and with a call, we make the purchase, bring to you in the comfort of your homes/offices and you pay on delivery. We also take your "material" to your tailor, buy and deliver events tickets to you, distribute your wedding invites & Aso-Ebi and take care of your market "runs". We also handle "pick-ups" too, so all you need to do is make a purchase on line and we'll pick it up and deliver. 360Delivery was created to assist individuals, small businesses as well as provide delivery services for restaurants & offices.
In short, if you need to move anything from point A to B, call us on 08105004000 or visit www.the360delivery.com to fill a form.
Where do you see 360Nobs Limited in 5 years?
To be a one-stop shop for everything as regards to lifestyle and entertainment, but collectively, we want to position the 360 group as a global brand operating from Africa. I hope that 360Nobs would be a reference point for best practice in business.
Do you have any regrets? Wrong business decisions?
I don't think I've made any major bad business decision yet. I thank God for his blessings and with prayer, we'll continue to make the best decisions.
What are your personal beliefs and what can you say is Noble's driving force?
I believe in the following and they are responsible for the person I am: I believe in love. It's impossible to claim that you've lived if you have not loved and have not been loved totally in return. If you treat people with love in your heart, the odds will always be in your favour. I believe in mutual respect; you earn respect, you don't demand it. As long as you treat those before you with respect, the people following will accord you same.
I believe in family & friendship: family is one thing you can never choose. You cannot choose your parents and you cannot choose your siblings and I strongly believe that God has a purpose for making YOU part of your family. Embrace them, treat them with love and overlook their shortcomings.I love my parents. Our parents brought us to this world and took care of us. It is important to work hard so that we can provide for them in their old age. While we cannot choose our family, we can choose our friends. Wise real friends are essential for support & growth. I would like to leave a mark in my chosen field as well as impact the immediate society. I aspire to build a global brand with headquarters in Nigeria.
FUN!
What do you do for fun?
Hahahahahah. Let's say for fun, I call up celebrities to hang out with them so that my pictures will be published on BellaNaija or sometimes I get shirts from Ebuka, size them to fit me and then wear them on the red carpet.
Okay, I kid. I love to hang out with the ABE Boys, watch movies and then spend time on 360nobs.com.
What is SLU..shh and how was it birthed?
SLU..shh is the party that brings celebrities and their fans together on a flat platform. It's mostly a themed party with celebrities playing different roles. The SLU..shh idea was initiated while I was consulting for SWE bar. We needed something that would pull consumers on Saturdays and I had to come up with the idea of SLU..shh which also provides a performance platform for some of the clients under 360management or 360PR. We had the first one in March 2008 and it was a success and somehow, we were having it every last Saturday of the month but when SWE Bar couldn't contain the crowd, I moved it to De Marquee, then Play in Abuja.
At a point, the crowd became so large that a club couldn't contain it, so we've moved SLU..shh to a house in Lekki Phase 1 tagged the SLU…shh mansion. SLU…shh is now done quarterly with sponsorship from corporate bodies
SLU…shh parties are legendary. Is Slu…shh part of the many 'degrees' of Noble?
Hmmmmm! SLU…shh has been tagged by many as the best 'Lagos party' and I must agree with you that SLU…shh is legendary. It's not just a party; corporate bodies have also identified it as a very worthy platform to engage their consumers. Right now, we have 3 brands willing to support the 2012 Christmas SLU…shh and it's going to be Fashion Meets Music edition.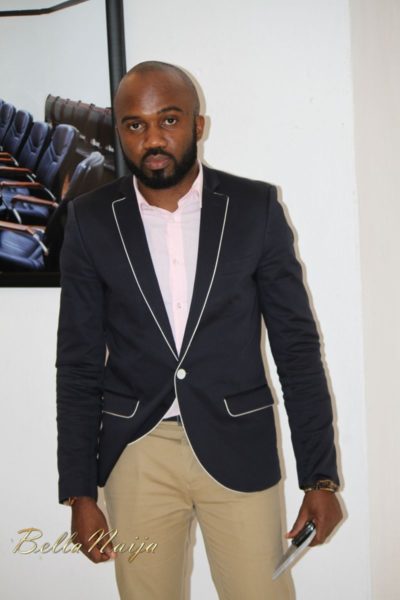 Sense of Style
You know immediately we put up a post with you, the issue of your "tight pants" is going to come up! Tell us about your style! What determines what you wear?
Ewo! The truth is I grew up in Aba and Aba tailors are very good. I've got a tailor in Aba who is responsible for all my pants. I've put on a bit of weight but I've not seen him to give him my new measurement so he's still sending me trousers with the old measurement. I'll travel to Aba during Christmas and update him on the new measurement, so sometime next year, I'll get new pants. Bikonu, I'll change. As regards my style, I wear things that I think fit me and they don't necessary have to be in vogue.
Can you demystify Noble for me?
Noble Igwe is the stubborn Biafran Solider, No?
Noble is a God-fearing Christian. Totally committed to family and friendship. Love the good things of life and cannot not stand maltreatment.
Who's the leading lady in Noble's life? Or should we just check the memoirs?
There's one and she calls me "NoBoo".