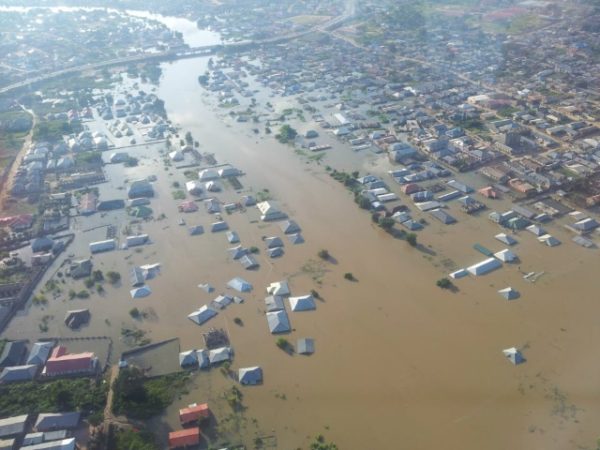 Pictures showing the extent of the flooding around River Niger in Lokoja have been released by the National Emergency Management Agency.
The pictures show the devastating effects of the flood that has left millions of land transport travellers stranded crossing the city. The flooding, which was caused by the overflowing of the River Niger has greatly affected Lokoja which is a transportation hub between Abuja, the nation's capital and most cities in Nigeria's south.
Reports say that some of the flood victims were trapped on treetops in Lokoja as the crisis worsened earlier this week. Premium Times reports that NEMA is currently camping over 10,000 displaced flood victims in Kogi and the eighbouring Benue state, which is hit by heavy flooding after Cameroon released water from the Lagdo Dam, East of Nigeria.
It was also reported that the government has asked Julius Berger, RCC to free the Lokoja-Abuja road from flooding.
The flooding has claimed at least 20 lives across Nigeria and displaced more than a million. The extent of the flooding is is virtually cutting off the Northern part of the country from the South. A lot of small villages in Lokoja and Kogi will soon be wiped out if nothing is done soon.
In a statement by the Legal Defence and Assistance Project (LEDAP) signed by its National coordinator, Mr. Chino Obiagwu, the government has failed to bring adequate emergency relief to the millions of Nigerians affected or displaced.
"Many have died and several thousands injured or under intense threat of imminent epidemic," the statement said. "Despite this huge disaster, the federal government and most state governments have not sufficiently responded or provided the much need relief to victims especially vulnerable women and children."
It has also been reported that the flood is spreading to some parts of Edo state.