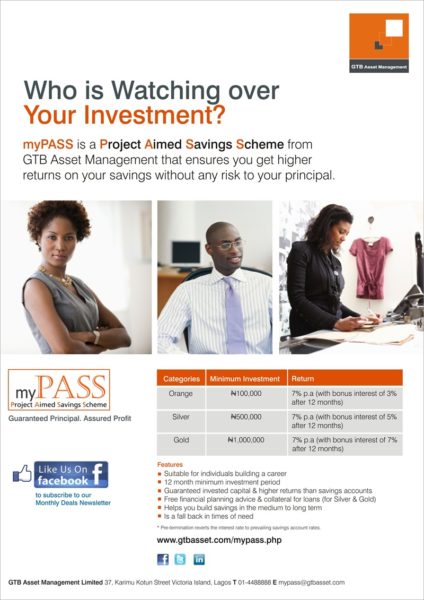 With the global financial and economic meltdown, it is safe to say, now is the time to start saving for special projects, school fees, vacation, property, retirement and many more and thanks to GTB Asset Management, saving has been made easy and highly profitable.
Introducing myPASS by GTB Asset Management. myPASS is an investment product that guarantees an investor's initial capital while also assuring him/her of profit.
Discover myPASS
myPASS was primarily developed for professionals and entrepreneurs who are working hard to build their careers and businesses, but do not have the time to develop and monitor investments.
myPASS (my P-Project, A-Aimed, S-Saving, S-Scheme) ensures an investor gets appreciable returns on savings and investments without taking any risks on the principal. It is suitable for individuals looking to save towards special projects, school fees, vacation, pilgrimage, property and more. There are three product categories in myPASS – Orange, Silver and Gold.
Categories
Orange – Minimum Investment N 100,000 | Return 7% p.a (with bonus interest of 3% after 12 months)
Silver – Minimum Investment N 500,000| Return 7% p.a (with bonus interest of 5% after 12 months)
Gold – Minimum Investment N 1, 000,000| Return 7% p.a (with bonus interest of 7% after 12 months)
Features
Suitable for individuals building careers
12 month Investment Period
Guaranteed invested capital and higher returns than savings account
Free financial planning advice and collateral for loans (For Silver & Gold)
Helps you build savings in the medium to long term
A fall back in times of need
With a minimum investment of N100,000, clients are entitled to a 10 – 14% return on investment, depending on the level of their investment. Silver and Gold account holders are also entitled to free financial planning and can use their deposits as collateral.
A myPASS account can be opened on behalf of a loved one, making it suitable for christening ceremonies, birthdays and scholarships. All myPASS clients receive a "Monthly Deals Newsletter" informing them of new investment opportunities in the capital & money markets, real estate and more.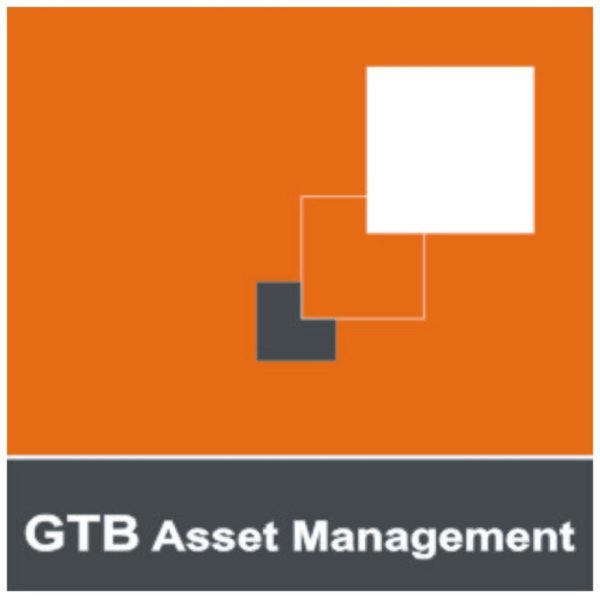 About GTB Asset Management
GTB Asset Management (GTBAM) is built on the pedigree & values of GTBank and until recently was the asset management subsidiary of the Bank. The company provides investment advisory, asset management, stock broking & trusteeship services.
Contact: For more info and general enquiries;
_____________________________________________________________________________________________
Advertorial – Sponsored Content