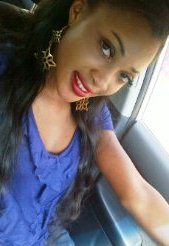 The sad murder of Cynthia Osokogu, a 24 year-old post-graduate student of Nasarawa State University and clothing retailer is something that would not be forgotten for a very long time.
Although her death was a huge loss to her family, friends and indeed the entire nation, it stirred up a reawakening on the dangers of trusting people met via social media without caution. Also, the swift arrest and court trial of her killers and other culprits involved in her murder brought some form of relief to many.
The action of the Police was lauded by the National Orientation Agency, who yesterday rewarded seven Police Officers involved in her case. The Agency gave the officers the 'NOA Civic Recognition Award' for their excellent performance in investigating and arresting Cynthia's killers.
The seven officers are ACP Damien Okoro, the Area Commander 'Festac', DSP Imoh Gregory, WASP Agbaje Yakubu, Inspector Edo Joseph,  and Sergeant Frank Okorobon all of Area 'E' Festac, Lagos. Two female officers, Sergeant Patience Biokoro  and ASP Mariam Ogunmolasuyi also received the award.
"A lot of people are quick to say that Nigerians are bad when something goes wrong but when good things are done or patriotic feats are achieved, nobody bothers to say well done or thank you.
"The whole nation was gripped with anger, fear and rage when this ugly, unfortunate incident occurred. These patriotic officers stuck out their necks to unravel the mystery. What you did restored Nigeria to the rest of the civilized world. You also restored some sort of succour to the family by arresting those that committed the dastardly act. We also thank the IGP for providing the enabling environment for you to do the job.
"When people are making such efforts, you must tell them they are doing well. It is for this reason we are recognizing you," Vanguard quoted the Director General, NOA, Mr. Mike Omeri as saying.
The Inspector General of Police, Mohammed Abubakar who was present when the awards were given commended the NOA for the honour and consequently directed the immediate elevation of  some of the Officers. Sergeant Patience Biokoro and Sergeant Frank Okorobon were promoted to the rank of Inspector while Inspector Edo Joseph is to proceed on promotion course to ASP.
In your opinion, did they deserve the awards?