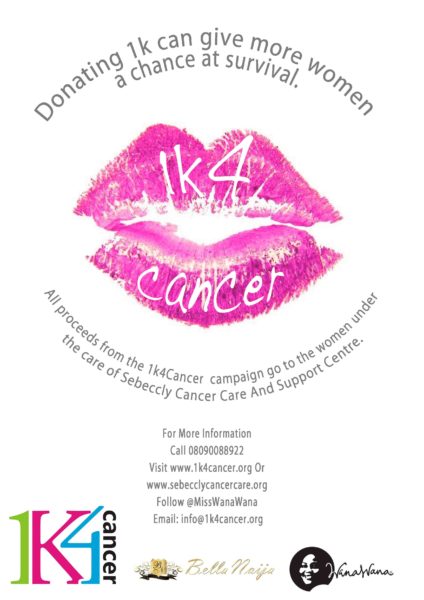 Last year, the 1K4Cancer campaign raised a whooping 2.4million Naira thanks to the incredible dedication and generosity of well-meaning Nigerians. This October which is Cancer Awareness Month, 1k4Cancer is collaborating with the Sebeccly Cancer Care and Support Center (SCCSC) once again in the campaign to raise funds for women diagnosed with cancer.
We (1K4Cancer & SCCSC) feel very blessed and honoured to be part of this drive that really does provide timely support to the women that need it the most. 1K4Cancer through the year has developed more efficient strategies to provide the best support to more women. We cannot achieve this without your usual uninhibited support. Cancer continues to ravage lives of women all over the world; and just imagine what it is like struggling to afford three meals a day, and then asked to shell out thousands and even hundreds of thousand for treatment to stay alive. It is important that we do our bit, especially where other systems have failed us.
1k4Cancer arises from the dire need to assist cancer patients who cannot afford treatment. The funds will go towards chemotherapy and radiotherapy treatment for women who are currently under the care of SCCSC.
Dr. Lola Salako of the Sebeccly Cancer Care and Support Centre notes the incredible success recorded by the campaign in 2011, its first year. The lives of three women: Veronica, Chinonye and Mrs Gbadamosi saw a turn around for good.
"1k4Cancer in its timely nature, provided much needed funds for chemotheraphy courses and medicines for these women, bringing relief to families who were truly in need; and creating new hope to neglected situations"
With more exciting activities added on, 1k4Cancer will focus more on social media this year, Through out the month of October, we will feature updates and activities on the campaign on various online platforms. Providing engaging content from conversations with people who have lost loved ones to cancer, to features, published letters from those left behind and fiction on the theme of cancer as a means of engaging literary and culture enthusiasts.
Newsletters on 1K4Cancer's interventions are currently available on WanaWana.net and the 1k4Cancer website. Interested persons can get involved by simply donating a thousand Naira and spreading the word. There will also be fundraising appearances at the Open Mic Theatre, Freedom Hall, and Silverbird Gallaria.
Sebeccly Cancer Care and Support Center is an organisation dedicated to ending breast cancer through the power of grassroots action and advocacy by providing information, support, and campaigning for improved standards of care for patients.
For more enquires on the campaign and on how to donate, visit www.1k4cancer.org |email [email protected] or call – 08090088922 or follow @MissWanaWana on Twitter
Or simply donate to Sebeccly Cancer Care And Support Centre, Fidelity Bank, 4520003810
_____________________________________________________________________________________________
Wana Udobang is a writer and broadcaster; currently an On Air Personality on 92.3 Inspiration FM, she hosts the daily "Afternoon Drive" from 4pm to 7pm.Miss Udobang is also a member of the Global Shapers Community; an initiative of the World Economic Forum.