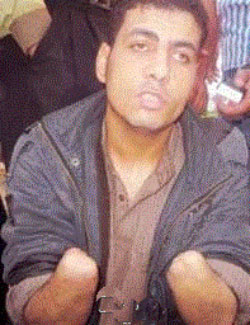 And if your right hand causes you to sin, cut it off and throw it away. It is better for you to lose one part of your body than for your whole body to go into hell – Matthew 5: 30 New International Version.
A 27 year-old Egyptian man apparently took these words literally and did just that to prevent himself from stealing.
Emirates 247 reports that Ali Afifi, 27, said he could not stop stealing despite his strong feeling of guilt. He finally resorted to a  macabre solution to win what he described as a "pitched battle" against the devil — by cutting off both hands.
He cut off his first hand four years ago in the most bizarre way. According to the report, he went to the main train station in the western Egyptian town of Tanta four years ago and waited for the train to come his way before putting his hand under its wheels as hundreds of passengers watched in horror.
Following this act, his father was so shocked that he decided to send him to an asylum.
But he was relentless. After he was released from the asylum, he cut off the other hand. "When I was later released from the asylum a few months ago, I cut the other hand off to make sure I will never steal again," he told Egyptian newspapers.
Afifi said he had asked a local Muslim scholar to have his hands severed because he could not stop stealing "after losing the war against the devil".
"But the Sheikh refused my request, saying he is not a ruler or in a decision-making position to take such a decision…he advised me to repent and seek God's help…I then decided to cut my hands off."
It wasn't reported how he cut off the second hand but I can only imagine and it makes me cringe.
But the reality is, he probably would never steal again and has won his "pitched battle" against the devil. It makes me wonder, did the Bible actually mean we should literally cut off our hands if it causes us to sin? I mean, if you've tried and tried to stop doing something you know is wrong and then you cut off that part of your body that makes you sin, it increases your chances of going to heaven right? But its a tough decision to make, really tough.
What do you think of his act? Did he take it too far?