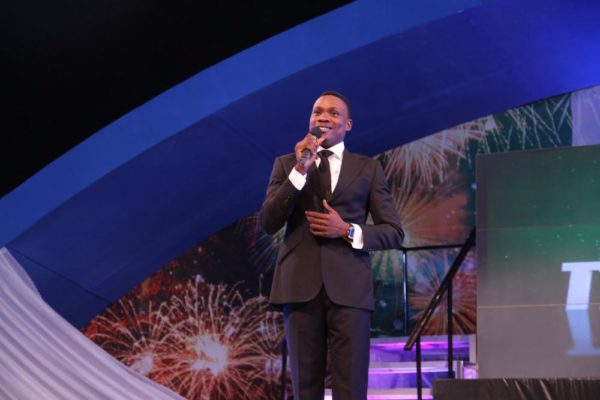 It's been endless weeks of production, traveling, screening and work nonstop for the Nigeria's Got Talent team. And as the show kicks into full gear, producers of the show at Rapid Blue Format have announced that viewers should be ready for a new phase in the Nigeria's Got Talent experience.
"The semi final stage will see contestants perform to the judges and the audience on a big stage. This phase will start with the 50 contestants the judges' selected last week and end with 10 contestants." Adaora Mbelu Project Manager at Rapid Blue Format disclosed.
This Sunday, the show finally entered the semi final stage as ten contestants from all age groups performed in front of the judges for the second time.
"Nigeria is a unique country, and we have a whole lot of talent, what we saw in the previous episode is something that is going to get bigger" Yibo Koko, one of the judges said.
The first group includes Impulse (Singing group), Clymaxx (Dance group), John Uket (Singer), Udezeagwua Ezedi (Musician), Vicky Mark (Singer) and Adult Babies (Variety Acts).
Others are Olayemi John- Lil P (Singer), DNA Crew (Dance group) and Bariyu (Variety Act). Viewers have the power to vote their favorite talents by texting their unique numbers to 33685
Auditions for the first Nigeria's Got Talent held in Enugu, Abuja, Calabar, Benin, Ibadan and Lagos, with judges Kate Henshaw, Yibo Koko and Dan Foster sourcing for fifty brilliant talents.
Photos
Sponsored by Airtel, Nigeria's Got Talent airs on NTA (4 PM), AIT (10:30 PM), Soundcity (6:30 PM), STV ( 8 PM)  and TVC (9 PM), on Sundays. Fans in the UK are not left out, you can watch the show on HITV UK Sky 193 (9 PM).
To stay up to date with the show as well as find out who's in and out, follow them on Twitter –www.Twitter.com/NigeriasGotTalent | Like their Facebook Page
– www.Facebook.com/NigeriasGotTalent | Log on to their website – www.GotTalentNigeria.com
_____________________________________________________________________________________________Advertorial – Sponsored Content