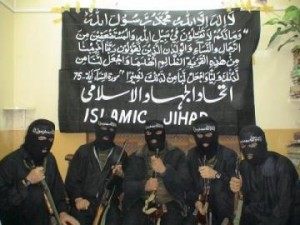 Just a few days after unleashing a bloody attack on a Catholic Church in Kaduna state, members of the radical Islamic sect, Boko Haram, say they are ready to ceasefire and have listed some conditions.
They include the arrest and prosecution of the former Governor of Borno State, Senator Ali Modu Sheriff. Channels TV reports that one Abu Mohammed Ibn Abdulaziz who claimed to be one of the leaders of the Islamic sect, made it known that the group will call for a ceasefire if the federal government arrests and prosecutes the immediate past governor of Borno State.
The group also insisted that the dialogue must not take place in Nigeria, but Saudi Arabia. According to him, the choice of Saudi Arabia was informed by the insincerity of the Nigeria government for dialogue and its betrayal in the past.
The Boko Haram spokesman further demanded that, all their members, who were arrested and are under the custody of security agencies must be released immediately, just as their wives and children who were displaced following the crises should be rehabilitated into the society to allow room for the much talked about dialogue with the Federal Government.
He also mentioned that five of its members have been mandated to liaise with five members of Borno Elders to find ways of meeting the federal Government to end the insurgency.
He listed the Nigerian mediators to include Alhaji Shettima Ali Mongonu, General Muhammadu Buhari (Rtd), Senator Bukar Abba Ibrahim, Ambassador Gaji Galtimari and Barrister Aisha Wakil and her husband.
Meanwhile, the Special Adviser to President Goodluck Jonathan, Dr Reuben Abati told Channels TV that the President has gotten their offer and said it was a welcome development.
Now let's recap their demands again: They want the former Governor of Borno state arrested because they claim that while he was in office, he sent securities to arrest and kill most of their members while practising their religion; they want the release of all their members in prison. They also want the mediation to take place in Saudi Arabia and they have listed the names of those they want present at the mediation.
It is understandable that a lot of blood has been shed and as Nigerians, we just want this over and done with. But what do you think about their demands? Are they realistic? Should the Federal Government succumb to their demands in order to stop the bloodshed?