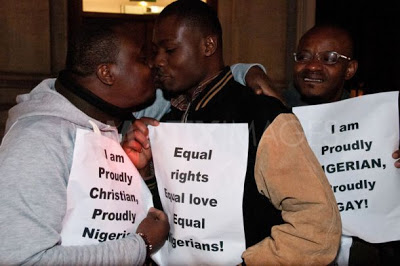 From all indications, Nigerian lawmakers are taking the "fight" against same sex marriage very seriously. On Tuesday 13th November 2012, a bill for an act to prohibit marriage or civil union entered into between persons of the same sex and solemnisation of same,  passed through the second reading in the House of Representatives.
The News Agency of Nigeria reports that Rep. Mulikat Akande-Adeola (PDP-Oyo) who led the debate on the bill said the proposed legislation would ensure that the institution of marriage is respected and would also protect and preserve the Nigerian culture.
"This practice has no place in our culture, religion, Nigeria or anywhere in Africa, it is immorality and debasement of our culture, we condemn it in totality."
Rep. Abike Dabiri-Erewa (ACN-Lagos), who also supported the bill, said the solemnisation of same sex marriage had no place in Nigerian culture saying "it is repulsive".
On his part, minority leader, Rep. Femi Gbajabiamila (ACN-Lagos) described same sex marriage as immoral.
"In this marriage, the third party is affected, these people go ahead and adopt children, thereby affecting the child, and in the process the child becomes dysfunctional. We are not seeking to promote a dysfunctional society," he stated.
The bill was also supported by most members of the House who raised arguments against same sex marriages.
There was no dissenting voice and the bill sailed through second reading after being put to vote by Speaker Aminu Tambuwal. He subsequently referred it to the Committee of the Whole House for consideration.
The Senate had in November 2011 passed a bill banning same sex marriages in the country.
With security issues, poverty, healthcare deficiencies as other pressing issues in Nigeria, critics have argued that the Same Sex Marriage Ban Bill is simply a means used by Nigerian lawmakers to distract from their lack of action in important areas while supporters of the bill claim that it is essential to maintain the "moral standards" in our country.
Thoughts?