BN Cuisine With Chef Fregz: Ma Sofrito
In the last couple of weeks I read what I think was the most amazing read ever… Yes Chef by Marcus Samuelsson. My aunt Rosalind sent me a text more or less forcing me to get the book because she was too taken aback by his story. As a chef and someone who is this passionate about food after I read his story I shed a few tears not because someone died, but  because I could relate with his struggle and ambition.
One page that caught my eye was the page where he talked about his early days in New York and how since he was a poor intern he and his friends knew all the cheap zones and places to get delicious food for almost free. he even mentioned "Nigerian Suya"  I almost shouted something like "Up NAIJA"
He spoke about meeting a particular woman who sold a mounds of spices and she always told him with so much pride "Ma Sofrito"
Sofrito translates to aromatics like onions garlic and tomatoes that have been cooked down with spices like bay leaves and coriander for 15-30 minutes. It is popular amongst Spanish, Puerto rican and Dominican cuisine. In Caribbean cuisine it's a kind of seasoned Lard that is used as the base of most dishes.
So where am I going with this long story? I saw this "Ma Sofrito" and it felt like a personal seasoning mix. Something that was brought together personally by one person. In my kitchen, I have my own blend of spices. I use it on everything and I hardly even add salt. It's used to marinade everything from poultry to seafood. Although, sometimes I add other things it's my base flavour and it's unique to Chef Fregz!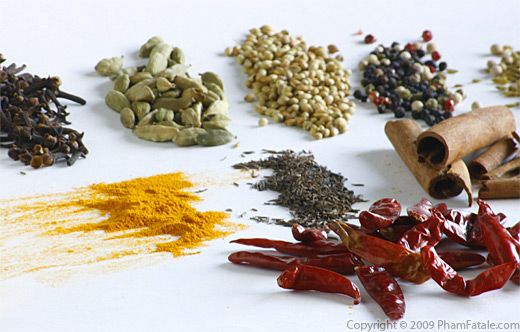 What also got me thinking for this post was something I've noticed in many households on this side of the world. We tend to have spices for generations unborn and usually expire and turn to dust. It occurred to me to write about a seasoning mix out. Mix all this seasoning and use it for our marinades and cooking in general.
on Chicken and it gave fantastic stock when I was done.
So let's talk about the different seasoning available.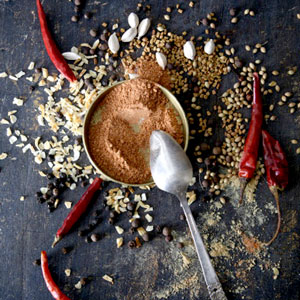 Curry Powder
Growing up as a child and up to a point in my teenage years I was always let to believe that curry powder was "a spice" but many thanks to internet and television and my aunt Rosalind, I learnt Curry powder was a blend of spices.
In really traditional areas in India the women would still make their own curry blend so 10 housewives all have different tasting curry because someone has put more chilli powder or less fennel seeds. Again, see what I said about personal touch or blend? Also, for those of you who have been wondering about Turmeric. It is the spice that gives us the yellow colour in curry powder.
So next time you're making Fried rice, to avoid the risk of having it taste like a Curry, try Tumeric as opposed to Curry. It's the same colour result without the muskiness
Curry Pastes and Pastes in general
I love making pastes and keeping them fridge or freezer ready to be slapped on chicken or whatever. Take that tatashe and rodo which you think if going off in the fridge, mix with onions, garlic, some soy sauce ginger coriander seeds, some coriander or spring onions and whizz altogether. The paste can be used to cook fish or chicken. You can make your own curry paste buy using the chillies, ginger, garlic coconut oil and coriander leaves.
You can also toast dry your own whole spices such as coriander seeds, fenugreek seeds, mustard seeds, fennel seeds and whizz altogether. Create a curry that's fresh, aromatic and personal.
You could also use the above to marinade chicken pieces and beef fillet pieces and make excellent kebabs.
I urge you to clean out your kitchen cabinet today and sort out the expired bin that then face the rest and pretend your a mad food scientist and try some blending and when you feel you have success place in bigger containers losing all the clutter and label it whatever "My Sofrito" "My Mix" "The Chicken Kicker" "My Kukere" whatever you wish and you can even give it out as gifts nicely packaged.
Here are some spices I found and their characteristic features. It can give you a guide to mixing.
Cumin – Middle eastern/ Indian   Cumin is very good with meat and chicken
Oregano – It has an Italian/Mediterranean direction and it has to be judiciously controlled.
Rosemary –Using this can offset curries and cumin. So imagine when you mix both. It brings a whole new, more intense flavor level to foods. It is also good with sauces, lamb, beef and chicken.
Five spice (Chinese cinnamon) –Like curry, this spice already has a viable mix of flavors (different combinations of star anise, cinnamon, clove, peppers, cassia, fennel, and/or orange peel) that changes from region to region. You have to be careful when adding it because of its unique and peculiar properties.
Celery powder– This is a background flavor when used lightly. Be careful not to use too much of it because it ends up hijacking the mix. It is very good for fish and seafood in general.
I hope you have a flavour filled weekend and don't forget to try out a spice mix of your own and you can write to tell me about it.
A Bientôt
P:S If you love chefs and food go get the Yes Chef Book by Marcus Samuelsson. It's available on Amazon
___________________________________________________________________________________________
Fregz loves to cook! He is a graduate of Le Cordon Bleu Paris Culinary Arts School in France and hosts monthly "Chef Fregz Specials" where he whips up a yummy menu with a different theme each time then everyone enjoys a taste.He also caters special events and private dinners. To find out more, visit theskinnychefthatcould.com