Mummy, Don't Pressure Me! Daddy, Don't Push Me!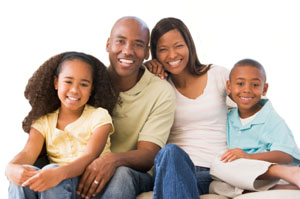 Two years ago, my boyfriend (now husband) and I moved back to Nigeria. A little over a year after we moved back, my parents started the not so surprising drone about "so when are you guys getting married?" My reply was mostly the same every time "We aren't ready."  When I said this, she would scowl at me and say "you've gone to school, gotten a degree, done NYSC, what more are you waiting for?" and it constantly made me  wonder if those were the only benchmarks our parents and society had set for us. It got so bad that she would sometimes list all her friends' children that had gotten married before me.
Fast forward a year later and I found we were planning a wedding.  Now, before you attack me and say "how could you not have known a wedding was being planned?" of course I knew a wedding was being planned. Everything was just happening at a pace I wasn't particularly happy with and it was being spearheaded by my parents.
As the wedding planning continued, I tried to talk to my mum about my apprehension regarding my impending nuptials. Every time  I tried, she'd squash my apprehension! She'd just either repeat what she always said (as above) or inject a spiritual angle about how this is what God wants for me.  No matter what I wanted to say, she didn't want to hear it; she was already so preoccupied with the "party" she and my dad were planning. When it looked like the guest list was exceeding the 500 people my husband and I wanted, we mentioned it to them. My dad flipped and said "se fe so mi lenu ni" meaning "do you want to embarrass me?" According to him, his friends and counterparts expected him to throw a big wedding. I was so mad because there I was expecting him to not only work hand in hand with me, but hello, I was saving him money here because of the cost! My Dad was however adamant and ended up throwing a wedding for 1,500 people.
It was still a very nice wedding but totally unnecessary  Did he need to let his need to tow the line of "society" to impact his daughter's wedding? Was it really neccessary to spend double of what you would have needed to, just to keep up with the Joneses?
Now I've been married 16 months and I tell you starting from 3 months into my marriage, my Mum had started with "why aren't you pregnant yet?" It's even particularly annoying because aside from the fact that my husband and I have expressly agreed to wait a couple of years before we have kids, his side of the family have not said a word to me about children, no hassle whatsoever, but she keeps going on and on!
One year into my marriage, my mother took the spiritual angle again. This time, it was about how the best time for a woman to conceive was in the first year of marriage "because the glory of God is freshly upon her" .  My immediate thought was that I had spoken to God about what my husband and I wanted for ourselves. I was also certain that God would grant us the desire of our hearts according to His will and purpose for us. Also, the glory of God will FOREVER be upon me.
My Dad reached an excruciating low when he tried to use pregnancy as a form of control. We had discussed in the past about him contributing towards helping make up the difference when I sold my current car to buy a new one. He then recently said to me that if I have a baby as soon as possible, he will not only buy my current car off me but will also pay the difference to acquire the new one I wanted. I was so weak at the length he would go, I promptly told him to keep his money!
I think the height of it was when my mother said I was embarrassing her because her friends keep asking about my state of pregnancy or the lack of it. "When they ask me, I don't know what to say". To which I responded "How about telling them to mind their business?"
I thank God for my sister who despite having two kids of her own has strongly advised me to ensure my husband and I are ready before we delve into parenthood as my parents exerted the exact same pressure on her. It has become so bad that I don't even go to the house that often anymore because one way or the other they are always trying to manipulate a situation in their own favour, or in the favour of so called "society" which they subscribe to.
This brings me to ask –"When does it end?"  Whether it is regarding education, marriage, friends, career, children or whatever! and my answer is this; "if you allow them, it is to the grave!"
Photo credit: askthedds.com
_______________________________________________________________________
Mya Williams is a fiercely passionate and fun loving rebel/ nonconformist. She loves to write in her free time. She emphatically believes that certain societal customs and norms must be challenged if one is to have a fulfilled and happy life.