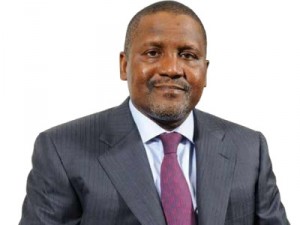 Exactly one week ago, when news broke that Dangote Group had received a staggering 13,000 applications from graduates for employment as truck drivers, out of whom were  6 Ph.D and 704 Masters degree holders, we asked the question – why do post-graduate degree holders want to become drivers?
Our esteemed readers attempted to give explanations for the high number of graduates that applied for the job, forming an interesting debate. However, in this report by Weekly Trust where some of the successful applicants were interviewed, we were finally able to hear from the horse's mouth.
The 2000 lucky applicants have begun training programme in batches at the Nigerian Institute of Transport Technology (NITT), Zaria, which would be run in four years. About 100 pioneer batch members have already commenced a three-month training at the NITT. There, to differentiate the graduate truck drivers from the conventional trailer drivers, their instructors call them "logistics assistants".
One of them is Henry Pender, a graduate of Political Science from the University of Ibadan. He graduated in 2000 and has worked as a banker with  All States Trust Bank (now defunct), Oceanic Bank and Ecobank. He had to leave the  banking industry when he married his colleague "because the human resource policy then did not allow spouses to work in the same office. I felt that my wife should stay behind while I as a man would look around for something to do. It wasn't easy, because the job was not forthcoming as I thought."
He said he likes driving and travelling and has driven a lot since he became a professional driver. He also explained that he decided to join the truck driving profession out of interest not for material reward.
"What I would say lured me into joining the truck driving profession is the name Dangote that is known locally and internationally. I bet you that if it were some other companies that came up with this initiative, some of us may not be here but the mention of the name Dangote, one would know that there is quality; there is a personality behind it; there is international recognition; that is what lured most of us here beyond any other material gain."
He also added that he had been informed at the training school that after successful driving for a certain period, or covering of certain mileage, one would be able to own a truck.
Adebayo Fadewon holds a Masters degree in Business Administration from Ladoke Akintola University, Oyo State. He worked at the  First City Emolument Bank for three years before joining the Dangote Truck Driving programme. He also loves driving and travelling and has some experience with the profession. "When I left the banking sector, I started doing something like this. I engaged in hire service with my car and I did that under my registered company. For me, this programme is just like home coming. I think what Dangote is trying to do is to bring up people like him, because good leaders always groom their successors. Dangote wants to help people to be on their own, therefore we must salute this sound initiative."
He said he is looking forward to a monthly salary of N300,000 which is a motivation. But he added  "the knowledge we are acquiring now is far above other material gains."
Okafor Martins, a graduate of  Electronic and Electrical Engineering from Federal University of Technology (FUTO)  is also expecting a monthly salary between N250,000 and N300,000 when he begins to steer the wheels of his truck on the highway.
"I have never been a driver, but when I saw the advert, I developed interest. Honestly, the name Dangote attracted me to this place, because I know he must have good package for us. This is my passion for it. I just don't want to be a common driver, but I want to make a difference between graduate-driver and a layman driver. I am sure when we start plying the highways; Nigerians would begin to see the difference because we would be trained drivers," he said.
Olowokere Oladele Yakub, a Mathematics (Education) graduate from University of Lagos  said he is passionate about this programme, because of the need to develop this kind of entrepreneurship in Nigeria. "I am into this programme, because I also have passion for farming. I feel that to be able to handle my farming activities effectively, I need to learn how to drive a truck. Nothing comes easy in this life. One has to work before becoming successful."
It can therefore be deduced from their comments that the three major attractions were: 1. The name "Dangote"  2. A monthly salary of between N250,000 to N300,000  3. A desire to make a difference between a graduate driver and a layman driver.
Good enough reasons?