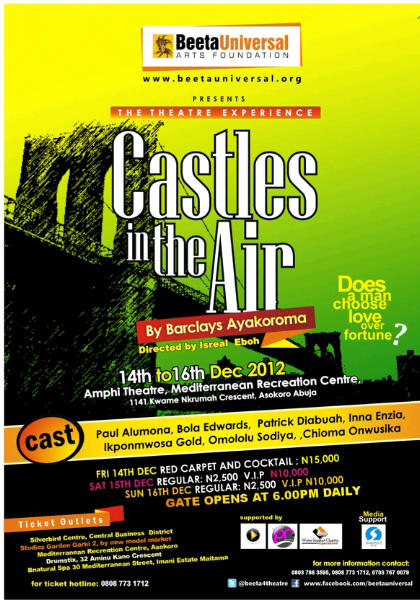 BEETA Universal Arts Foundation (BUAF), producers of "Iya ile" "Man talk, Woman Talk" and affiliates of "FELA" in Lagos, in its continued effort to strengthen the different spheres of theatre and make professional theatrical performances accessible to the general public in Nigeria will be bringing for the second time on stage, "Castles In The Air" by Barclays Ayakoroma.
Synopsis
Set in Nigeria, a Muslim couple desire for their son Aminu to get married and become a more responsible adult. They fail to succeed with their bid until they receive a letter from a great uncle offering a huge amount of money to the family with conditions that Aminu must marry and father a child within a year. All seems okay and preparations begin on how the money would be spent to upgrade the family lifestyle, until Aminu decides to marry the girl of his dreams, Stella who is from southern Nigeria. The conflicts begin between both families as to why the lovebirds cannot marry and caught up in the chaos, they fail to realize that they are building castles in the air.
This very well written comedy highlights the need for unity in Nigeria and why our diversity should be our strength and not a weakness. BUAF produced this play last year in Lagos to fantastic reviews from the press and general public. This would be its first production in Abuja.  The play is directed by Israel Eboh. Set designed by Biodun Abe and the stage manager is Vivian Nzelu
Costume contribution will be provided by Ituen Basi.
Date: Friday 14th – Sunday 16th December 2012
Time: 6PM daily
Venue: Amphi Theatre Mediterranean Recreation Centre, 1141 Kwame Nkrumah Crescent, Asokoro, Abuja
Tickets:  Opening Night (14th December)  N15, 000 | 15th-16th December – Regular N2,500, VIP N10,000
__________________________________________________________________________________________
Sponsored Content