After almost an hour on a queue at Shoprite yesterday I knew everyone was in a rush to plan what ever soiree they wanted to throw for Christmas. Even though I was a little tired after standing for such a long time just to get to the till, I was excited. There's something about Christmas that does that to you.
So if you happen to be in that rush as well, I have a few tips and suggestions that would help make your  Christmas party great. Today's tips are bird related and mainly about organizing your table for the holidays.
Roast The Perfect Bird.
Compound butter
I was telling a friend that butter is more or less a bi-product of Jesus' birth because it's just an awesome friend in the kitchen. Yes there's cholesterol and all that but this is where moderation comes in, so let's not be quick to judge. French people live long healthy lives with all their croissants, baguettes, butter and cream drenched sauces so yes, butter is good of you (in moderation)
This is the season to be jolly so if you've not eaten butter all year, do it this Christmas. Ensure that you use actual butter and not Blue Band or whatever margarine/spread you call butter. Mix it with whatever combination of spices you wish to use. I'll recommend Oregano, a few gratings of fresh cinnamon bark, some orange zest, black pepper, any poultry seasoning, seasoning for the grill. seasoning mixes e.g. Knorr Chicken or Knorr Original,thyme (preferably fresh) paprika, garlic(definite addition) fresh parsley, lemongrass (the hard stalk part ground into a paste) chillies and Italian seasoning mix to name a few.
So in whatever combination you desire to use the spices, mix it with quite a healthy amount of butter and using your fingers carefully place your hand under the skin and free up space and us e a spoon to push the butter as far into all the parts of the chicken and use the skin itself to distribute it evenly.
Roast
Roast at 175 degree celsius for about an hour or a little more depending on the size of the bird. In this case we're assuming chicken. If you're using  turkey you want a lower temperature say 160 degrees celcius for about four and half hours.
You must also roast breast side down first for the first hour and cover in foil to ensure maximum juiciness of the breast because the thighs take longer to cook.
Brining
Brining isn't something we do here often but it's a very effective way to ensuring a moist bird and maximum flavour. For a period of 12 hours, overnight or even 24 hours, soak your chicken in a vinegar-water-sugar-salt-spice solution. Adding pieces of cinnamon bark, star anise orange segments, chunks of onion, whole seeds like coriander bay leaves and black peppercorns basically whatever flavour you want to infuse. I did a recipe with suya brined chicken in the most recent edition of T magazine so you can check that out.
After brining, rinse off the excess salt and roast the bird breast side down or if you brine parts you could deep fry it and it would be awesome as well. The breast especially would remain juicy inside.
Finally,  don't forget use the drippings for your gravy. Use more of the roasted bits and vegetables you would have used to roast the chicken to make the gravy and not the excess oil. Use the oil instead to roast potatoes or make fried rice or keep in your freezer to make another chicken dish in the new year.
The Sweet Stuff
In the spirit of all things fast but still delicious I wanted to do a cheesecake without the stress of baking. So parfait was the way to go.
For this quick and delicious dessert you'll need the following.
1 pumpkin weighing about 400g
3 tablespoons brown sugar
1/2 teaspoon vanilla essence
1/2 teaspoon caramel essence
Butterscotch essence optional
1/2 teaspoon cinnamon preferably freshly grated bark
500 cream cheese
200 double or whipping cream
sugar to taste
Speculoos or malted milk biscuits crushed
Peach slices and cherries for garnish
In a pot place the pumpkin you would have peeled and seeded. Boil with water that covers half way, then add the brown sugar and steam till soft. Place the mix in a blender and puree till smooth. Mix the essences through and place in the fridge to cool. Mix the cream cheese, cream and sugar and chill  for about an hour.
Assemble
In a glass, (I've used a martini here, you can use a whisky glass or red wine glass) place some crushed biscuits at the base, then spoon some of pumpkin puree. Top it with the cream cheese filling. Repeat till  the glass is filled with cream.
You can do it up to this stage and cover in cling film and leave to set in the fridge for a few hours then before you serve you do the garnishing.
Garnish
For an extra touch finish with some whipped cream from a can top with peach slices and a cherry to two. I didn't have a sprig of mint but you can use it when you're making yours. Remember to dust with some icing sugar.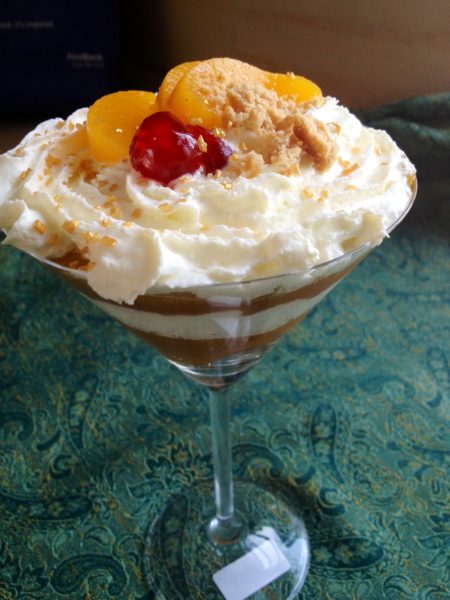 If you're in Lagos, don't forget to come out for Chefs in The Park. It's at the BIC Gardens, Lekki, Lagos on the 27th of December for Chefs in the Park.
The menu:
Southern Hospitality
A chicken burger with succulent pieces of buttermilk Chicken Breasts with a breadcrumb and rice flour crust deep fried to tender perfection, nestled between a Broiche bun with lettuce, pickles and a southern rosemary sauce.
My Selling Point
A take on a Vietnamese sandwich, Prawns marinade in tamarind and grilled to juicy glory resting on pickled vegetables, lettuce and finished with a siracha mayonnaise
Poko!
Juicy cutlets of pork Chops marinated in soy and chilli basted with an XO Hoisin sauce garnished with chillies
I would be cooking alongside media personality, Gbemi Olateru -Olagbegi from Beat 99.9Fm and there would other chefs present. Chef Eros of Cookie Jar, Chef Sarah of Sao Cafe and Chef Tanq.
I look forward to seeing you all there.
________________________________________________________________________________________
Chef Fregz loves to cook! He is a graduate of Le Cordon Bleu Paris Culinary Arts School in France and hosts monthly "Chef Fregz Specials" where he whips up a yummy menu with a different theme each time then everyone enjoys a taste.He also caters special events and private dinners. To find out more, visit theskinnychefthatcould.com.