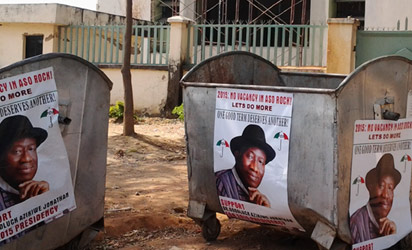 Yesterday, news went viral that President Goodluck Jonathan had made his interest in running for the 2015 elections more visible when his campaign posters flooded some streets in Abuja, the nation's capital.
The all-glossy posters which were strategically pasted in some areas of the Federal Capital Territory were posted courtesy of the South-South People's Action Group.
The series of posters had different inscriptions which read: "2015: no vacancy in Aso rock. Let's do more", "One good term deserves another. Support Dr. Goodluck Azikiwe Jonathan for 2015 presidency".
However, the President has denied having anything to do with the posters.
Special Adviser to the President on Media and Publicity, Reuben Abati said the president is focused on delivering on his mandate for Nigerians and would not be distracted by the politics of 2015. According to Abati, "The President has not launched any campaign; he believes that those doing that are playing games. There is no reason for the President to engage in any form of scaremongering. He has said that by 2014 his position on the 2015 presidential race wold be made public. Nigerians should wait till then."
He said the President's preoccupation at the moment was how to deliver on his mandate for Nigerians and would not be distracted by the politics of 2015.
"Those pasting the posters are trying to express their own views. The president had stated that he would talk about the presidency from 2014. Those doing these do not have the consent of the president.
"What is most important now is for the president to deliver on his electioneering promise to Nigerians and not to embark on the pasting of posters."
If the President truly had nothing to do with the posters, I wonder what the mischief makers stand to gain from misleading people.