In the course of my week, I had the opportunity to sample another chef's food. It was a dinner for 8 people and the house chef made this wicked Chicken and Cheese Salad that completely blew my mind.
Out of sheer jealousy, I made my own version and made it around the things I love in a salad. These days I love crunch in a salad; not croutons tho, because sometimes they tend to be too crunchy or to sharp at the edge and I judge them as carbs. However, nuts like almonds and pecans are most welcome to my salad. I never under-estimate the value of dressing and Italian dressing is my favourite. I don't bother making my own when there's Wish Bone! It's just perfect. Then there has to be a sweet touch. I usually like sweet bell peppers or apples. Apple made their feature here.
This salad is quite a simple and posh salad because of the more expensive iceberg lettuce used here. You can use the regular green lettuce that is available locally and crisp them up in ice cold water. If you don't like blue cheese you can use Parmesan Cheese shavings. Sprinkle some over the salad with a vegetable/potato peeler. Speaking of which, you need a vegetable peeler to make this salad.
Today, I'm holding back on the talking and letting the recipe speak for itself. The blue cheese is kinda strong so go easy. Alternatively, you can use it to make the dressing instead by blending it with olive oil a splash of lemon juice You could use some vinegar like apple cider as dressing.
If you're thinking extra lean you can do without most of the cheese but I think the stinky cheese is such a good touch to the salad. This can be your day off your diet.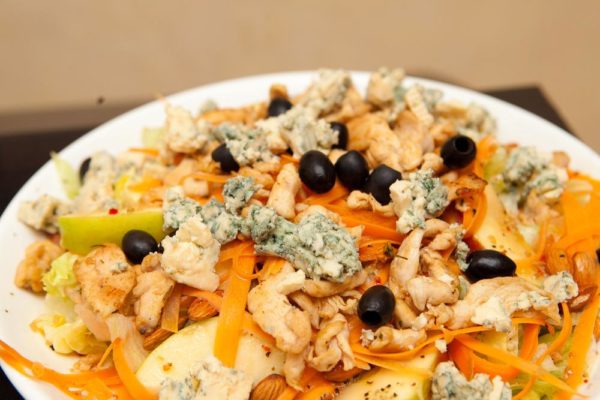 What You Need
1 whole Chicken breast (thin slices)
Coarsely ground black pepper
Seasoning cubes or poultry seasoning
Salt
Olives
1 large head Iceberg Lettuce
Celery Leaves
3 large Carrots
3/4 cup Whole Almonds
2 Pink Lady Apples
100-120g of blue cheese
Good Italian dressing
How To
The Chicken
Season the chicken with some salt, coarsely ground black pepper and some fresh rosemary. In a very hot pan with olive oil stir fry. Here's a tip at this point – add a splash of cold water to deglaze the pan and allow the pan juices coat the chicken to give it a light  brown colour and even more flavour. When it's cooked, leave it to cool.
Wash and slice the lettuce into slightly chunky pieces and if you have time, soak in ice cold water for an extra crunch but make sure you dry it out or allow it to drip dry properly before you set in the salad bowl.
Core the apples and slice into semi circles in whatever thickness you desire but give them a soak in a water that has been spiked with lemon juice to stop it from oxidising going brown).
Peel the carrots and discard the first layer of skin. Then with the peeler, keep peeling long strips thin and long till you get the middle and can't peel anymore.
Get a nice salad bowl layer the lettuce, apples, celery leaves, carrot shavings and almonds the chicken and some crumbled cheese. Toss with the a bit of the Italian dressing and top with some more apple, almonds. Keep layering till you cover the top with the cheese.
Sprinkle some coarsely ground black pepper at the end.
I know this looks so simple but it's a terribly delicious salad. I had my friends begging for more.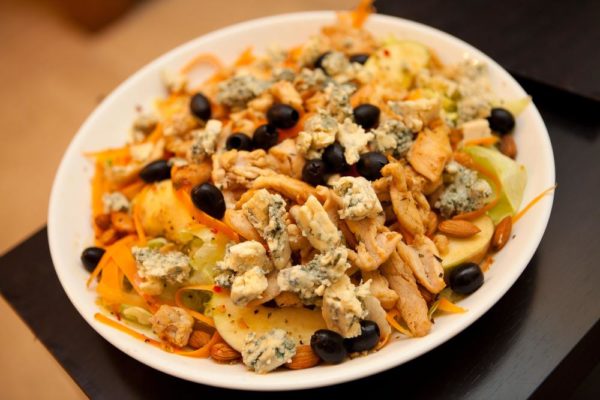 Thank you for reading today and I hope you try this or give your own take and feel free to email us at BN cuisine with the pictures.
The pictures were taken by my good friend and photographer extraordinaire, Demilade Banwo. You can check out his blog here.
Have a flavour filled weekend!
Ciao!
___________________________________________________________________________________________________
Chef Fregz loves to cook! He is a graduate of Le Cordon Bleu Paris Culinary Arts School in France and hosts monthly "Chef Fregz Specials" where he whips up a yummy menu with a different theme each time then everyone enjoys a taste. He also caters special events and private dinners. To find out more, visit theskinnychefthatcould.com