Nimi Akinkugbe was born in Port Harcourt and lived in Lagos until she was 7 years old when her family moved to East Africa where her late father Mr. F.I. Ajumogobia was UNESCO Chief of Mission. She grew up in Dar-es-Salaam, Tanzania, and attended the International School of Tanganyika, and later Limuru Girls School, Limuru, Kenya before returning to Nigeria for her O' Levels at the International School, Ibadan. On completion of her Bachelors' degree at the London School of Economics, she formalized her interest in Music by obtaining a piano teaching diploma from the Royal College of Music in London before returning to Nigeria to participate in the National Youth Service Corps scheme. "I never thought of living anywhere else. It was always my plan to come back to Nigeria. I never contemplated living or working abroad."
After the NYSC programme, she joined IBTC (which later became IBTC Chartered, then Stanbic-IBTC), where she spent 20 years in a fulfilling banking career. She subsequently joined Barclays Bank where she spent two and a half years as Regional Director (International Private Bank) for West Africa. In September 2012 she established Bestman Games Ltd. In this exclusive interview with Gbenga Awomodu, Nimi takes us through her career journey and talks passionately about personal finance, and the City of Lagos Edition of Monopoly, which has gained the world's attention, from The New York Times, to the Economist, CNN, BBC, and Daily Mail in the UK.
20 years in a single organization is a long time. Why do you think you were able to work for that long and maintain interest in your job?
It didn't feel like twenty years as my experience at IBTC varied and I was privileged to work with wonderful people. I started out in the Treasury Department, and then later was given the opportunity to help build and run the private banking department. That was a very rewarding experience and I had an outstanding team and fantastic clients. Initially it was a very small team, but very focused in a particular business area. After 20 years, it was time to move on. The time went by so quickly and for many years it felt right. Once I felt I needed a change, it was time to move on.
When and why did you start Bestman Games?
At Stanbic IBTC we realized that there is no personal finance instruction in the school curriculum. People just grow up picking up bad financial habits along the way, sometimes having great difficulty in their finances as they become adults. We started to include next generation seminars into our periodic personal finance seminars and talked to our clients' children about saving and investing. Standard Bank had an excellent personal finance board game called "Winning Teams," that teaches children in a playful, practical way, the basics of saving and investing.
It was at that time that I first embraced the idea of creating a personal finance board game that could go along with my columns and speaking engagements. I have written articles for a host of publications; Genevieve Magazine, 234 Next, and later The Punch Newspaper, Business Day, and a few blogs, including BellaNaija. I didn't do much about the board game until October 2010 when Harrow School, UK launched their own edition of Monopoly. Before then I had only been familiar with the famous London edition and didn't realize that there were customized editions. Harrow School directed me to Winning Moves who own the franchise from HASBRO, owners of the Monopoly brand, to customize Monopoly editions in Europe, the Middle East and Africa. Monopoly is such a fantastic brand so there was no reason to continue to pursue my own board game. I approached Winning Moves UK and said "You cannot ignore Africa. You cannot just focus on European cities and ignore a mega city like Lagos."
What is your scope at Bestman games; do you hope to have other games?
We have the exclusive distribution license to create customized editions of Monopoly and other games in the Hasbro product suite, across Africa, except South Africa. Two African countries, South Africa and Morocco, already have customized country editions of Monopoly. Lagos however, is the first African city to have its own edition of Monopoly of which we are very proud.
Do you plan to have additional services like consulting for people, advising people on personal finance, going to schools?
A lot of what I do revolves around spreading the message of personal finance and private wealth management out to anyone that seeks to improve their financial lives. I have done this largely through speaking engagements and my personal finance columns. We look forward to introducing afterschool activity clubs that teach the basics of earning; saving and investing, and Monopoly will be a part of the practical educational tools. Monopoly is yet another platform to spread the message of financial prudence. It is a personal finance game and key elements are reflected including insurance, banking, the stock market, mutual funds and of course, real estate which is the essence of the famous property trading game.
From your interactions with many Nigerians, and feedback from your columns, what are some of the notable mistakes that people make as regards personal finance?
I get a lot of feedback from the public. The biggest problem that most people face is succumbing to peer pressure. We're all busy trying to "keep up with the Joneses". We are not satisfied with creating our own plan and following it through, but rather, we tend to look at other people who appear to have much more than we do; a bigger car, a bigger house, lots of jewelry. We know very little about the person; we have no idea if they are in debt or have been dishonest, but we just want to be like that. Many people don't have a plan; they're just stumbling along. If you have no plan, you are bound to fail. There are many people retiring in their fifties and sixties with no plan whatsoever.
The regular pensions plan in collaboration with the government has been riddled with so much controversy and allegations of mismanagement. Would you advise that people rather plan private pension schemes?
The pension reform through Pencom is an excellent initiative and it has been a lifeline for many people. Naturally there are still areas that need to be improved, but it is a brilliant initiative. But your pension generally is never going to be enough. So, alongside your contribution and your employers' matched contribution, you also need to try to build other savings and investments and have insurance in place in order to be able to maintain your lifestyle during your retirement years.
How did the Lagos State government get involved with the launch of the City of Lagos Edition of Monopoly; and in what other ways are you trying to get the message of the board game to the bottom of the pyramid?
We were very honoured that His Excellency the Governor of Lagos State launched the City of Lagos Edition of Monopoly himself. With the support of the Lagos State Government we were able to use this novel tool to present some basic lessons in civics by educating players about some of the laws of the city that are so often overlooked, and to attempt to correct negative behaviour, and reward positive behaviour through fines and rewards in a fun way. One card fines players for driving without valid vehicle particulars and sends them off to Lagos State Driver's Institute for retraining, whilst another sends those who drive against traffic on a one-way street for psychiatric evaluation at the Psychiatric Hospital, Yaba and imposes a fine! Whilst it is tongue in cheek, it is real at the same time and has a powerful impact as all learning through play does.
We have been very fortunate with our media partners, This Day, The Guardian, Smooth FM and Silverbird Group, who have been very supportive of the project. The international media also showed a lot of interest in the launch. The awareness is there; the challenge for us is to ensure that the game board is available for all those that want it. Through some company CSR initiatives some children that might not be able to afford it will be able to have access to it.
Resource management; that's also something the game is meant to teach the players. Could you elaborate on that?
A friend of mine was narrating how she played Lagos Monopoly with her children and within a few minutes she was trying to buy Banana Island. She was bankrupt quite quickly and it was a perfect graphic example of what many people tend to do. You see people living way above their means, paying rent in a very expensive, choice area yet they are not quite ready to live there, as they really cannot afford it. It might take several years of hard work and investing first living in a cheaper area and slowly working towards moving to a better area. But if you put your limited resources into an asset that you cannot afford, you will quickly go bankrupt or you may be tempted by the pressure and end up in Kiri Kiri jail, which is where you are sent to in the game. It is tongue in cheek but a graphic portrayal of what happens in real life. So her children were busy slowly buying property in less expensive areas, and moved forward. Because all her money was gone, she had to sell her properties and was bankrupt.
For children playing together, it teaches strategy. If you don't plan ahead then it will be unlikely that you will succeed. You can keep adjusting your plan as you go on. It is also great in terms of teaching patience. It is quite a long game, though there is a short version one could play as well. For children, it teaches concentration, planning and patience.
The average game of monopoly should not last more than two hours, but because people usually bring in some adjustments to the rule, it could take more than four hours sometimes and they don't necessarily get to learn the key lessons.
Learning through play is a vey powerful way of learning. It is not so much about the length of the game; you immediately see that real estate is an asset class and that you should try to own property in your lifetime. You will be learning that your car should be insured. You will learn that you need to have a bank deposit and that you should invest in the stock market. As you're playing, these are things that will be in your psyche. Some of it will stick. Many of us knew the streets of London before we ever visited the city just from playing the London edition.
For Nigerian children growing up abroad who know very little about Lagos and Nigeria, it is a wonderful way for them to learn about the Third Mainland Bridge, Tinubu Square, and the National Theatre. They would never have known that there is a beautiful garden called Oshodi Heritage Garden, or that there are LAG and BRT buses. People often change the rules when they are playing board game; that's part of the fun of playing games!
Many Nigerians who grow up and/or study abroad these days find it difficult deciding to return to the country. How can more of them be encouraged to return and help make a difference?
I tell every young person that cares to speak with me that they need to come back home. There are many opportunities here; much more than they would have abroad. They don't get the same recognition for their intelligence and hard work. Some get very used to the way of life abroad, and if they stay away too long, it becomes very difficult to adjust.
Many young people tell me that the experience here can be much more rewarding as often the type of transactions they would be involved in very early in their careers in Nigeria may not come their way for several years in a bank or other institution abroad.
Of course it is clear that there are huge challenges here and it is very expensive for a young person starting out particularly if there isn't much support from family. I do hope that the environment will improve to make it much more attractive for our bright young people to return and contribute to improving home. For me, the best and brightest people I have ever come across in every field from doctors, lawyers, engineers, musicians, bankers, teachers, have been Nigerian, in spite of the bad press we continue to receive.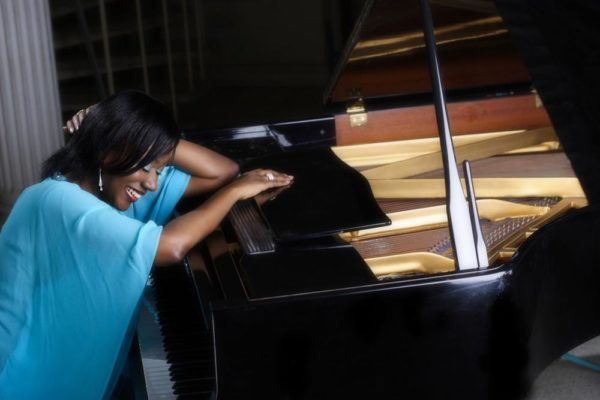 What do you do in your spare time?
I love playing the piano, listening to music, writing and gardening. I also spend a lot of time on the lagoon; it's a wonderful way to relax and reflect. I feel I don't read nearly enough and I am trying to build that into my spare time going forward.
What are the traits you value most in people?
I value hard work and admire people that are hard working and stay focused on an objective and see it to fruition.
I also admire people who, in spite of all the pressures around us, are able to stand up for what is right.
I value those who are quietly changing their community and the world and doing extraordinary things quietly and without fanfare.
In what other ways do you give back to society, like mentoring?
I am a member of the Executive Council of Women in Management, Business and Public Service (WIMBIZ). We have a very strong mentoring initiative where volunteers are assigned mentees whom we work with. It is wonderful to see them develop and see what they have achieved. WIMBIZ is an extraordinary organization set up by thirteen extraordinary women and one man over ten years ago and they have added enormous value to women in Nigeria and beyond. We have several laudable initiatives to support women. WIMBIZ has an overriding vision "to be the catalyst that elevates the status and influence of women and their contribution to nation building."
In the end, when you want to look back at life, what are the main things you want to be remembered for?
I hope that in some small way, by having the wider population benefit from having improved knowledge of managing their own finances to enrich their lives and the lives of others, I would have added some value.
I support a few musicians from time to time and it is wonderful watching careers blossom.
There is so much negativity about Africa. We hope that through this game, the African editions of Monopoly can enhance the profile of Africa and present Lagos, Nigeria, and Africa in a positive wholesome way that would be great.
Photo credit: TY Bello
__________________________________________________________________________________________________
Gbenga Awomodu is an Editorial Assistant at BellaNaija.com. When he is not reading or writing, Gbenga is listening to good music or playing the piano. He loves to meet new people and discuss issues that really matter. Follow him on Twitter: @gbengaawomodu | Gbenga's Notebook: www.gbengaawomodu.com | Facebook Page: Gbenga Awomodu