Good Afternoon BellaNaijarians, it's Thursday!
Lovers day – Valentine's Day 2013 – is just a few days away, just before all the love birds prepare for the D-Day, BN Events brings you all the most buzzed about events and places of interests to be spotted this weekend.
From Lagos where some of the biggest Nigerian movie and music stars including Genevieve Nnaji, 2 Face Idibia, MI and Segun Arinze will be gathered at the Shift Celebrity Prayse event all the way to Enugu, where the Youths Leadership Entrepreneurship Seminar will be held and will see in attendance Obi Asika, we have got you covered.
Sit back, grab a drink and see where you need to be this weekend.
See you all next week.
Ciao!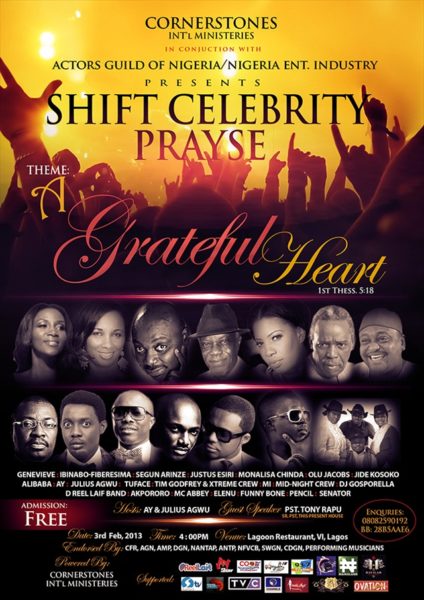 Shift Celebrity Prayse: A Grateful Heart
Cornerstones International Ministries in conjunction with the Actors Guild of Nigeria and the Nigerian Entertainment Industry present the third edition of the Shift Celebrity Prayse tagged A Grateful Heart. The annual thanksgiving event is organised to give thanks to God for the milestones attained in the entertainment industry. Celebrities scheduled to attend include Monalisa Chinda, Segun Arinze, Ibinabo Fiberesima, Genevieve Nnaji, Alibaba, MI, 2 Face Idibia,  Jide Kosoko, Justus Esiri, Midnight Crew, Tim Godfrey & the Xtreme Crew, Akpororo, MC Abbey, Funnybone, Elenu, Pencil and Senator. The event will be hosted by Julius Agwu and AY. Admission is free for all.
Date: Sunday 3rd February 2013
Time: 4 PM
Venue: Lagoon Restaurant, Victoria Island, Lagos
_______________________________________________________________________________________________________
LoudNProudLive 1st Anniversary Collaborations Special Birthday
The LoudNProudLive Series is a year old and they are celebrity their anniversary with a collaborations special event at Ember Creek, Lagos. The headliner of the event is Sasha P and will also feature performances by Goldie, Ruby, Niyola and Yun'Gracey, all performing with a live band. East Africa's rap star Navio and E.M.E rap act Skales will also be in attendance. To win an invitation to the event, follow them on Twitter@LoudNProudLive
Date: Thursday 31st January 2013
Time: 6 PM
Venue: Ember Creek, 32 Awolowo Road, Ikoyi, Lagos
_____________________________________________________________________________________________________
SmartMark Limited presents NIKE 50% Sale
SmartMark Limited, the exclusive distributor of the NIKE brand in Nigeria has announced a 50% price slash on selected NIKE merchandise from now till Sunday 10th March 2013 at all FastForward stores in major cities in Nigeria.
Date: Thursday 31st January 2013 – Sunday 10th March 2013
Venues: Adeniran Ogunsanya Shopping Mall, Surulere, Lagos | Murtala Mohammed Airport, Terminal 2, Ikeja, Lagos | Ikeja City Mall, Ikeja, Lagos | The Palms Shopping Mall, Lekki, Lagos | Ceddi Plaza 264, Tafawa Balewa Way, Central Business District, Abuja | 107, Aba Road, Port Harcourt, Rivers
Contact: For more info and general inquiries, call 0814838314
______________________________________________________________________________________________________________
The Body Alchemist 6 Week After Burn Boot Camp
If you are looking to take your workouts to the next level and achieve maximum, the Body Alchemist "After Burn" boot camp is just right for you. This high intensity circuit training workout will raise your metabolism and keep you burning fat all day long. Tony Ekaidem (The instructor) guarantees you will not be disappointed with the results. The fee is N 35,000, please contact them for payment information.
Date: Thursday 31st January 2013 – Friday 22nd February 2013
Time
5:30 AM – Fun Factory, Lekki Phase 1, By Phase 1 Gate on Admiralty Way, Lekki, Lagos
6:30 AM – Fun Factory, Lekki Phase 1, By Phase 1 Gate on Admiralty Way, Lekki, Lagos
7:45 AM – Astrotruf 2000, Ikoyi, By Osborne Road, Lagos
Contact: For more info and general inquiries, call 07045885120 | 07045885121 | e-mail [email protected] | log on to the official website
___________________________________________________________________________________________________________
The Youths Leadership Entrepreneurship Seminar
Today, the Anabel Leadership Academy will host a national and regional road show on empowerment targeted at unemployed Nigerian youths. The "Empower Youth" platform is designed to empower Nigeria's unemployed all across the country with the skills and the direction to create jobs for themselves. Speakers at the event include Obi Asika, Osita Chidoka, Nze Akachukwu Nwankpo, Jospehine Washima, Dr. Sam Amadi, Nicholas Okoye and Bartho Okolo.
Date: Thursday 31st January 2013
Time: 9 AM
Venue: University of Nigeria Enugu, Campus Law School Complex, Enugu
____________________________________________________________________________________________
Nigeria International Cosmetics Exhibition (NICEX)
Meridyen International presents the NICEX 2013. This year, the fair is concentrating on chemicals, cosmetics and cleaning products.There will be amazing first class products in skincare, beauty accessories, perfumery and aromatherapy, hair care, hygiene and makeup as well as business opportunities in the industry. The event kicked off on Tuesday and will end today. Admission is free for all.
Date: Thursday 31st January 2013
Time: 10 AM – 6 PM
Venue: Eko Hotel & Suites, New Expo Centre, Victoria Island, Lagos
Contact: For more info and general inquiries, call 08023620151 | +905382900451 | e-mail [email protected]
____________________________________________________________________________________________
Toju Foyeh Diffusion Line Sale
Shop for maxi dresses, cocktail dresses and more this weekend at the Toju Foyeh Diffusion Line Sale, where attendees will get up to 10-50% discount off fab pieces. Admission is free for all.
Date: Thursday 31st January 2013 – Saturday 2nd February 2013
Time: 10 AM – 7 PM
Venue: Toju Foyeh Flagship Store, 31 Adeola Odeku Street, Victoria Island, Lagos
___________________________________________________________________________________________
African Artists' Foundation presents Line.Sign.Symbol
You are cordially invited to the solo exhibition of Uche Uzorka tagged "Line.Sign.Symbol". Uche Uzorka is a graduate of the University of Nigeria, Nsukka. He majored in painting. Admission is free for all.
Date: Thursday 31st January 2013 – Saturday 23rd February 2013
Time: 7 PM
Venue: African Artists' Foundation (AAF) HQ, 54 Raymond Njoku Street, Ikoyi, Lagos
___________________________________________________________________________________________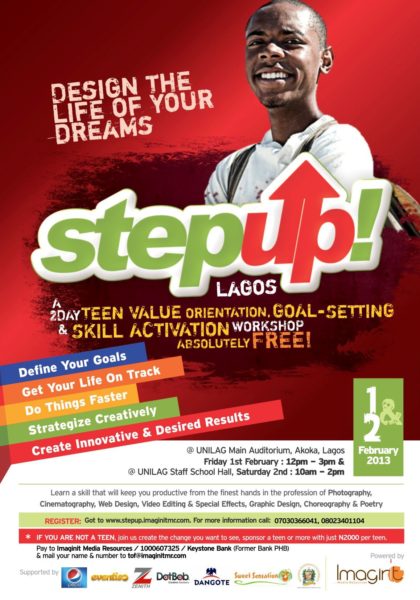 StepUp! Lagos
The StepUp Lagos project aims to inspire teenagers to build the right value system that translates in their everyday life activities. The event will have goals setting breakout sessions, skill activation breakout session where they will learn cinematography, photography, choreography, web design, graphic design and other skills tied around the media from professionals including Niyi Adesayan, Funke Bucknor, Steve Harris, Victor Sanchez Aghahowa of Tinsel, James Abinibi, Abiola Champ Salami, Chude Jideonwu, Timi Dakolo, BOUQUI, Johnson Abbaly, Emilia Asim-Ita, MC Abbey, Buchi (Comedian), Tylor Ilori, Wale Tejumade, James Abinibi, BNG and Onye Ubanatu and more. Admission is free for all.
Date: Friday 1st February 2013 – Saturday 2nd February 2013
Time: Friday 12 Noon – 3 PM | Saturday 10 AM – 2 PM
Venue: Friday UNILAG Main Auditorium, Akoka, Lagos | Saturday UNILAG Staff School Hall, Akoka, Lagos
_______________________________________________________________________________________
Fashion For Life – A Charity Catwalk
You are invited to Fashion for Life, a charity catwalk by a G22 Initiative. The event is a fund raiser for the Down Syndrome Foundation Nigeria. Celebrities are scheduled to attend. There will be a gate fee.
Date: Friday 1st February 2013
Time: 6 PM
Venue: The Hall, Yetunde Apartments, Parkview, Ikoyi, Lagos
___________________________________________________________________________________________________
Cool Gang in Town
96.9 Cool FM presents The Cool Gang In Town. This is a series of monthly parties that will bring you closer to your favourite Cool FM On Air Personalities. All you need is your dancing shoes, your cameras and your "Cool" look as you will meet and party till dawn with your favourite Cool FM Presenters. Admission is free for all.
Date: Friday 1st February 2013
Time: 10 PM
Venue: POP, 46 Saka Tinubu, Victoria Island, Lagos
_____________________________________________________________________________________________________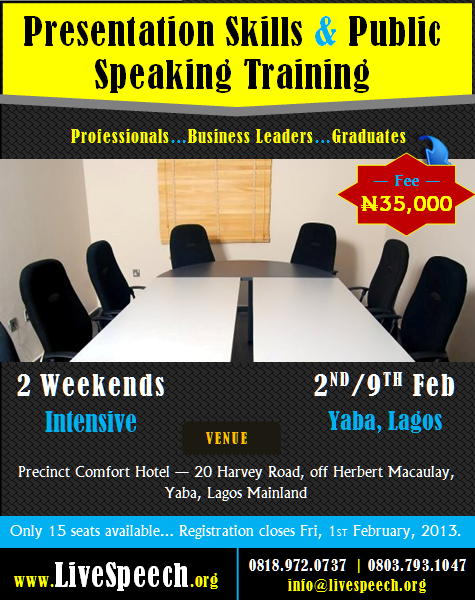 Presentation Skills & Public Speaking Training for Professionals & Graduates
Are you a professional, a business executive or a graduate? Come learn how to prepare, organize and deliver professional presentations that make an impact. The LiveSpeech Open Workshop takes a practical approach to presentation skills & public speaking training and is designed to help you learn to speak — and effectively communicate your ideas — in front of an audience. The event is strictly by registration. The fee is N 35,000, it includes training manuals and refreshments.
Date: Saturday 2nd February 2013
Venue: Precinct Comfort Hotel, 20 Harvey Road, off Herbert Macaulay, Yaba, Lagos
Contact: For more info and general inquiries, call 08189720737 | 08037931047 | e-mail [email protected]rg
_____________________________________________________________________________________________________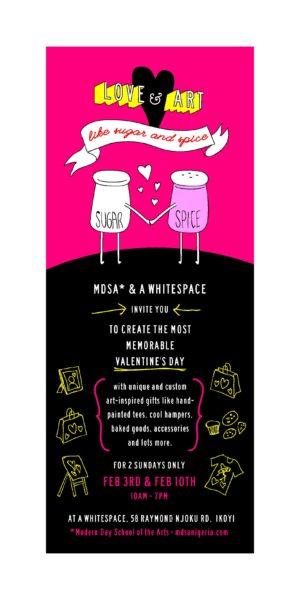 MDSA & Whitespace present Love & Art
MDSA and Whitespace invite you to create a memorable gift – by picking out cards from the Caxton Alile card stand or design your own. Your final creative package will also be delivered to your loved one on Valentine's day. Admission is free for all.
Date: Sunday 3rd February 2013
Time: 10 AM – 7 PM
Venue: A Whitespace, 58 Raymond Njoku, Road, Ikoyi, Lagos
____________________________________________________________________________________________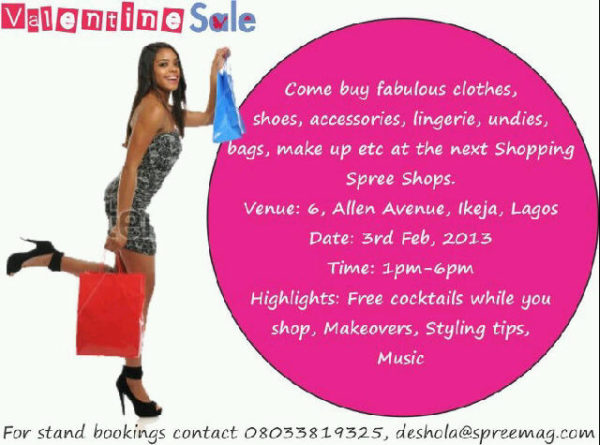 Spree Mag Valentine Sale
Come buy fabulous clothes, shoes, accessories, lingerie, undergarments, bags, make-up and more at the Spree Mag Valentine Sale this Sunday. There will cocktails, free make-overs, styling tips and music. Admission is free for all.
Date: Sunday 3rd February 2013
Time: 1 PM – 6 PM
Venue: 6 Allen Avenue, Ikeja, Lagos
Contact: For more info and general inquiries, call 08033819325 | [email protected]
___________________________________________________________________________________________
PAWS & Terra Kulture presents Anatomy of a Woman
The Performing Arts Workshop and Studio in collaboration with Terra Kulture present the stage production of Wole Oguntokun's Anatomy of a Woman. Directed by Kenneth Uphopho, the stage play will take place at Terra Kulture by 3 PM and 6 PM every Sunday in Februar 2013.
Date: Sunday 3rd February 2013
Time: 3 PM & 6 PM
Venue: Terra Kulture, Plot 1376 Tiamiyu Savage Street, off Ahmadu Bello Way, Victoria Island, Lagos
Ticket Prices: Regular N 2,500 | VIP N 5,000
_____________________________________________________________________________________________________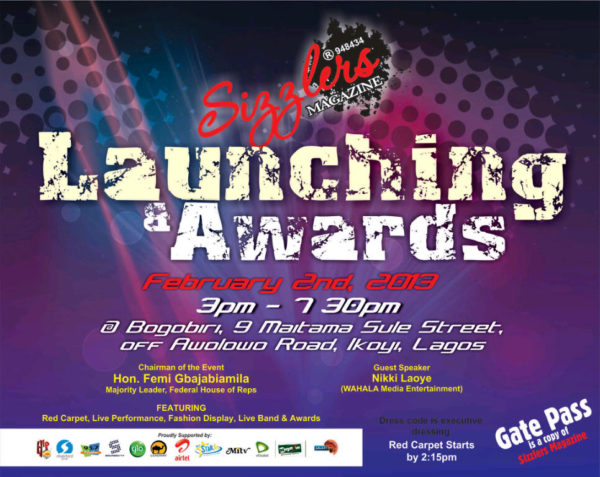 Sizzlers Magazine Launch & Awards
Be a part of the Sizzlers Magazine launch and awards this Saturday. There will be cocktails, live music and promises to be fun. Admission is free for all.
Date: Sunday 3rd February 2013
Time: 3 PM – 7:30 PM
Venue: Bogobiri, 9 Maitama Sule Street off Awolowo Road, Ikoyi, Lagos
______________________________________________________________________________________________
Industry Nite & Grafton Records present Mr 2Kay
Port Harcourt based artiste Mr 2Kay is the star of this upcoming edition of Industry Nite. The Grafton Records artiste will be joined on stage by Iyanya, Chidinma, Ruggedman, Jaywon, Burna Boy, J Martins, illBliss, Tha Suspect, Timi Dakolo, Nivvy J and Mbryo. The event will be hosted by Larry D. Admission is free for all.
Date: Wednesday 6th February 2013
Time: 7 PM
Venue: GET Arena, Oniru, Lagos
___________________________________________________________________________________________________
BellaNaija.com is not responsible for the organization or further promotion of these events, neither do we have a stake in their sales or popularity. Inclusion in "Events This Weekend" is Free. Contact – adsales (at) bellanaija.com on or before Wednesday every week if you will like your event to be included. Note that BN reserves the right to choose which events are featured. "Pay to attend" parties attract a fee