Which of your favourite movie stars will take home the Africa Magic Viewers' Choice Awards in March 2013? Well it's in your hands.
The complete nominees list of the inaugural Africa Magic Viewers' Choice Awards was announced during a special hour-long edition of lifestyle series 53 Extra on Monday 28th January 2013.
Leading the list of nominees include Funke Akindele, Genevieve Nnaji, Bovi Ugboma, Kalu Ikeagwu, Blessing Egbe's Two Brides and a Baby, Obi Emelonye's The Mirror Boy and Shirley Frimpong-Manso's Perfect Picture among others.
At the nominees announcement, Nollywood's brightest were present in their most stylish ensembles. In attendance include Ini Edo, Uti Nwachukwu, Uche Jombo-Rodriguez, Omoni Oboli, Genevieve Nnaji, Segun Arinze, Kunle Afolayan, Alex Ekubo, Osas Oghodaro, Victor Olaotan, Femi Brainard, Damilola Adegbite, Jide Kosoko and Gbenro Ajibade.
BN will bring you all the photos from the event soon. Till then, check out all the nominees and first photos from the event.
The Full 2013 Africa Magic Viewers' Choice Awards Nominees List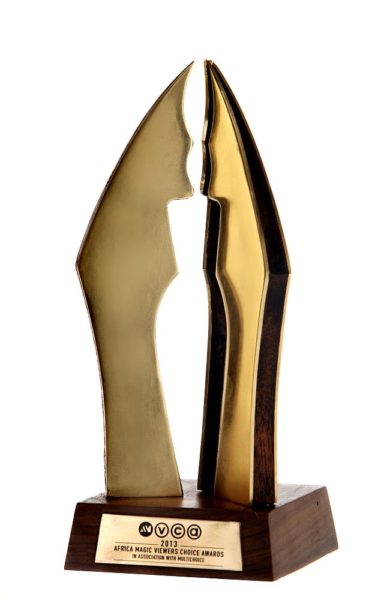 Best Actor – Drama (Movies/TV)
Fabian Adeoye Lojede – Jacob's Cross
OC Ukeje – Two Brides and a Baby
Kenneth Uphopho – Down & Out
Edward Kagutuzi – The Mirror Boy
Jafta Mamabolo – Otelo Burning
Best Actress – Drama (Movies/TV)
Bubu Mazibuko – Man on Ground
Genevieve Nnaji – The Mirror Boy
Nolwazi Shange – Otelo Burning
Funke Akindele – Maami
Jackie Appiah – Perfect Picture
Best Supporting Actor – Drama (Movies/TV)
Fabian Adeoye Lojede – Man on Ground
Osita Iheme – The Mirror Boy
Thomas Gumede – Otelo Burning
Matthew Nabwiso – A Good Catholic Girl
Kalu Ikeagwu – Two Brides and a Baby
Best Supporting Actress – Drama (Movies/TV)
Thishiwe Ziqubu – Man on Ground
Harriet Manamela – Otelo Burning
Regina Chukwu – Akun
Taiwo Atigogo – Old Cargo Young Blood
Maureen Koech – Lies that Bind
Best Actor – Comedy (Movies/TV)
Hafiz Oyetoro – House a Part
Kunle Bamtefa – Glorious Journey
Bovi Ugboma – The Bovi Ugboma Show
Francis Odega – Clinic Matters
Ikhide Isaac – Wanna Be
Best Actress – Comedy (Movies/TV)
Funke Akindele – The Return of Jenifa
Lilian Esoro – Clinic Matters
Mercy Johnson – Dumebi the Dirty Girl
Best Costume Designer
Ngozi Obasi – The Mirror Boy
Jayne Awoonor-Williams – Perfect Picture
Frank Osodi Richard – Two Brides and a Baby
Preston Mwila – Kawanu
Nkiru Nwauzor – Spider
Best Short Film
Christopher Ihidero – Big Daddy
Ngendo Mukii – Yellow Fever
Udoka Oyeka – Down & Out
Best Writer – Comedy
Tim Greene – Skeem
Shirley Frimpong-Manso – Perfect Picture
Paul Igwe – Clinic Matters
Bovi Ugboma – The Bovi Ugboma Show
Teru Ekuerhale – Wanna Be
Best Sound Editor
Michael Botha & Joel Assaizky – Man on Ground
Juli vanden Berg & Tiago Correia-Paulo – Otelo Burning
Obi Emelonye – The Mirror Boy
Elorm Adablah – Perfect Picture
Elorm Adablah – A Sting in a Tale
Best Movie Director
Tim Greene – Skeem
Akin Omotoso – Man on Ground
Obi Emelonye – The Mirror Boy
Sara Blecher – Otelo Burning
Shirley Frimpong-Manso – Perfect Picture
Best Lighting Designer
Dave Howe – Otelo Burning
Eleazu Texas – Two Brides and a Baby
Oluwole Olawoyin – Maami
Terry Emmanuel – Down and Out
Ken Attoh – Perfect Picture
Best Art Director
Bola Belo – Maami
Carol Mbugua – Lies that Bind
H. Mulenga – Kawanu Bernard
Blessing Effiom Egbe – Two Brides and a Baby
Anita van Hemert & Chantel Carter – Otelo Burning
Best Movie (Drama/Comedy)
Tim Greene – Skeem
Akin Omotoso/Fabian Adeoye Lojede/Hakeem Kae-Kazim/Rosie Motene – Man on Ground
Jamie Ramsay – Jozi King
Sara Blecher – Otelo Burning
Obi Emelonye – The Mirror Boy
Best Picture Editor
Megan Gilli – Otelo Burning
Aryan Kaganof – Man on Ground
Shola Ayorinde – Two Brides and a Baby
Reg Chuhi & Kevin Ireri – Lies that Bind
Kayode Afolabi – Clinic Matters
Best Movie (Comedy)
Tim Greene – Skeem
Chinedu Ezenwa – Wisdom of Thomas Collins
Kunle Afolayan – Phone Swap
Funke Akindele – The Return of Jenifa
George Edmund – Open Fire 2
Best Movie (Drama)
Akin Omotoso/Fabian Adeoye Lojede/Hakeem Kae-Kazim/Rosie Motene – Man on Ground
Obi Emelonye – The Mirror Boy
Sara Blecher – Otelo Burning
Ken Attoh – Adams Apple
Ken Attoh – A Sting in a Tale
Best Local Language Movie (Yoruba)
Tunde Kelani – Maami
Regina Chukwu – Akun
Gbajumo Oladipo – Ariyeke
Best Local Language Movie (Hausa)
Aminu Abdullahi/Hafizu Bello – Asirka
Aminu Abdullahi – Yunkuri
A. Ali/Hafizu Bello – Faida Nura
Best Local Langauge Movie (Swahili)
Sameer Srivastava/Sanjni Srivastava – The Ray of Hope
Henry Lenga – Sakalakata
Rudi Nyumbani Quentin Hughes/Alex Konstantaras – Zeinabu
Best Writer (Drama)
James Whyle/Sara Blecher/The Cast Workshop – Otelo Burning
Obi Emelonye/Amaka Obi-Emelonye – The Mirror Boy
Blessing Effiom Egbe – Two Brides and a Baby
Shirley Frimpong-Manso – A Sting in a Tale
Shirley Frimpong-Manso – Perfect Picture
Best Television Series
Godffrey Mwampembwa/Marie Lora-Mungai – The XYZ Show
Ken Attoh/Shirley Frimpong-Manso – Peep
Lance Stehr – Jozi Moving the City
Benjamin Odiwuor Abonyo – DemiGods
Patricia Gichinga/David Campbell – Makutano Junction
Best Cinematographer
Clive Norman – The Mirror Boy
Tom Marais – Skeem
Paul Michelson – Man on Ground
Lance Gewer – Otelo Burning
Sarafa Abagun – Maami
Best Make-Up Artist
Jacqui Bannermen – Otelo Burning
Gabriel Okorie – The Mirror Boy
Biola Poopola – Tales of Eve
Jayne Awoonor-Williams – Perfect Picture
Christin Ngoma – Kawanu
To vote for any of your favourites in the first six categories, click HERE
First Photos from the Africa Magic Viewers' Choice Awards Nominees Announcement


Photo Credit: Kola Oshalusi for Insigna