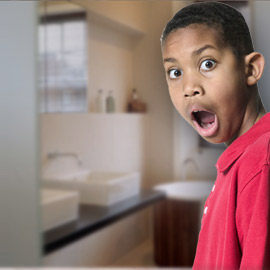 The new year comes with its own brand of drama. The world is never really drama free is it? We find ourselves asking questions like- will Kim Kardashian ever marry again? How many men does it take to screw in a light bulb? Is it now socially acceptable to expose children to nudity?
It's a known fact that we should adopt some kind of caution when it comes to exposing children to matters of the opposite sex and sex in general, but it seems with the age we are in, extra care has to be taken. We have the fashion industry, which looks more like its American and French counterparts day by day, promoting the showing of more skin, and then the music industry that more often than not teach our kids words like: "sarkodie" which means a vulgar and inappropriate thing in English. Not that these songs aren't hits, but they have PG written all over them. Your kids don't know what PG means, but you do.
My aunt would definitely agree with me after her 5 year old told her friends "my mummy has plenty bear-bear on her waist and she used to swing her breast left and right in the bathroom". It's nothing new that kids are inquisitive and talk about everything they see without caution therefore it's our job to provide them with the right information.
For example, as a mother, undressing in the presence of your daughter may seem harmless but you are exposing her to things that she does not yet understand or have which would make he/ she want to know more; and who knows what they may find?
According to a report I found online; If the kid is younger than 3 years old, parental nudity is probably harmless. But One Stanford University study from the 1980s found that children in the United States develop a sense of modesty somewhere between the ages of 4 and 8 (and sooner for kids with an older sibling to emulate). In this age range, it turns out, kids start to learn the cultural norm for privacy—this is when little boys stop going to women's restrooms with their mothers, or little girls no longer want their fathers to give them baths.
Recently Bishop Larry Trotter, a senior pastor of the Sweet Holy Spirit Church in Chicago, posted a picture of himself and his 4 year old granddaughter in the bathtub and it caused quite an outrage; not because the water was too hot for the minor, but they were both topless and God knows what else. If, and I do mean IF, he was nude, it would not only be inappropriate but wrong to allow his 4 year old granddaughter see him in such a state.
It is not about 'hailing' your child when he knows all the lyrics to May D's "Soundtrack" or the fact that they can dance 'Alingo', their exposure to these things need caution and the guidance of those who guide them. Here in Nigeria, we have heard and seen numerous stories of men sleeping with minors and engaging in all sorts. Where do you think they learnt it from? (and who in God's name was holding the camera?) It is important that we protect our children and protect their childhood for as long as we can. Minimize the exposure to sexuality and let them remain children for as long as they are children.
Yes, they will go to school and learn, they will have friends and get exposed to all sorts, but it all starts with you.
Let us take the Parental Guidance in PG more seriously!
Photo credit: Sodahead.com
_____________________________________________________________________________________________

Jennifer 'Penshy' Obiuwevbi is a writer/copywriter/content developer. She studied Mass Communication at Babcock University; where she co-hosted a radio show. She loves to write, live life, play dress up and is 'Adele' at heart. Follow her at @penshy and http://penshee.blogspot.com to find out more.