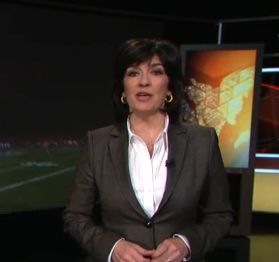 Nigeria's persistent power cuts was recently compared to the black out which occurred at the largest sporting events in the United States, the Super Bowl by CNN's Christiane Amanpour.
On Sunday 3rd February 2013, there was  a 35 minutes black out at the event watched by over a hundred million people in 180 countries. This launched a blizzard of tweets, with many coming from Nigerians who were amused to know they are not the only ones with electricity challenges.
In the video below, Amanpour parodies the epileptic power situation in Nigeria and its connection with the black out at the Super Bowl, noting some of the tweets from Nigerians:
"Power outage at the Super Bowl on Sunday. Suddenly, Nigeria doesn't look as dark anymore."
"If they had the Super Bowl in Nigeria, the power coming back on would be the real surprise."
Amanpour recalled the interview she recently had with President Goodluck Jonathan where he said Nigerians were pleased with the government's commitment to improve power and that there was considerable improvement in electricity supply in Nigeria.
This interview was followed by several tweets from Nigerians who denied the President's claim. In the concluding part of the video, CNN interviewed some Nigerians who complained about the epileptic power supply in Nigeria and their growing dependence on the use of generators.
Amanpour concluded her report with this funny tweet from a Nigerian "Nigeria should bid to host the next SuperBowl. At least we have standby generators. #JustSaying"
Hopefully, this sort of international spotlight would help improve the power situation in the country.
Please watch the video below and share your thoughts.